Read original article here in the Manchester Journal
ARLINGTON – St. James Episcopal Church in Arlington hosted the awards ceremony for the Arlington Girl Scout troops on Sept. 16.
Claire Grupe and Emma Sheldon were bridged from Daisies to Brownies, and Audrianna Ennis flew up from Brownies to become a Junior Girl Scout.
The Juniors who were bridged to Cadettes were Angela Caggiano, Anna Freebern, Florrie Hynds, Kierstyn Hess and Alyssa Harrington. They were welcomed by current Cadettes, Sofie Pedemonti, Katheryn Berger and Kaleigh Ward. The girls were presented with badges by troop leaders Janne Pedemonti, Elizabeth Berger, and Amanda Harrington, that they had earned over the past year. A special recognition was also given to parent volunteers; Elizabeth Berger, Kim Baker, Rose Caggiano, Julie Freebern, Stephanie Hynds-Moffett, and Janinie Moscarelllo.
The Arlington Girl Scouts recently organized a collection of hygiene kits for victims of Hurricane Sandy in conjunction with "Color My World" of
The Arlington Girl Scouts recently organized a collection of hygiene kits for victims of Hurricane Sandy in conjunction with "Color My World" of Bedford, N.H. More than 50 kits were collected and shipped to hard hit areas on the East Coast. (Courtesy Photo)
Cynthia Browning, a local state representative, was also recognized for her work with the Girl Scouts growing vegetables in the community garden in Arlington over the summer that were harvested for the food shelf and local schools.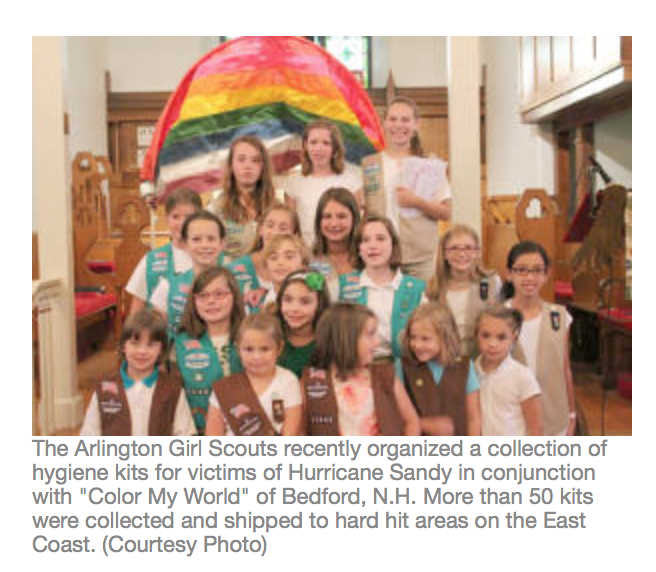 The girls who bridged to Cadettes were each presented with the Bronze Award, the highest award given to a Junior. This distinction required that the girls develop an ambitious leadership project that would impact their community. Florrie Hynds and Angela Caggiano focused their efforts on pollution and recycling.
They did a workshop with Don Knaak of Junkmusic to use bottles caps and other objects to create musical instruments. They also made a wind chime, played games, created refrigerator magnets and stamps using bottle caps.
Florrie and Angela were also able to get the children at Happy Days Daycare in Arlington involved with playing games while learning about recycling. A petition of 75 signatures were collected and sent to the three top bottling companies; Coca-Cola, Pepsi and Nestle, asking them to consider making their caps out of compostable material. The girls were able to raise the awareness of the importance of recycling in their community and were able learn a lot about it themselves.
Alyssa Harrington, Kierstyn Hess and Anna Freebern chose to create a gardening project at the Centers for Living and Rehabilitation (CLR) in Bennington. The girls worked with the local Garden Club gaining knowledge about planting for their project. At CLR, they cleaned and prepared garden beds, planted bushes and herbs. A butterfly and hummingbird garden was created for the enjoyment of the residents.
The girls gave a presentation on nutrition and explained the different parts of a flower. They created garden themed projects and celebrated the end of summer harvest with a garden party complete with a garden themed food, music, games and decorations. They were able to make a connection with the residents of CLR, fostered a relationship with the Garden Club and gained a great amount of knowledge about gardening.
The Arlington Girls Scouts also recently organized a collection of hygiene kits containing basic hygiene items. The girls coordinated their efforts with an organization by the name of Color My World in Bedford, N.H. more than 50 plus kits were collected and shipped to the hard hit areas on the East Coast that were effected by Hurricane Sandy.
The Girl Scouts would like to thank all that donated to this important cause.