For 13-year-old Bedford resident Chase Hughes, charitable work is part of his lifestyle.
By SAMANTHA ARROYO, Bedford Journal
Following the motto, "Search inward, look upward, reach outward," the Hughes family of five has contributed thousands of school materials and hygiene kits to countries all across the world.
Last year, Chase directed a project that collected, packaged and distributed more than 2,000 hygiene kits for earthquake victims in Haiti and Chile.
And on Feb. 8, Chase was recognized for his efforts with a Prudential Spirit of Community Award, honoring young people for outstanding acts of volunteerism. He was one of two chosen from the state as top honorees.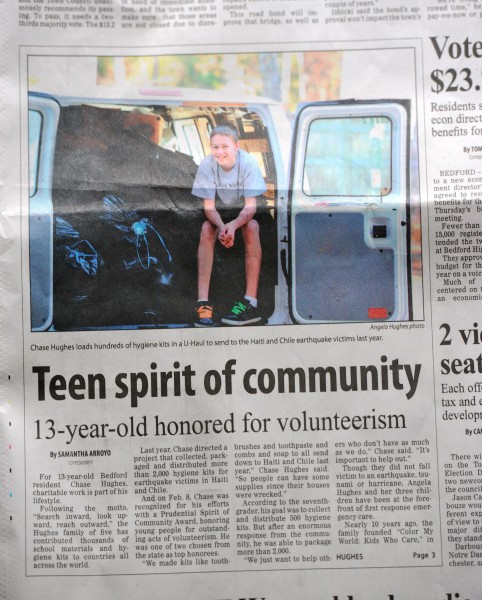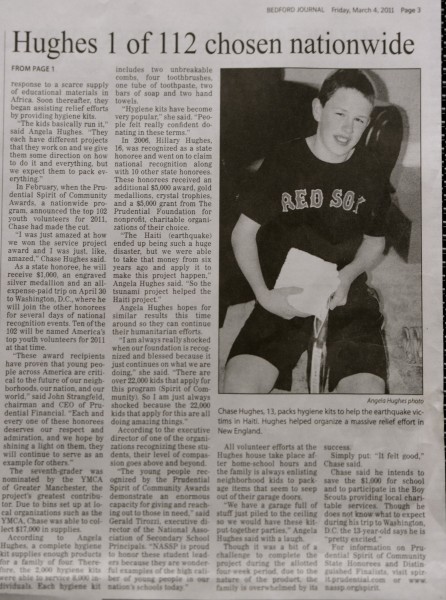 "We made kits like toothbrushes and toothpaste and combs and soap to all send down to Haiti and Chile last year," Chase Hughes said. "So people can have some supplies since their houses were wrecked."
According to the seventh-grader, his goal was to collect and distribute 500 hygiene kits. But after an enormous response from the community, he was able to package more than 2,000.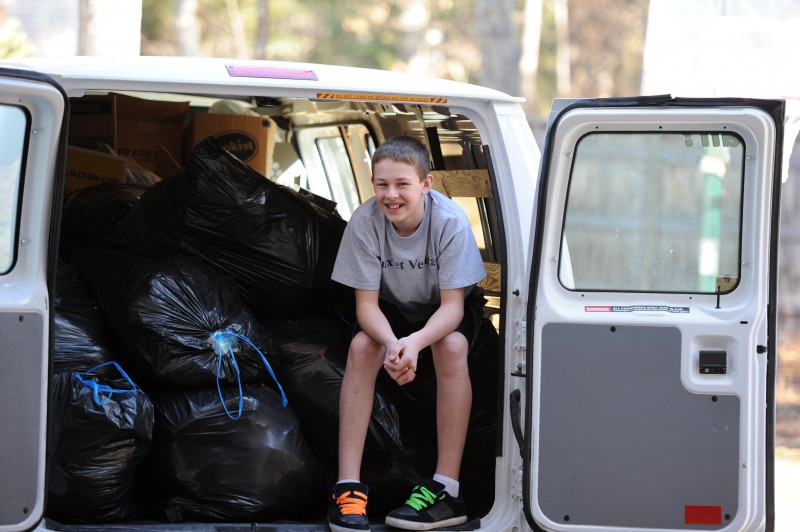 "We just want to help others who don't have as much as we do," Chase said. "It's important to help out."
Though they did not fall victim to an earthquake, tsunami or hurricane, Angela Hughes and her three children have been at the forefront of first response emergency care.
Nearly 10 years ago, the family founded "Color My World: Kids Who Care," in response to a scarce supply of educational materials in Africa. Soon thereafter, they began assisting relief efforts by providing hygiene kits.
"The kids basically run it," said Angela Hughes. "They each have different projects that they work on and we give them some direction on how to do it and everything, but we expect them to pack everything."
In February, when the Prudential Spirit of Community Awards, a nationwide program, announced the top 102 youth volunteers for 2011, Chase had made the cut.
"I was just amazed at how we won the service project award and I was just, like, amazed," Chase Hughes said.
As a state honoree, he will receive $1,000, an engraved silver medallion and an all-expense-paid trip on April 30 to Washington, D.C., where he will join the other honorees for several days of national recognition events. Ten of the 102 will be named America's top youth volunteers for 2011 at that time.
"These award recipients have proven that young people across America are critical to the future of our neighborhoods, our nation, and our world," said John Strangfeld, chairman and CEO of Prudential Financial. "Each and every one of these honorees deserves our respect and admiration, and we hope by shining a light on them, they will continue to serve as an example for others."
The seventh-grader was nominated by the YMCA of Greater Manchester, the project's greatest contributor. Due to bins set up at local organizations such as the YMCA, Chase was able to collect $17,000 in supplies.
According to Angela Hughes, a complete hygiene kit supplies enough products for a family of four. Therefore, the 2,000 hygiene kits were able to service 8,000 individuals. Each hygiene kit includes two unbreakable combs, four toothbrushes, one tube of toothpaste, two bars of soap and two hand towels.
"Hygiene kits have become very popular," she said. "People felt really confident donating in these terms."
In 2006, Hillary Hughes, 16, was recognized as a state honoree and went on to claim national recognition along with 10 other state honorees. These honorees received an additional $5,000 award, gold medallions, crystal trophies, and a $5,000 grant from The Prudential Foundation for nonprofit, charitable organizations of their choice.
"The Haiti (earthquake) ended up being such a huge disaster, but we were able to take that money from six years ago and apply it to make this project happen," Angela Hughes said. "So the tsunami project helped the Haiti project."
Angela Hughes hopes for similar results this time around so they can continue their humanitarian efforts.
"I am always really shocked when our foundation is recognized and blessed because it just continues on what we are doing," she said. "There are over 22,000 kids that apply for this program (Spirit of Community). So I am just always shocked because the 22,000 kids that apply for this are all doing amazing things."
According to the executive director of one of the organizations recognizing these students, their level of compassion goes above and beyond.
"The young people recognized by the Prudential Spirit of Community Awards demonstrate an enormous capacity for giving and reaching out to those in need," said Gerald Tirozzi, executive director of the National Association of Secondary School Principals. "NASSP is proud to honor these student leaders because they are wonderful examples of the high caliber of young people in our nation's schools today."
All volunteer efforts at the Hughes house take place after home-school hours and the family is always enlisting neighborhood kids to package items that seem to seep out of their garage doors.
"We have a garage full of stuff just piled to the ceiling so we would have these kit-put-together parties," Angela Hughes said with a laugh.
Though it was a bit of a challenge to complete the project during the allotted four-week period, due to the nature of the product, the family is overwhelmed by its success.
Simply put: "It felt good," Chase said.
Chase said he intends to save the $1,000 for school and to participate in the Boy Scouts providing local charitable services. Though he does not know what to expect during his trip to Washington, D.C. the 13-year-old says he is "pretty excited."
For information on Prudential Spirit of Community State Honorees and Distinguished Finalists, visit spirit.prudential.com or www.nassp.org/spirit.