Noah Hughes kicks off  the Hurricane Sandy hygiene kit collection.
Our DRIVE CONTINUES !
Our foundation, Color My World www.colormyworldkids.org is collecting Hygiene Kits for victims of Hurricane Sandy!
Please spread the news! Your social media shares helped us collect over $30,000 in hygiene kits for Hurricane Sandy. The need is great!
Read more about Color My World and our project for Hurricane Sandy  in the Union Leader Newspaper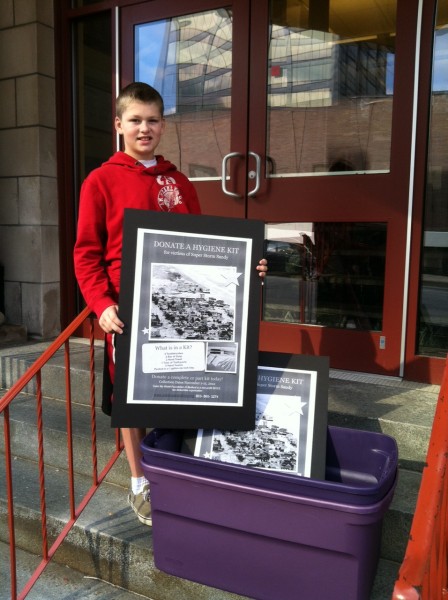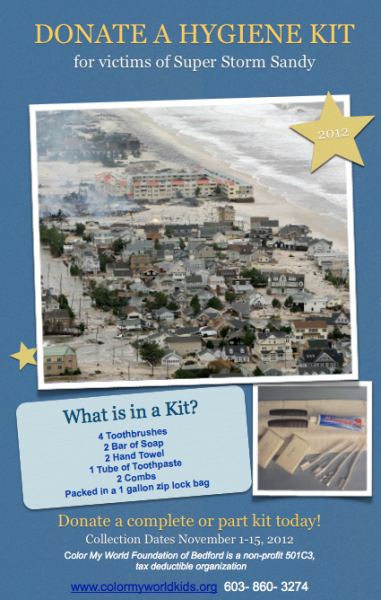 Local Non-Profit Collecting Hygiene Kits for Oklahoma Tornado Victims
In the past decade, the Bedford family foundation, Color My World has donated over $63,000 in soft goods to families affected by Hurricane Sandy, Indonesian Tsunami, Hurricane Katrina and Kate, Earthquakes in Haiti, China and Chile and aid for Africa and Nicaragua. Color My World has also distributed locally to projects and families in need locally in New Hampshire, supporting Angie's Shelter and New Horizons in Manchester.
Currently, the foundation is shipping hygiene kits to help people impacted by the Oklahoma Tornado.
Color My World is accepting complete Hygiene Kits consisting of
4 Toothbrushes
2 Bar of Soap
2 Hand Towel
2 Combs
1 Tube of Toothpaste
2 Hand Towels
Packed in a 1 gallon zip lock bag
Due to shipping policies, we only accept complete kits.
Extra items not in complete kits will be donated to New Horizons and Angie's Shelter in Manchester, NH.
The project will run until May 22- June 8, 2013
Drop off locations include the Bedford Library, YMCA Goffstown, Century 21 Advantage in Goffstown, YMCA Manchester, Bedford Positively at 11 Meetinghouse, Bedford, Girl Scouts of The Green & White Mountains and Trinity High School in Manchester.
Color My World Foundation of Bedford is a non-profit 501C3, tax deductible organization operated solely by The Hughes Family of Bedford, NH.
More information can be found at www.colormyworldkids.org