For Student, Volunteer Work Comes Naturally
Posted: July 11, 2011
by Greg Kwaznik, Union Leader
Whenever an earthquake or tsunami strikes a far-flung corner of the globe, Hillary Hughes gets to work.
Working with her brothers and sisters, Hughes puts together hygiene kits for disaster survivors, and then ships the supplies off to the affected regions. In recent years, survivors of earthquakes in Haiti, Chile and Indonesia have all received kits with supplies to keep themselves clean and healthy.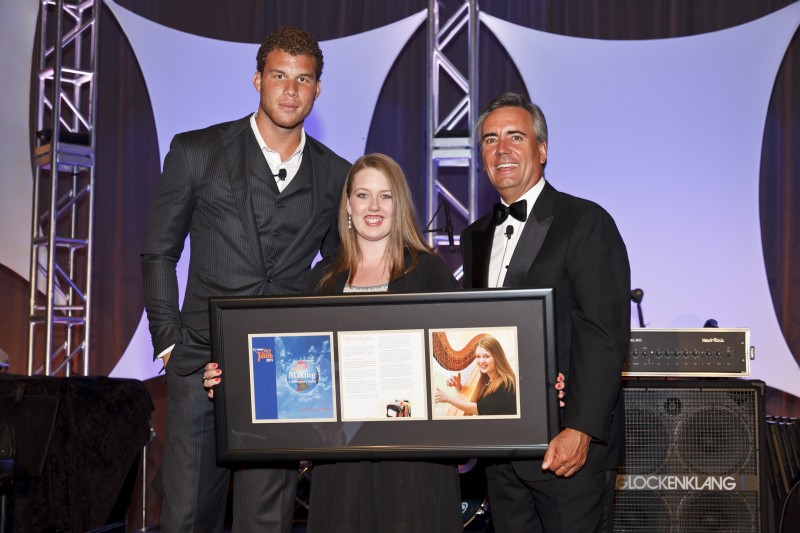 "I've gone to people in my community and have asked them for hygiene items like toothpaste and towels so that they can be able to be clean when they've lost everything," Hughes said.
When she's not helping victims of disasters — or studying abroad in places like Sweden or Amsterdam — you might find Hughes honing her musical skills on the harp or piano. You might also find her in a classroom at Manchester Community College. Hughes, who is home-schooled and has dyslexia, intends to earn an associate's degree in liberal arts by the time she gets her high school diploma.
This spring, Hillary was recognized for her volunteer work and academic achievements when she was selected to receive a Nestle Very Best in Youth award. The award recognizes just 22 students nationwide who have shown the leadership and initiative to positively affect the world.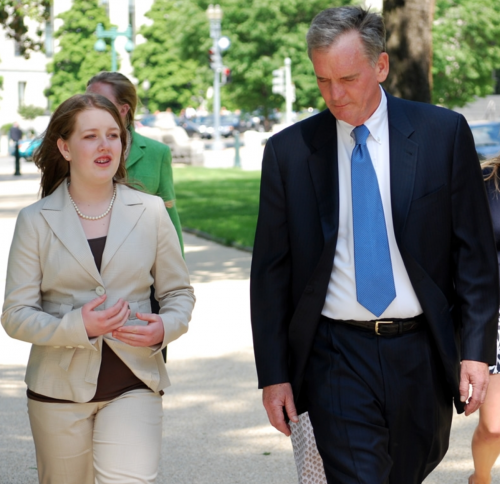 Hillary meets with US Senator Judd Gregg to talk about environmental issues.
For Hughes, working to change the world is something that comes naturally. When she was just 6 years old, Hughes and her family formed "Color My World: Kids Who Care," a nonprofit dedicated to relieving human suffering by providing humanitarian assistance to people in need.
At first, Hughes began her volunteer work by assembling school kits for children in Africa. Soon, Hughes and her family began sending hygiene kits to disaster victims. Hughes said she feels a strong empathy for people in need.
"Every time something happens I would think about, 'What if I was in a disaster and my home was destroyed by an earthquake?'" Hughes said. "I would want someone to help me. I would want somebody to be there for me."
Later this month, Hughes will fly out to Los Angeles with her mother to attend Nestle's red carpet awards ceremony. Despite that honor, awards aren't a goal for Hughes; for her, volunteering is a way of life. Both of Hughes' parents, Angela Hughes and Brian Hughes, grew up volunteering and wanted to raise their four children in the same way.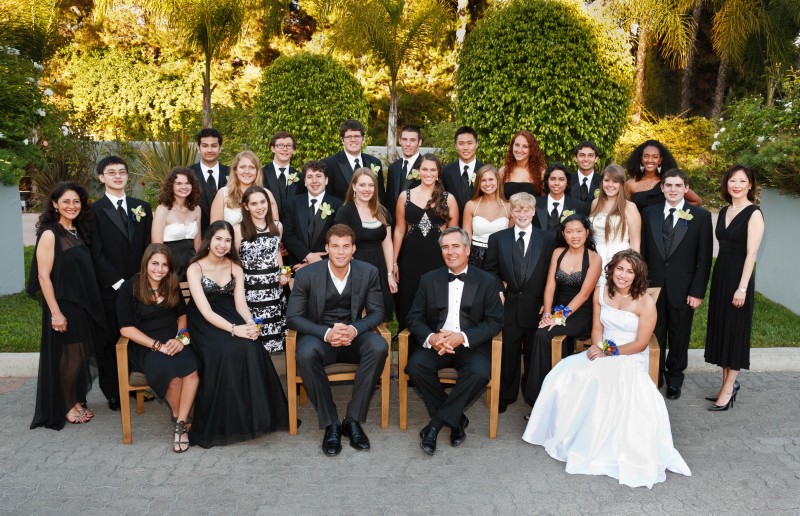 "I think it's just in our blood. We grew up from really service-oriented families and just really have a desire to give back," said Angela Hughes. "I think when you've been given much, you have to give back. It's just something we've tried to incorporate from the get-go." As an adult, Hillary Hughes may, like her parents, teach a younger generation the value of service. A keen student who loves to learn about the Renaissance and Tudor England, Hughes intends to become an elementary school teacher.
One day not too far in the future, Hughes may find herself teaching students about the importance of history — and volunteer work.

"I want to go into teaching — I want to help other people," Hughes said. "I love learning so much and I want to help back, and give children a love of learning."