AMERICA'S TOP TEN YOUTH VOLUNTEERS
NAMED IN 11th ANNUAL PRUDENTIAL SPIRIT OF COMMUNITY AWARDS
Actor Ted Danson and Olympic Champion Joey Cheek Pay Tribute
to Young Heroes as Part of Four-Day Recognition Events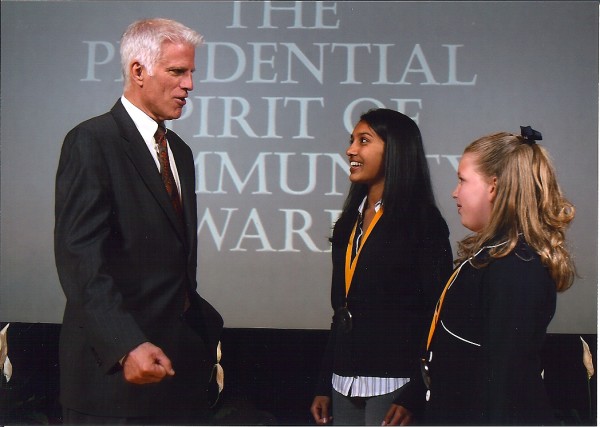 WASHINGTON, DC – For extraordinary efforts in serving others through volunteerism, ten middle level and high school students from across the country were named America's top ten youth volunteers for 2006 today in a ceremony here at the International Trade Center, capping the 11th year of The Prudential Spirit of Community Awards. Ranging in age from 11 to 18, the ten National Honorees received personal awards of $5,000, engraved gold medallions, crystal trophies for the schools or organizations that nominated them, and $5,000 grants from The Prudential Foundation for charities of their choice.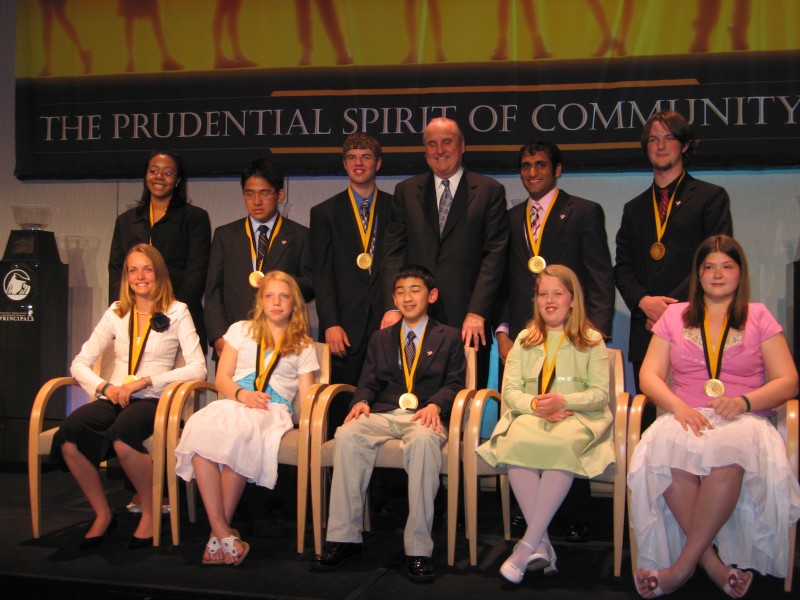 Two of the National Honorees conducted ambitious environmental projects to reduce gasoline consumption and "e-waste." Two made significant contributions to their communities by building a radio station and creating "barn quilts" to boost tourism. Other National Honorees collected large amounts of money and personal items for the disadvantaged, founded a successful inner-city service organization for young people, installed "emergency dialers" in the homes of senior citizens, and worked to keep lead-tainted toys off of store shelves. And one, a Gulf Coast resident, labored tirelessly to help his neighbors dig out and clean up after Hurricane Katrina, even though he and his family lost almost everything to the storm.
The ceremony was part of a four-day celebration that brought the top two youth volunteers
from each state and the District of Columbia to Washington with their parents to be recognized for their outstanding acts of community service. All 102 were personally congratulated by actor Ted Danson and Olympic speedskating champion Joey Cheek at a gala dinner reception last night at the Smithsonian's National Museum of Natural History.
The ten National Honorees named today were selected on the basis of personal initiative, creativity, effort, impact and personal growth. They are:
Evan Alicuben, 17, of Hilo, Hawaii, who spearheaded a project that placed "personal emergency dialers" in the homes of nearly 50 senior citizens in his community, to enable them to call for help quickly and easily in case of emergency.
Ellie Ambrose, 12, of Nashville, Tenn., who organized an annual carnival and a five-kilometer running race called "Ellie's Run for Africa," which together have raised more than $40,000 over the past two years for sick and disadvantaged children in Africa.
Hillary Hughes, 11, of Bedford, N.H., who started a nonprofit foundation that has collected more than $11,000 worth of personal-care products and other items to distribute to needy kids in her community, poor families in Chile, tsunami victims in Asia, and hurricane victims on the U.S. Gulf Coast.
Geneva Johnson, 17, of the Bronx, N.Y., the founder and executive director of a successful youth-run organization that seeks to build pride and self-esteem among young people in the inner-city through a wide variety of service projects.
Alexander Lin, 12, of Westerly, R.I., who led a student community service group in a multifaceted project to reduce the adverse environmental impact of discarded consumer electronics – or "e-waste" – through recycling, public education and legislation.
Michelle Loke, 13, of Hartland, Wis., who conducted scientific tests to check for lead content in children's toys and jewelry, and then launched a campaign to remove lead-tainted toys from stores and ban the use of lead in these items.
Ajay Mangal, 18, of Pascagoula, Miss., who lost nearly all of his possessions when Hurricane Katrina flooded his coastal city, yet devoted himself to distributing emergency supplies to other victims immediately after the storm, and helped many families clean out their homes in the following weeks and months.
Kevin Peyton, 18, of Sac City, Iowa, who rallied residents throughout his rural county to help him make colorful wooden "barn quilts" and mount them on historic barns and other buildings, in an effort to boost the local economy by attracting more tourists.
Nicholas Schwaderer, 17, of Superior, Mont., who built and now operates a low-power FM radio station at his school that has become an important source of news and entertainment for a small, mountainous community in western Montana.
Savannah Walters, 13, of Odessa, Fla., who is waging an extensive, multi-state campaign called "Pump 'em Up" to conserve energy resources and reduce pollution by urging drivers to keep their tires property inflated and thereby burn less gasoline.
"These extraordinary young people exemplify the spirit of community that is so important to the future of our neighborhoods, our towns and our nation," said Arthur Ryan, chairman and CEO of Prudential. "By honoring them, we hope not only to give them the recognition they so richly deserve, but also to inspire others to follow their example." Conducted in partnership with the National Association of Secondary School Principals (NASSP), The Prudential Spirit of Community Awards were created 11 years ago by Prudential Financial, Inc. to encourage youth volunteerism and to identify and reward young role models. Since then, the program has honored more than 70,000 young volunteers at the local, state and national level.
Applications for the 2006 awards program were submitted last fall through schools, Girl Scout councils, county 4-H organizations, American Red Cross chapters, YMCAs and Volunteer Centers affiliated with the Points of Light Foundation. The top middle level and high school applicants in each state were announced in February; each received a $1,000 prize and an engraved silver medallion.
NASSP President David Vodila said: "The young people honored this year with the Prudential Spirit of Community Award exemplify the best America offers to the world. Their actions bring unity and purpose to their communities and across our great nation. Through their leadership, service and compassion, these young people bring us all closer together."
Also honored on Sunday night were six top youth volunteers from Japan, South Korea and Taiwan who won Prudential Spirit of Community Awards in their countries in recent months. They were congratulated by Ryan and presented with special commemorative trophies.
The national selection committee that chose the ten National Honorees was co-chaired by U.S. Senators Tim Johnson of South Dakota and Saxby Chambliss of Georgia, and by Arthur Ryan of Prudential. Also serving on the committee were actor Richard Dreyfuss; Alma Powell, Chair of America's Promise – The Alliance for Youth; Robert Goodwin, President and CEO of the Points of Light Foundation; Amy B. Cohen, Director of Learn and Serve America at the Corporation for National and Community Service; Kathy Cloninger, CEO of Girl Scouts of the USA; Donald T. Floyd Jr., President and CEO of National 4-H Council; Ken Gladish, National Executive Director of YMCA of the USA; David Vodila of NASSP; and two 2005 Prudential Spirit of Community National Honorees: Devin Cohen of Briarcliff Manor, N.Y., and Lindsey Williams of St. Joseph, MO.
In addition to the organizations above, The Prudential Spirit of Community Awards are supported by the American Association of School Administrators, the National Middle School Association, the National School Boards Association, the Council of the Great City Schools, the National School Public Relations Association and many other national youth and service organizations. More information about The Prudential Spirit of Community Awards and this year's honorees can be found at www.prudential.com/spirit or www.nassp.org/prudential.