Bedford VFW post awards scholarships to local students
Friday, July 20, 2012
2012 Bedford VFW Scholarship recipients (l to r) Hannah Zeltner, Jennifer Hilchey, Linnea Hilchey, Robert Young Jr., Hillary Hughes, Sean Van Anglen, Stephanie Lamy, Alexa Pervanas.
The Richard K. Harvell Post 8401 of the Veterans of Foreign Wars recently awarded scholarships to 12 local students. Post Commander Gary Backus noted the academic and community service achievements, as well as the courses of study and future plans of the students, during the July 9 ceremony at the Bedford Old Town Hall.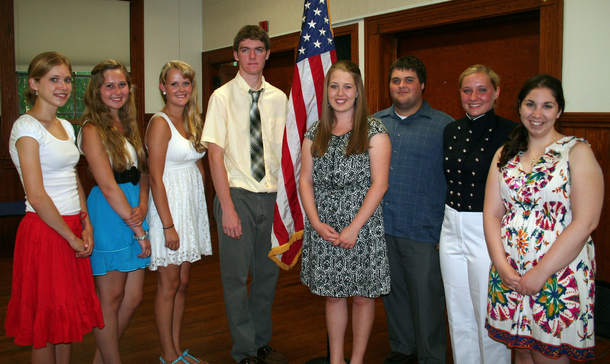 The award recipients were Vanessa Rodanas, Linnea Hilchey, Jennifer Hilchey, Sean Van Anglen, Robert Young Jr., Robyn Keriazes, Kristina Pervanas, Alexa Pervanas, Stephanie Lamy, David Cummings, Hillary Hughes and Hannah Zeltner. More than 40 family members and post members gathered to honor the awardees.
The scholarship program was initiated in 1992 to honor the memory of past All State Post Commander George T. Wiggin and expanded in 2005 to also honor the memory of past All State Post Commander Margaret "Peggy" Rice, the first woman so honored in the New Hampshire VFW.
The scholarships are awarded to a child or grandchild of a post member, a veteran, or a Bedford resident. Since the program's inception, the Bedford post has awarded nearly $30,000 in scholarships and educational grants.