Bedford high schooler awarded scholarship from Distinguished Young Women program
Friday, December 2, 2011
Bedford High School senior Hillary Hughes plays the harp as part of the Distinguished Young Women of New Hampshire program Nov. 25 at Southern New Hampshire University. Hughes took away $400 in scholarship money for winning the talent and fitness portions of the competition.
Enlarge
Special to the Journal
On Nov. 25, Hillary Hughes, 17, of Bedford, competed in the Distinguished Young Women of New Hampshire program and was awarded $400 in cash scholarships, winning the talent and fitness competitions during the statewide scholarship program for high school girls held at Southern New Hampshire University.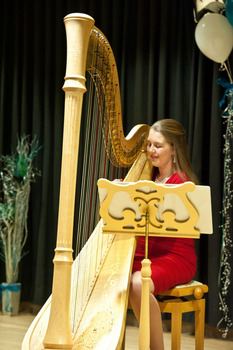 Hughes played an instrumental piece on the harp titled "The Secret Life of Daydreams" by Dario Marianelli.
Hughes competed against other high school senior girls from across the state to represent the state as the Distinguished Young Woman of New Hampshire 2012. Participants were evaluated in the categories of scholastics (20 percent), interview (25 percent), fitness (15 percent), self-expression (15 percent) and talent (25 percent).
For more information about Distinguished Young Women, contact Stephanie Bradford, national headquarters communications director, at 1-251-622-5335 or stephanie@distinguishedyw.org or visit www.distinguishedyw.org.
– See more at: http://www.cabinet.com/bedfordjournalbedfordreadersubmitted/941900-308/bedford-high-schooler-awarded-scholarship-from-distinguished.html#sthash.ONYW78dV.dpuf