Bedford Bulletin
News and Information for the Town of Bedford
Bedford families host students from Japan
"Konnichiwa," "domo arigato" and "sayonara" are just a few of the Japanese words several families in New Hampshire are learning this month, as they host 14 of 69 children who traveled to New England from various parts of Japan.
Currently, three exchange students are placed in Bedford and Hooksett, with the remaining students spread throughout New Hampshire and New England. The students are here as part of the Labo International Exchange Foundation.
Shiori Takaoka, 13, from Nishinomiya, Japan, is staying with Cyrah Pribyl, 12, of Bedford.
Although English is limited for Shiroi, Cyrah is learning to speak phrases from a Japanese book that was provided by the program.
The two girls have been communicating in many other ways, as well.
"We both love music and iPods. We turn them up and listen to our favorite songs," Cyrah said.
Her mom, Christine, said some of the similarities and differences between the girls have been great, causing laughter on both ends.
"Some things are just funny no matter what language you speak," Pribyl said.
Shiori's dream is to ride horses.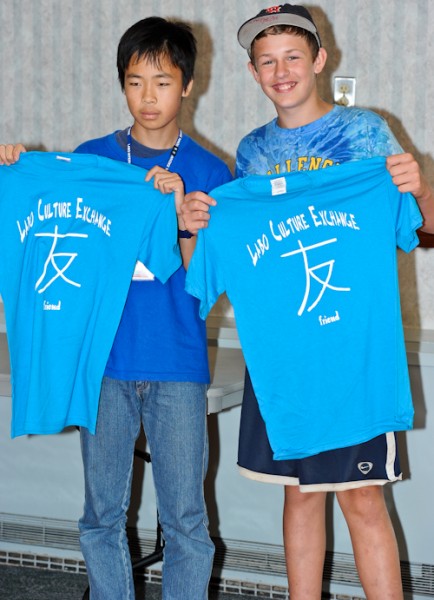 "We wanted to make that happen for her, so we called a friend with horses in Gilford and set that up," Pribyl said. "She was so excited to do this for the first time in her life." The girls have spent many eveninggs playing games like Uno, creating origami and cooking, sharing Japanese and American recipes.
Shiori created a popular dessert, "yokan," a sweet azuki beans dessert recipe for the Pribyl family.
"It certainly was a different dessert than what we are used to, but interesting to try," Pribyl said.
Anthony Bernardini, 9, of Hooksett, and his parents are also hosting an exchange student this summer. Kohei Moribi, 12, is from Inazawa City, Japan.
As an only child, Anthony thinks it is fun to take his new Japanese brother to the beach and plays games with him. "We have driven go-karts and eaten hot dogs," Anthony said. "He calls my parents 'mom' and 'dad.' I am learning new different cultural games, too."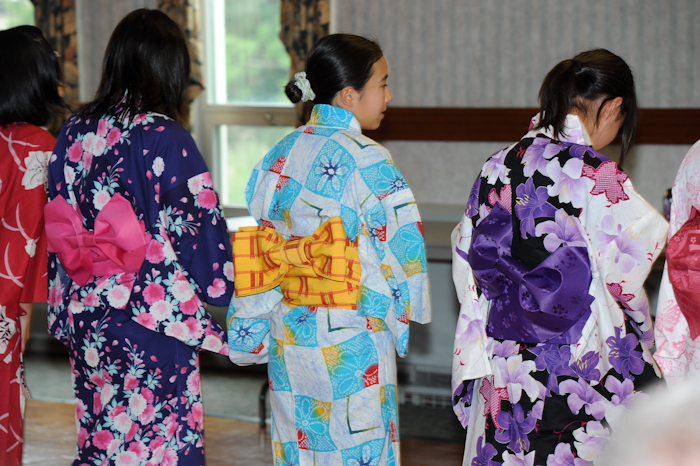 Anthony's father, Tony, said Kohei is one of the most polite young men he has known. He said he respects their home and helps with jobs around the house.
"He has a journal he keeps and we help him write in it every day," Bernardini said. "We are hoping that he will cook a meal for us. He shared a bunch of Japanese desserts and treats, and showers us with small Japanese gifts every day."
Labo International Exchange Foundation has been organizing home-stay and academic-exchange programs since 1972.
Japanese children ages 12 through 18 can come to the United States, Canada, New Zealand or Australia for a month during the summer. They live with a host family who has a child the same age and gender.
Home-stays can be a new and exciting experience for a foreign exchange student and just as enthralling for the host family.
Just ask Gina Ladarola of Manchester, the New England director of Labo.
"I was just a homeschooling mom who went to a homeschool convention to buy books and came home with a commitment to host a Japanese child for a month 13 years ago" she said. " I loved it so much, I have been doing it ever since."
Thousands of Labo tutors, trained by local Labo offices, recruit young people from their neighborhood to join their Labo Party Clubs. Tutors often remain an important part of their members' lives into adulthood.
"It is so exciting to open your home and heart to a global experience. Your own children recognize that people are people no matter where they are from. This type of experience can have a profound impact on you for the rest of your life." Ladarola said. "It is a simple gift to give around the world."
Labo members use international bilingual songs, stories and plays from around the world and learn about the world and about working with one another.
Ladarola said she is always amazed by the comments that the Japanese students give at the end of the experience.
They express how much they love the interaction of the American family and the talking and laughing that happens over the dinner table.
"To share bread with another teen from clear across the world is a life-changing experience, not just for them but for the families who participate in the program" she said.
For more information, visit www.labo-exchange.com.