THIS TRIP IS NOT OFFERED IN 2017……but will be back in the future!
IN THE MEANTIME, CHECK OUT WHAT WE DID LAST YEAR!
Pura Vida!
Come volunteer in the beauty of the rainforest among some of the kindest people in the world.
While not overly strenuous,  you will leave this trip with a sense of accomplishment and gratitude.
We work directly on community development projects such as neighborhood beautification, renovating buildings, landscaping public & private spaces, painting classrooms, and improving education in the classroom in third world conditions. while working with children and orphans.
Hotels are made for tourists, clean with air conditioning and wifi.  This is a perfect first experience for those who want to give volunteer tourism a try!
The variety of work changes from team to team, depending upon current needs. In a short time, your personal efforts as a volunteer in Costa Rica help catalyze long-term economic and social improvements.
This tour is good for teens and young adults who want to combine volunteering with adventure in beautiful Costa Rica.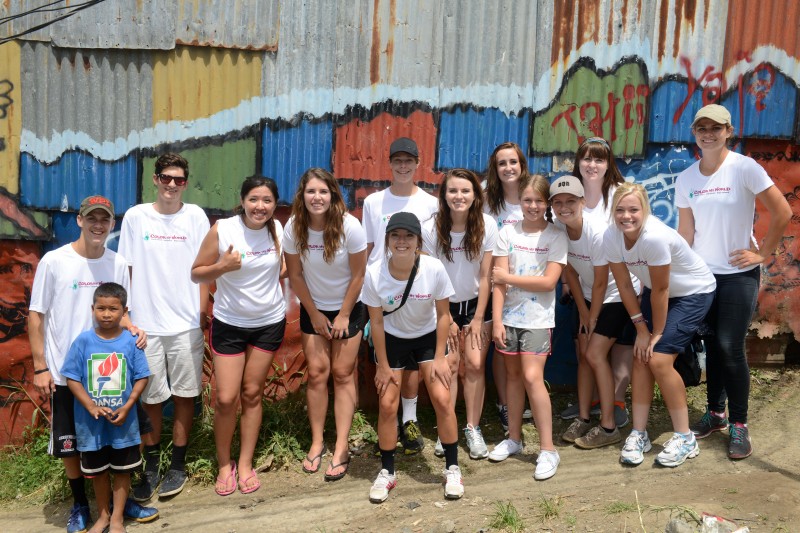 Session #1
$1499.00 per person not including Air
Deposit Due at the Time of Acceptance to the program.
Non-refundable deposit is $500.00 per person.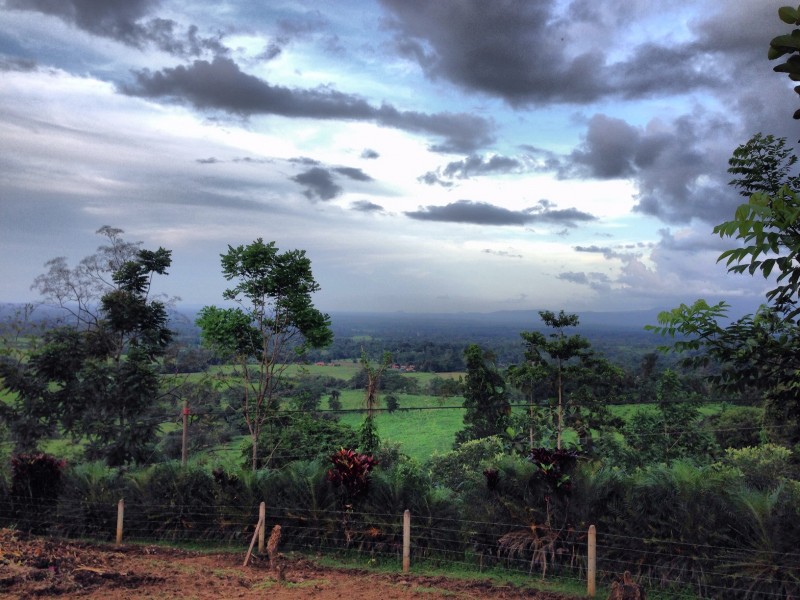 * Accommodations during the volunteer's specified Color My World program dates
* Planning, materials, and personnel required for our volunteer initiatives.
* Meals
* Adventure activities as noted
* Program ground transportation within Costa Rica
* Fees as charged by Costa Rica organizations
* Orientation(s) in Costa Rica
* Program arrangements and management administration and recruitment costs
* Color My World Team Leaders
* Color My World informational materials
* Color My World Dri-Fit T-shirt
*  Zip-Lining/Sky-Tram Adventure Ride
*  Water Rafting Day Trip
*  La Fortuna Waterfall Hike and Swim
What is not Included?
* 1 dinner last evening and 2 lunches near the volcano at your leisure
* Airport Taxes
* Tipping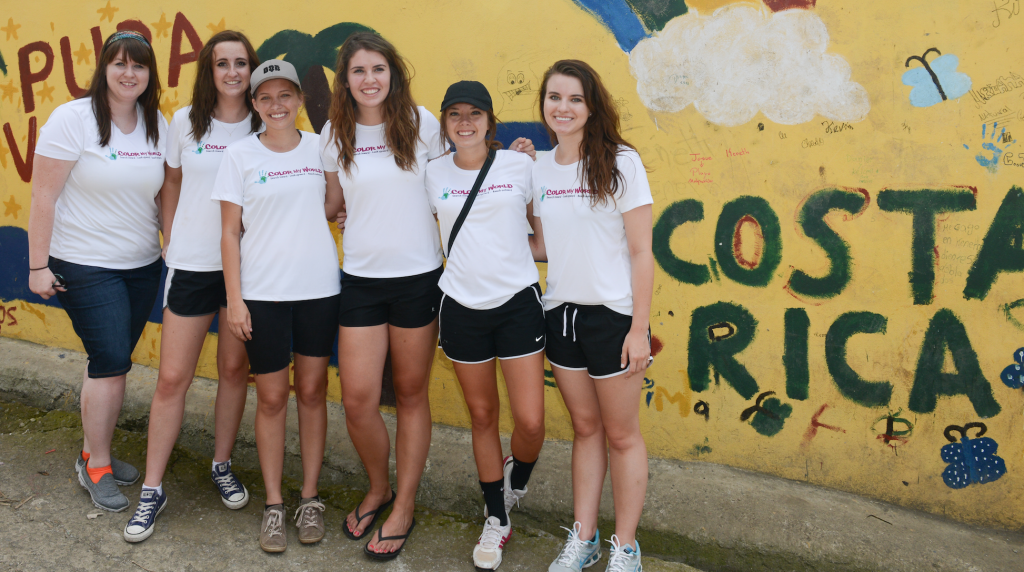 All space is on a first-come, first-serve basis.
Space is provided on a first come, first serve–deposit–basis.
Once the deposits have been received we will move to a waiting list or add another week if demand requires.
CMW reserves the right to cancel the trip due to low enrolment.
Full deposit will be refunded in case of cancellation.
"Please do not book your flights until we have sent out the email that the trip is progressing.

Color My World will not be responsible for air bookings in any situation."
APPLICATION; DEPOSIT AND PAYMENT: Early applications are strongly recommended, and a non-refundable down payment of $500 per person is required at the time of application or prior to April 30, 2016, with the final payment due April 1, 2016. Applications received after April 30 should include full payment. Checks should be made payable to CMW. All applications are subject to approval by CMW. Important: Once you have been confirmed on the expedition your initial $500 deposit is non-refundable, unless CMW chooses to cancel the trip due to low enrollment.
CANCELLATION: Contributions that you have solicited from others on behalf of CMW are general unfettered contributions to CMW and cannot be refunded regardless of your participation in a CMW expedition. (If this was not the case these contributions would not be tax deductible.) If you are cancelled by CMW from an expedition for failure to meet the payment or document submission deadlines all payments made directly by you will be non-refundable.
Payments made by you to cover your participation in a CMW expedition are non refundable.
A participant with a scheduling conflict may be allowed to transfer their credit to a new participant for the same trip or if their place can be filled by another person from the waiting list.
CONTRIBUTIONS: Contributions can often be claimed for a federal tax deduction if donated to CMW on an unfettered basis (as opposed to supporting only an individual). Out of pocket travel expenses to further the CMW' non-profit purpose may be tax-deductible. The part of any contribution from which a person receives a benefit is not tax deductible. Please consult a tax specialist concerning your specific situation.
Please do not book your flights until we have sent out the email that the trip is progressing.
Color My World will not be responsible for air bookings in any situation.
Costa Rica 2018  Tentative Itinerary* subject to change
Day 1  Group meets in Miami
Arrive in Costa Rica
Trip Commencement: Upon arrival in San Jose, Costa Rica (SJO) you will be greeted by your Color My World team leaders and escorted to our week's accommodations near La Carprio, Costa Rica.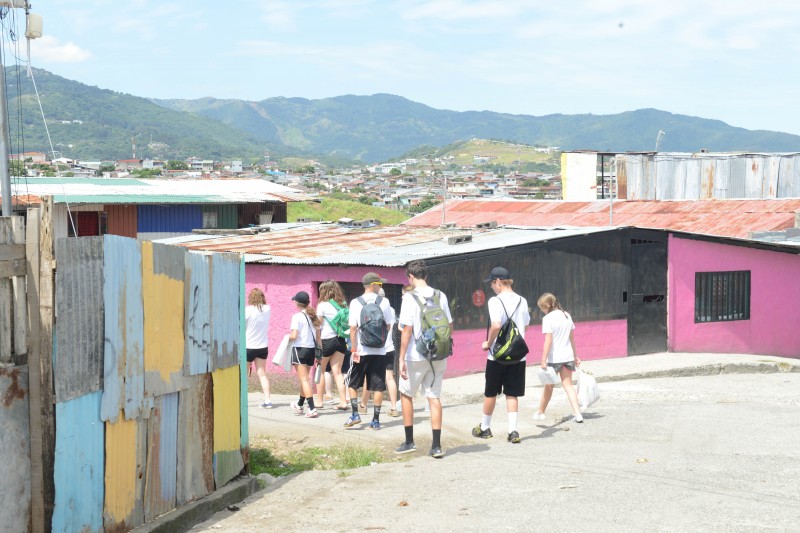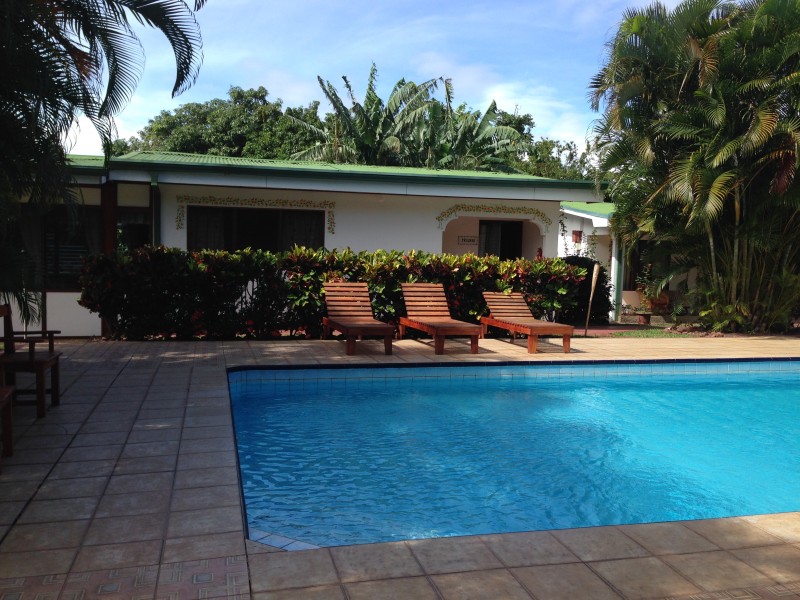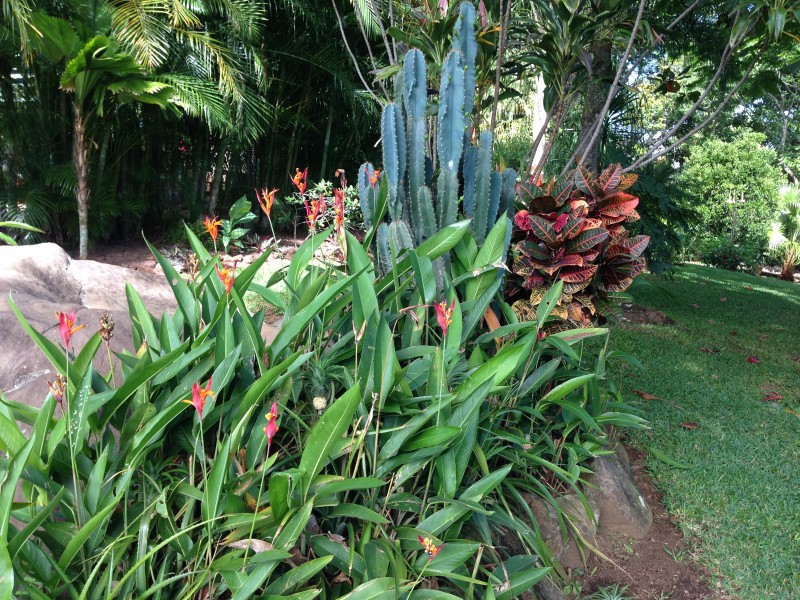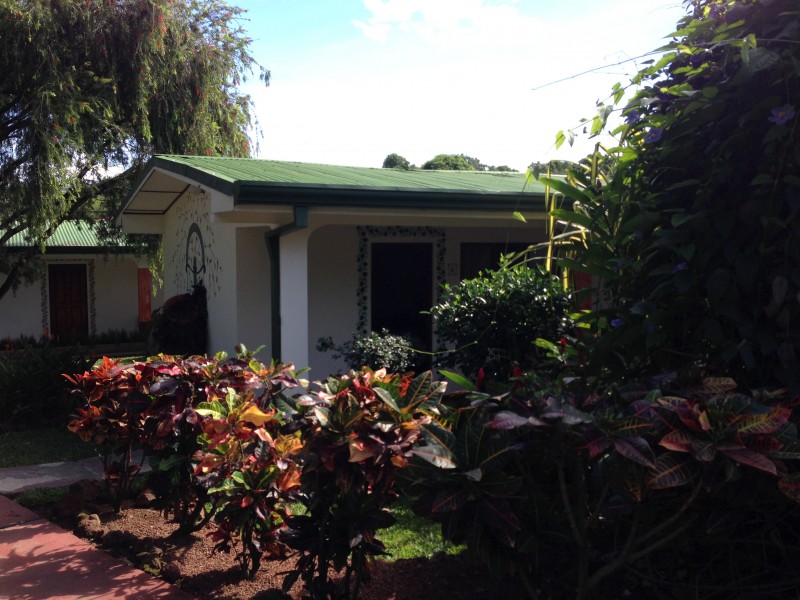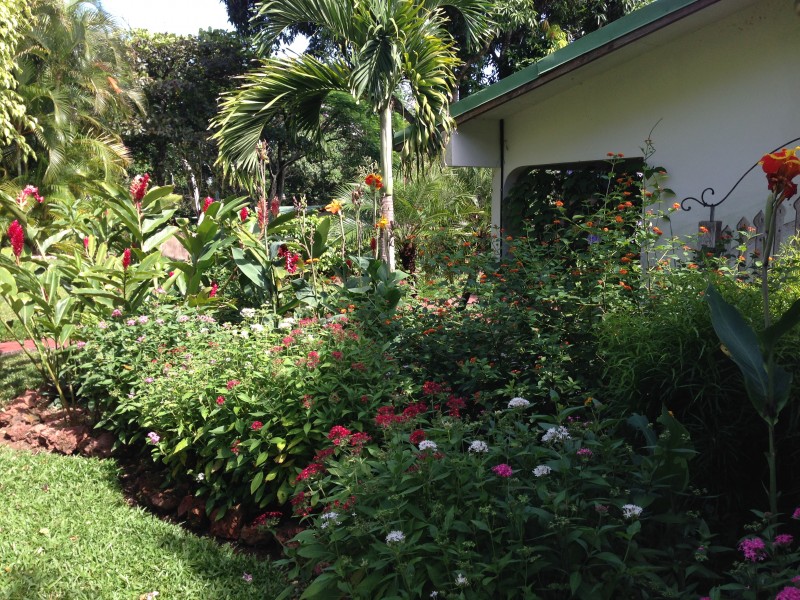 Sunday afternoon is spent touring the community and getting acquainted with the projects.  Beginning to meet the children and families that we serve in their community is a highlight for starting the week.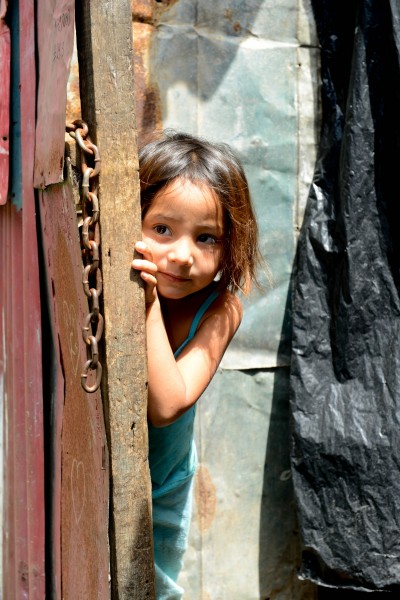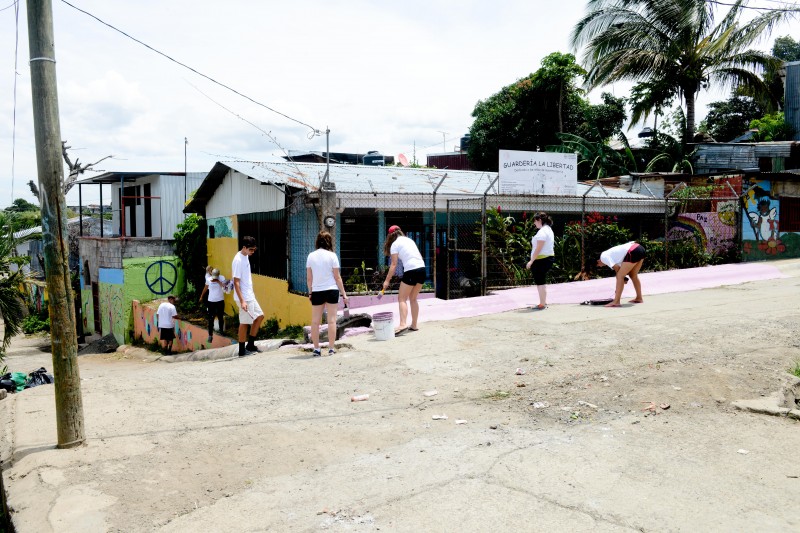 Monday – Wednesday Volunteer in La Caprio
Our teams will be working with local community organizations; we will be playing outdoor sports with community members and working with specialized programs, such as the elderly, street projects, tutoring or reading to young children at the care facilities, painting and small home improvement projects. The needs are constantly changing.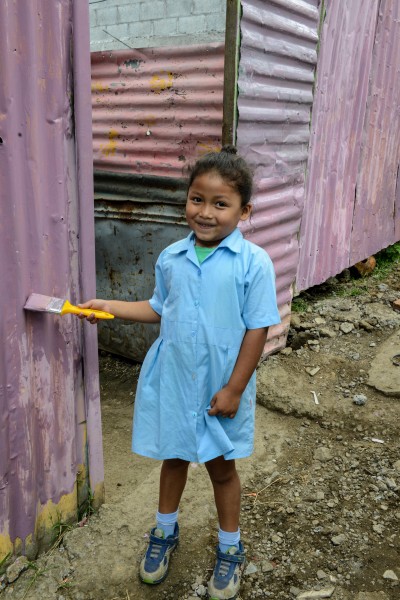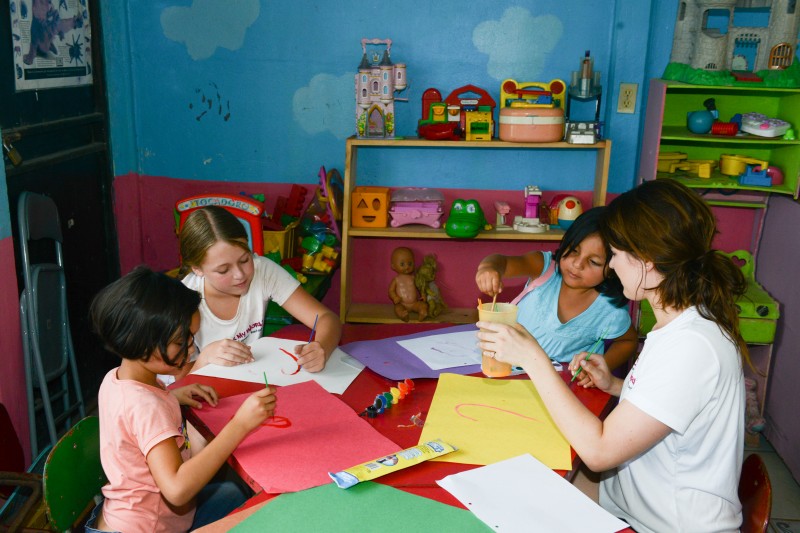 About La Carpio:
Finca La Carpio is a 9 mile square piece of land owned originally by the Costa Rican medical system to be used as a recreational area for their members. Nearly twenty years ago, Nicaraguan immigrants came to the land and placed plastic and corrugated tin shacks on it.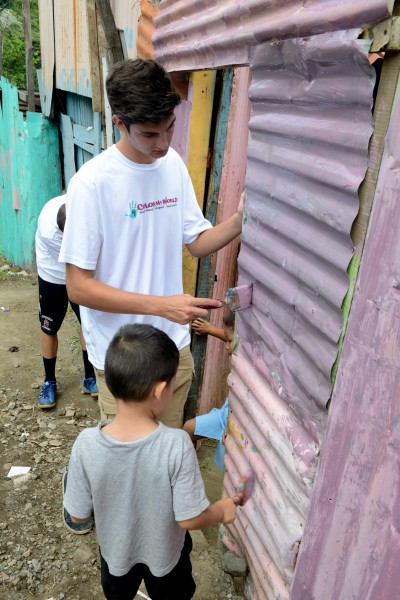 Since that time, there have been an increasing number of squatters on the land and now, there are about 34,000 people living there. The Nicaraguans have arrived through the years for a variety of reasons including, the devastation of a civil war, the destruction of natural disasters and the desperation of poverty that led to hunger. The people who came here are resilient, strong and resourceful.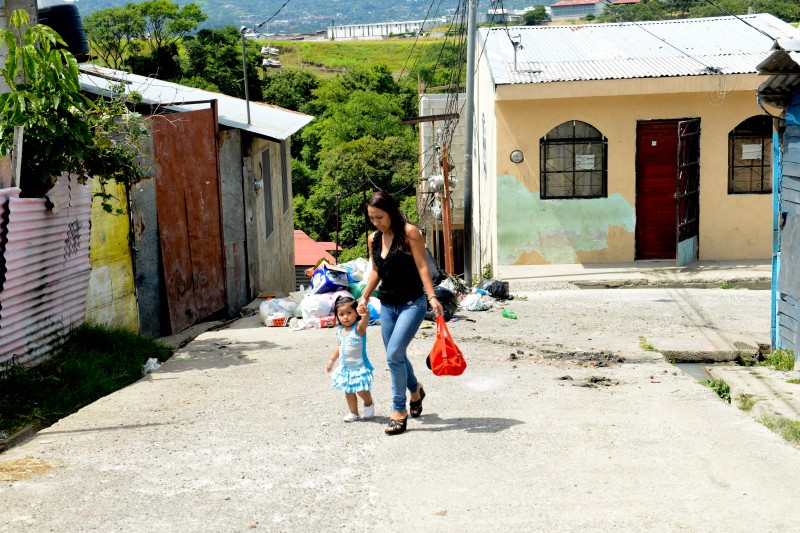 Because of the fact that Costa Rica is the signatory to national treaties guaranteeing the right to education, healthcare and livable housing to all those who live in the country, these immigrants were able to receive free public education, a chance for adequate health care, infrastructure improvements in their communities and opportunities to search for work.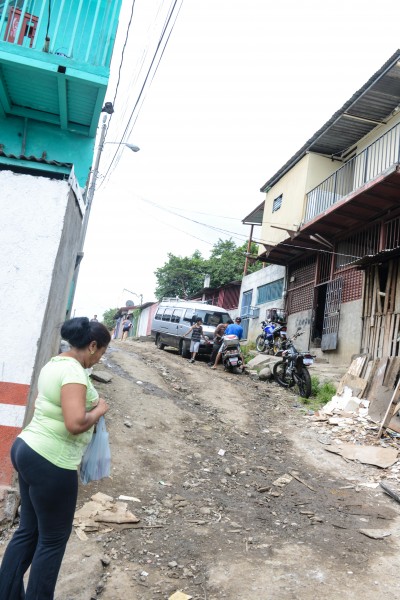 The housing situation has improved for most of the families living in this area due to their own hard work and frugality. Soon, the government will be assisting them in the process of legalizing the title to their land.
We will also be taking an afternoon excursions to visit a native indigenous healer in the mountains.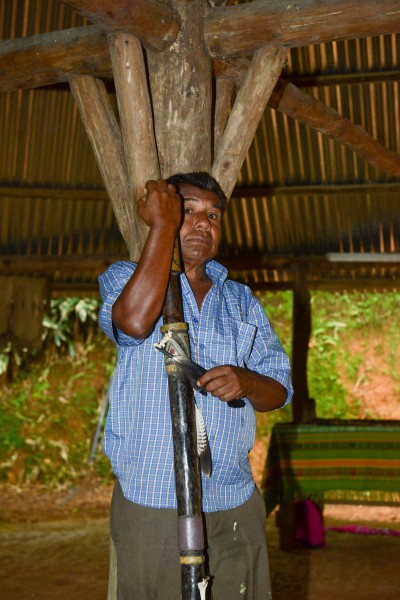 We will visit a coffee factory during our stay in La Carprio.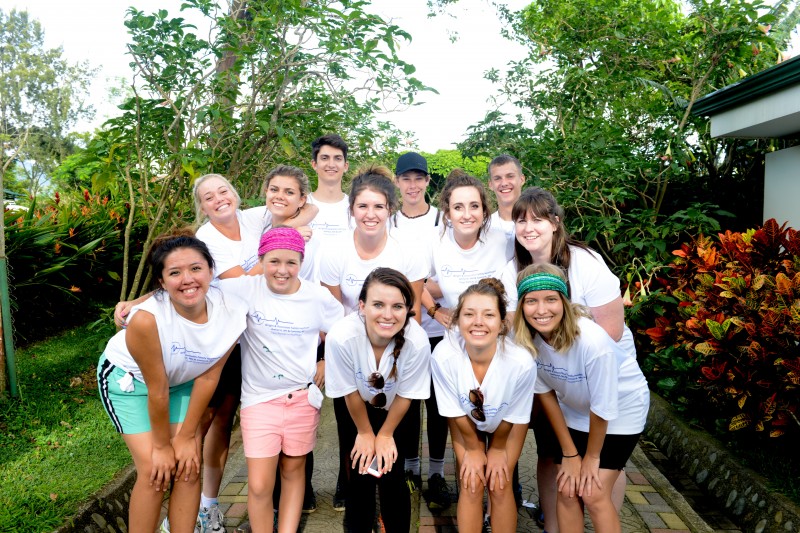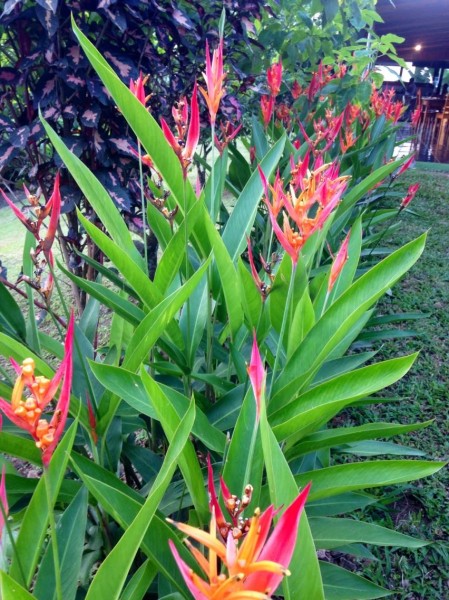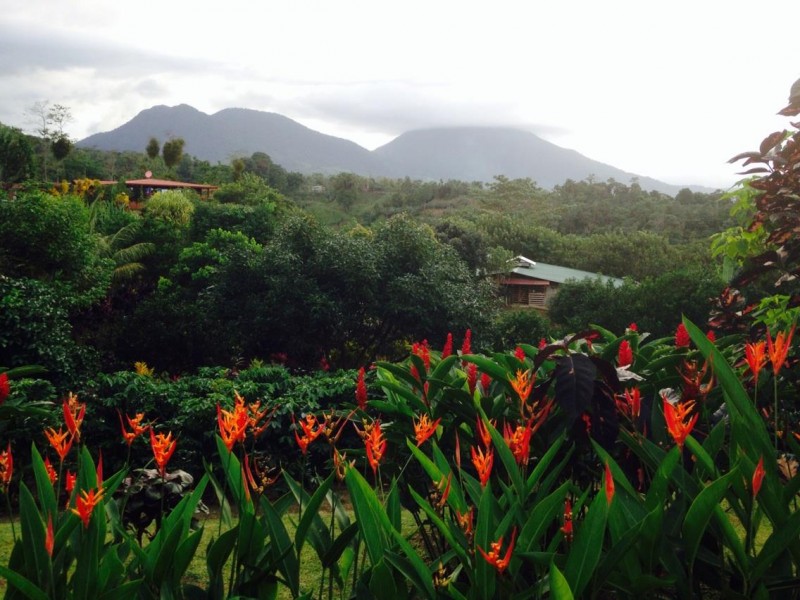 Wednesday Evening
After a day of working,teams head off for a Costa Rican adventure to La Fortuna home of the Arenal Volcano, where we will stay 3 nights at a lodge in the rainforest near the volcano.
Thursday
We will volunteer at the local orphanage in the morning. This orphanage is the only one of its kind in the La Fortuna area and is a pioneer of this type of transitional home.  This orphanage is where children are taken directly from bad home situations and given a safe place.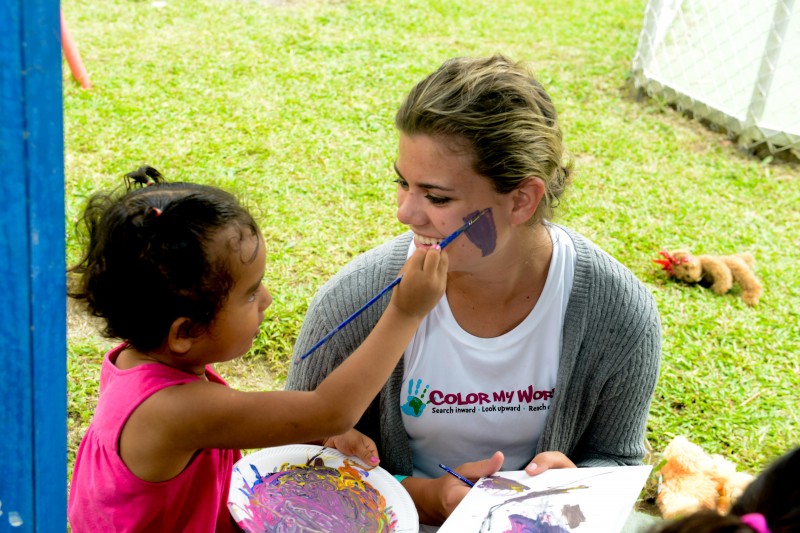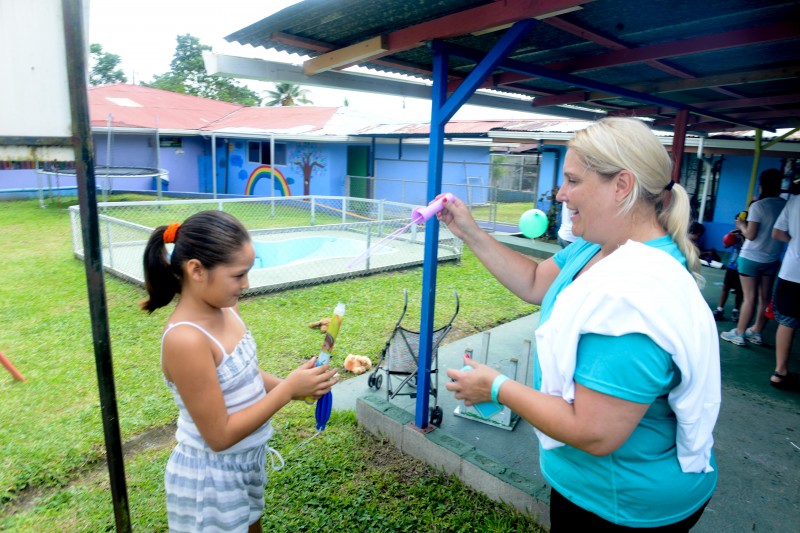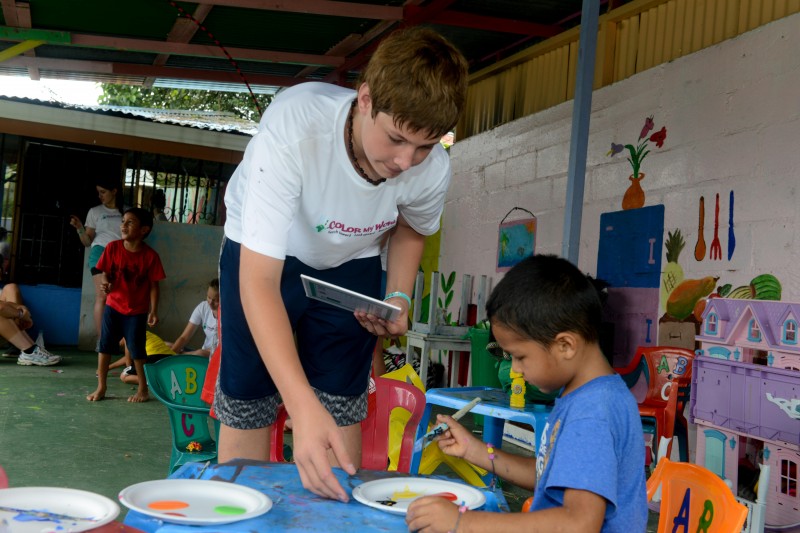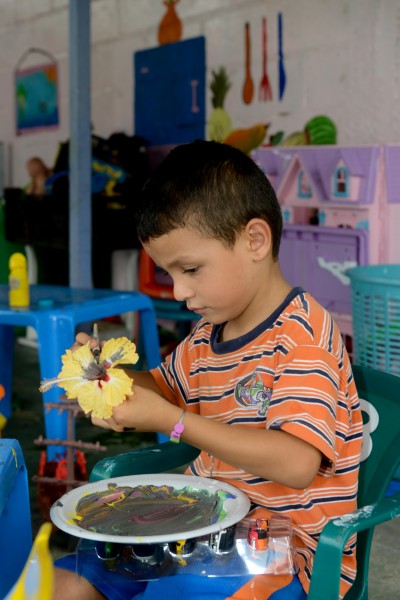 The orphanage is a sustainable home and the children learn how to grow food, care for and gather eggs from chickens, how to recycle and much more.
[single_testimonial id=2612]
In the afternoon, our teams will ride the Sky Tram to go zip-lining.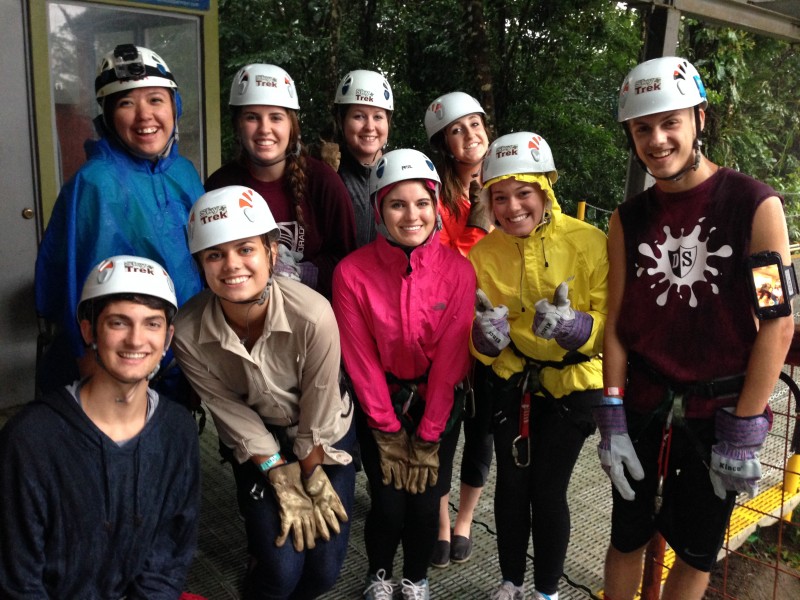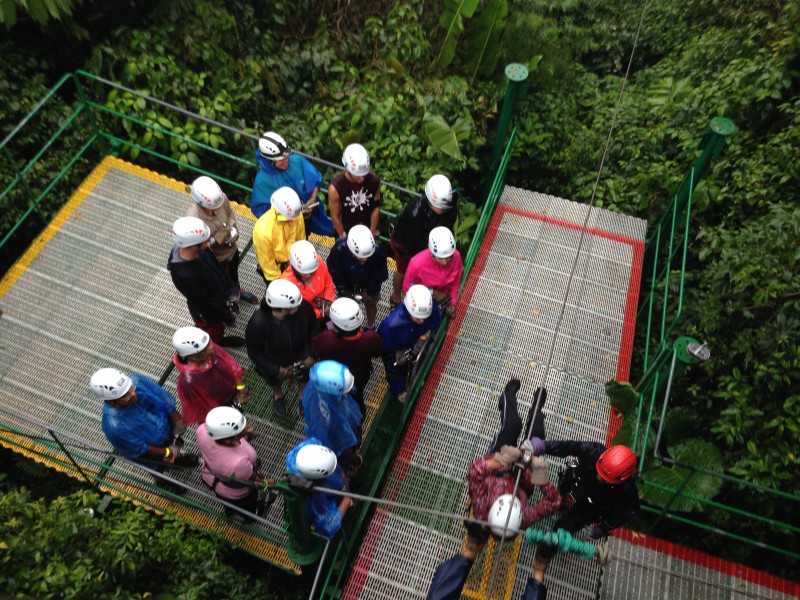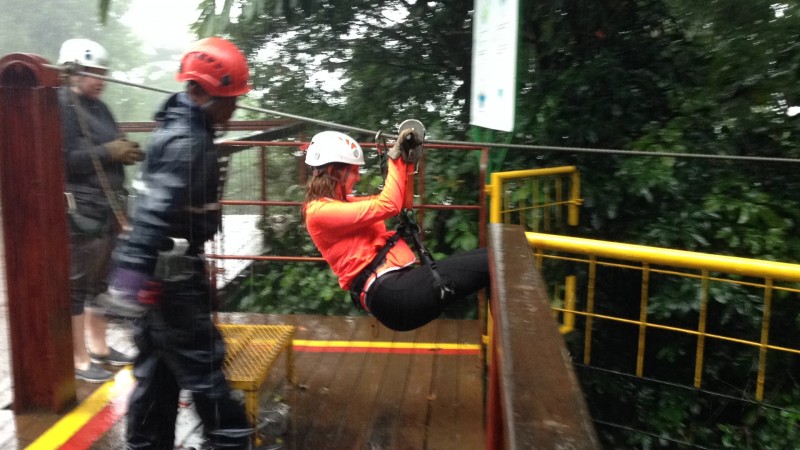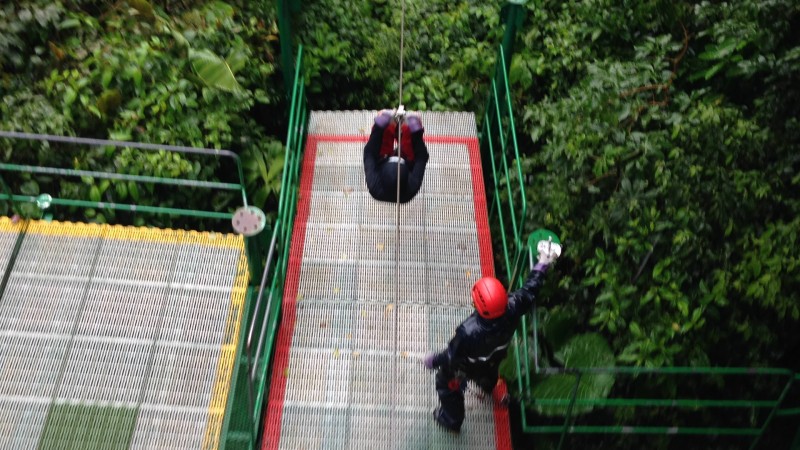 :
Friday, we will volunteer at a local family farm or continue our work at the orphanage.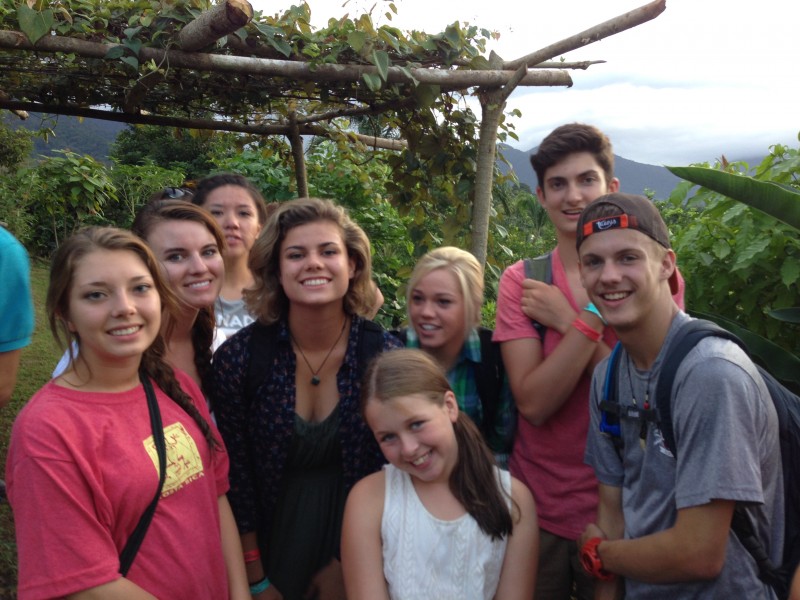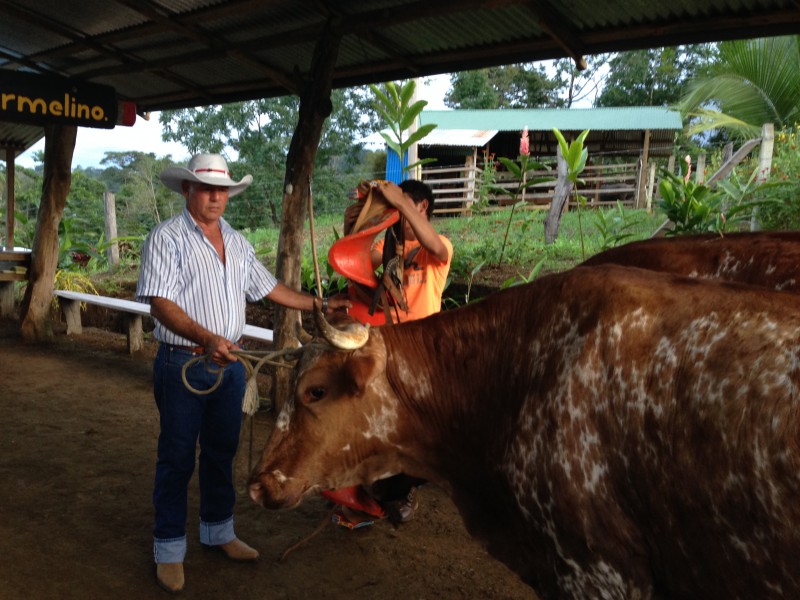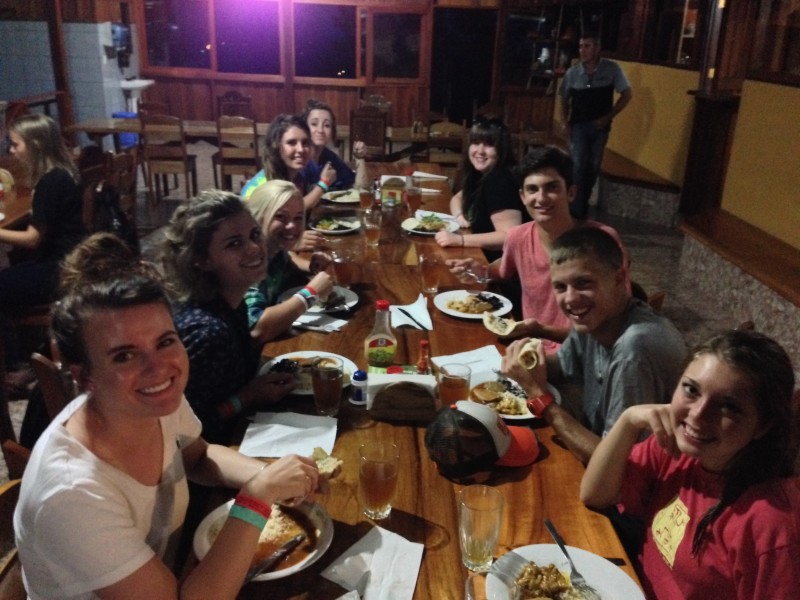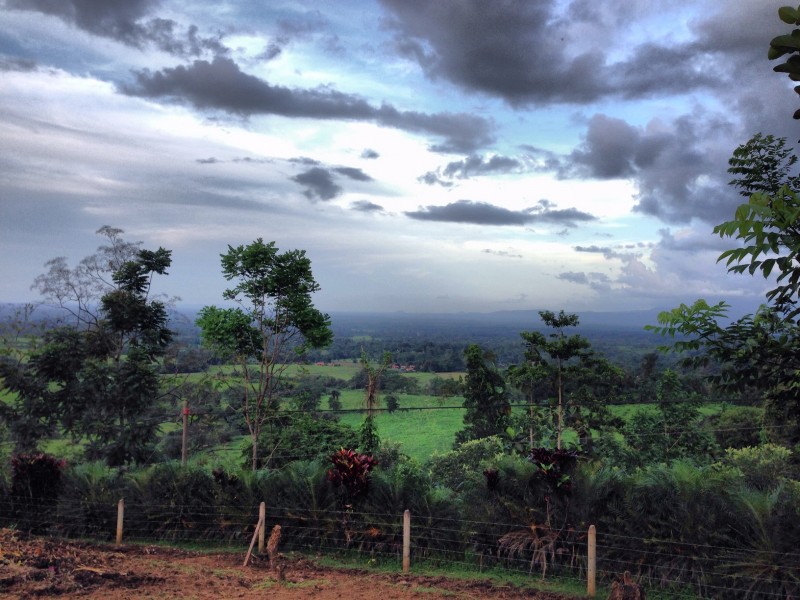 That afternoon, we will hike to the LaFortuna Waterfall.
La Fortuna Waterfall (Spanish for "the fortune") is located in central Costa Rica, in the Alajuela Province. In Spanish, it is known as Catarata Fortuna. The waterfall drops about 70−75 meters and is located at the base of the dormant Chato volcano, about 5.5 km outside of the town of La Fortuna, near the Arenal Volcano. It is fed by the Tenorio River, which travels through the rain forest in the Arenal Mountain range, until it plunges over the cliff–forming this waterfall.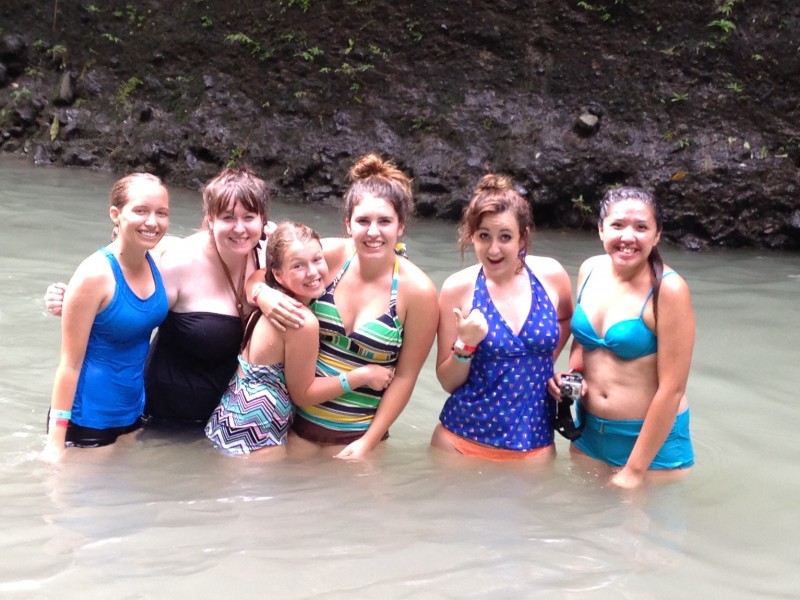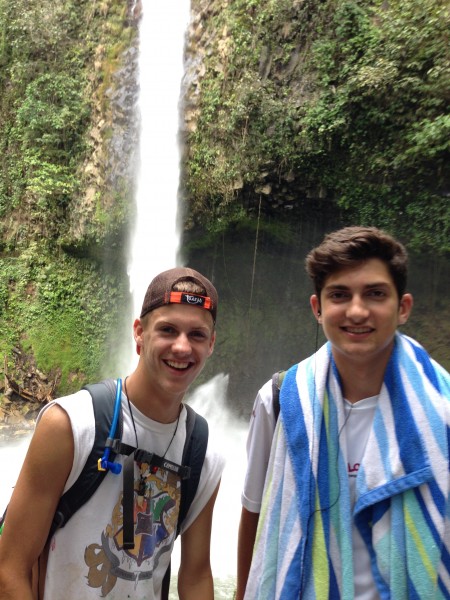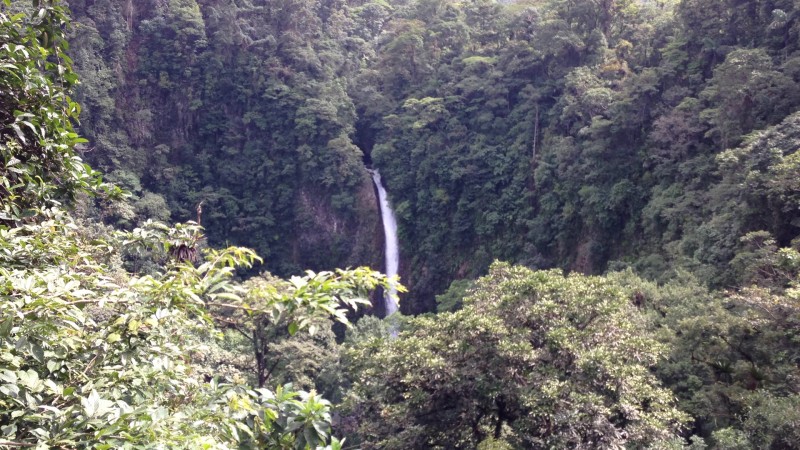 Saturday ADVENTURE DAY
We will head to the Sarapiqui River Jungle Run section near the  Arenal Volcano to river raft .  A class 3-4 river run with lots of exciting, continuous rapids near the Arenal Volcano.  This adventure tour is considered one of the best in the world.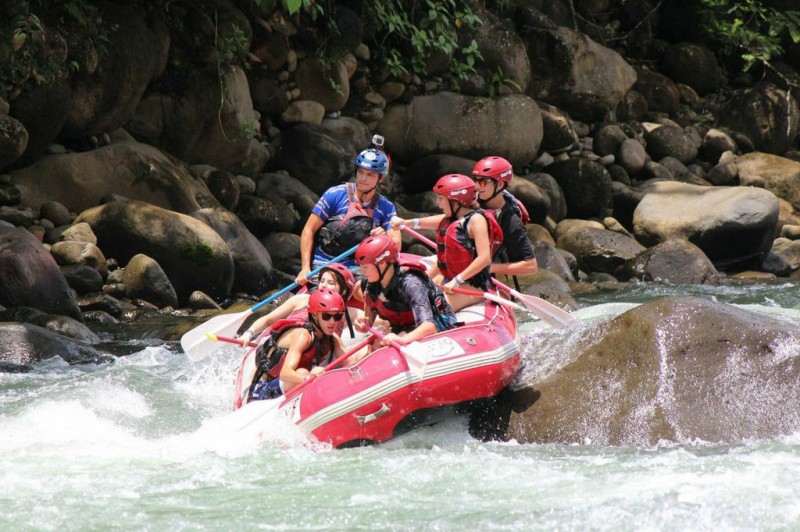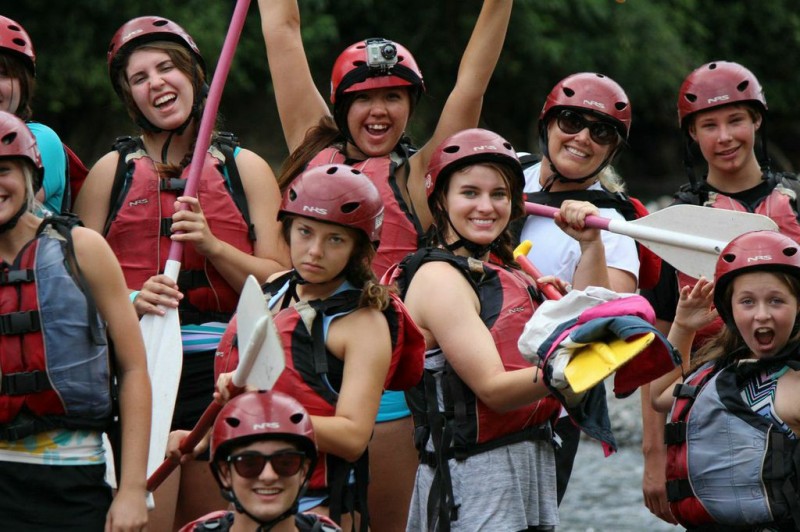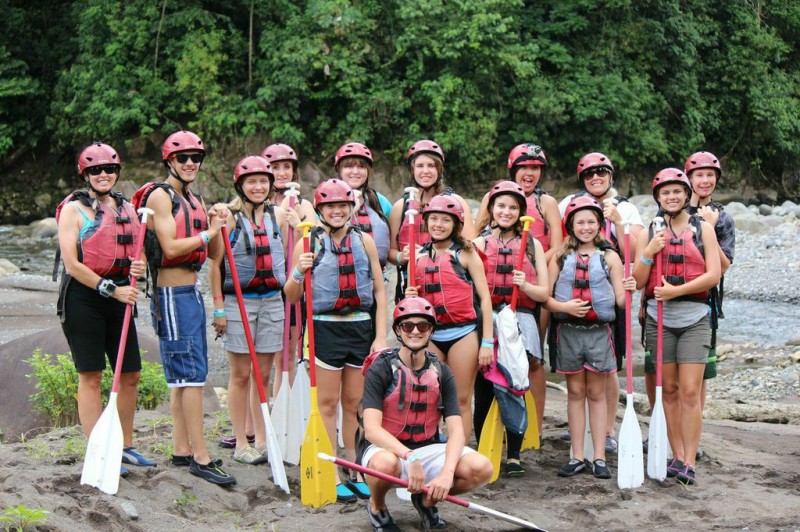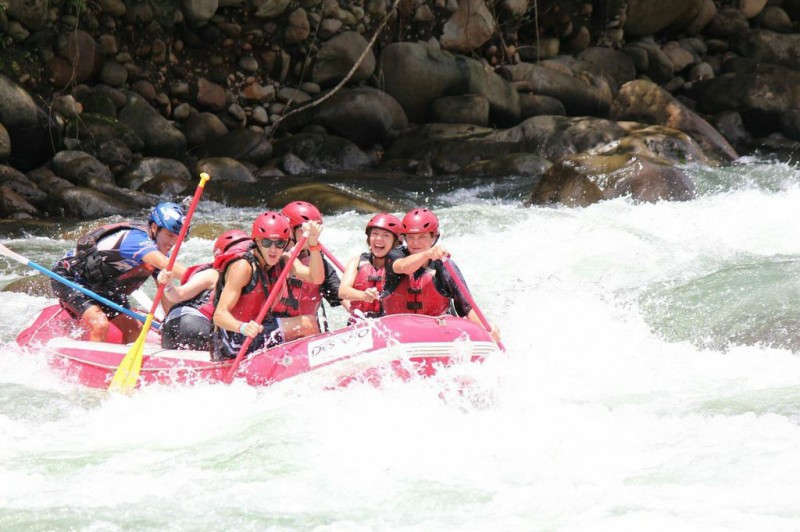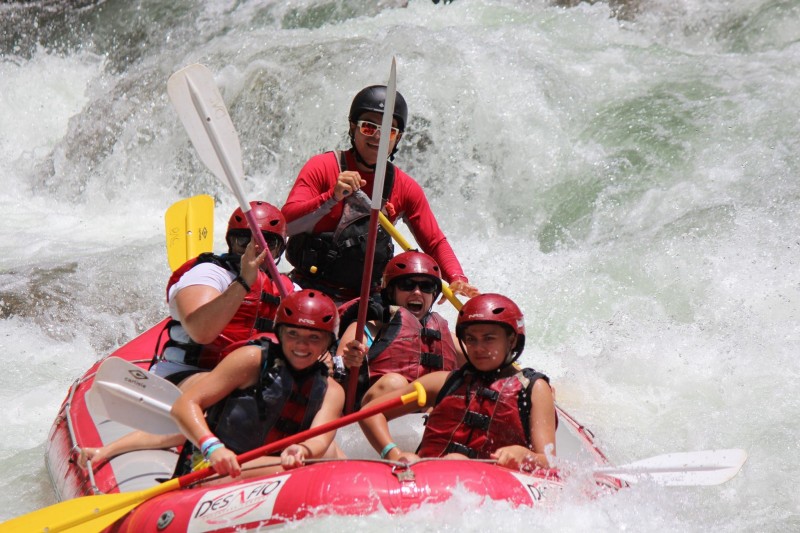 * Watershoes and a change of clothes needed!
That evening we will head back to San Jose where we will check into our airport hotel and prepare for our departure the next day.
Pizza dinner not included.
Say goodbye to your new friends!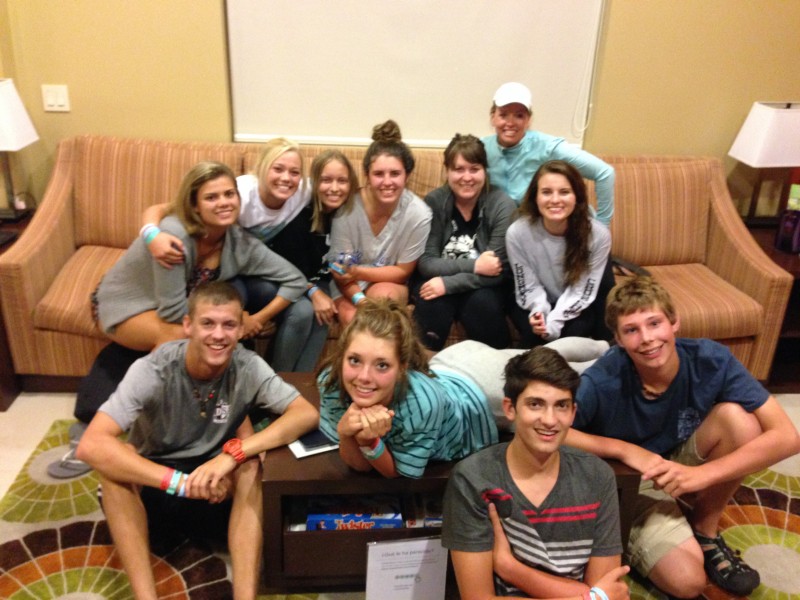 Sunday DEPART
About the Program Director: A mother of four children, ages 11-20, Angela Hughes has been in the travel business both as a travel agency owner of Trips Inc. for over 30 years and as a former adjunct professor at both Brigham Young University in the Geography/Travel &Tourism Department and The New Hampshire Community College system teaching Travel &Tourism.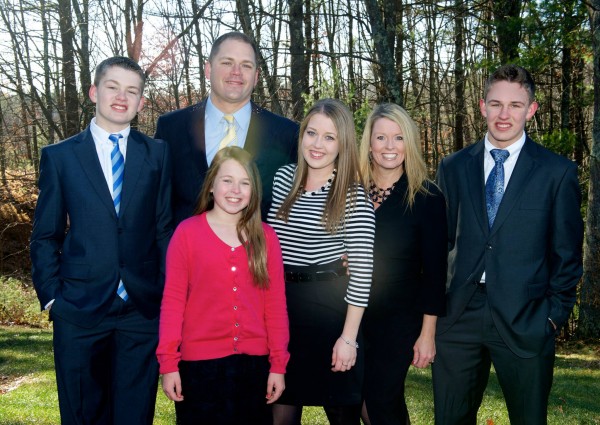 Hughes plans and escorts groups around the world and specializes in Europe, Asia and 3rd world Humanitarian Trips.
A humanitarian, Angela Hughes is the director and co-founder of her family foundation, Color My World (501c3) and personally arranges and escorts each group that travels with the foundation. She is engaged with each project from start to finish."
Angela's expertise include a masters degree in geography and hobbies include the humanities, photography and the Renaissance. She has taught her children on location throughout the world bringing to life art, history and science through travel education.
"I have two passions in life, meeting new people, and exploring the world. So far I have spent two and a half years of my life in America, and have explored a fair bit of Europe. I believe that true happiness is found in life not through the wealth you accumulate, but by the experiences that you have with people. I believe that life should never be taken too seriously, but instead be filled with laughter. Often people tell me that sarcasm is the lowest form of wit; my response to them is that at least it is still a form of wit! All in all, I am Dan, I love people, I love seeing new places, I unashamedly love sarcasm, I am a geek when it comes to Psychology, and I am British."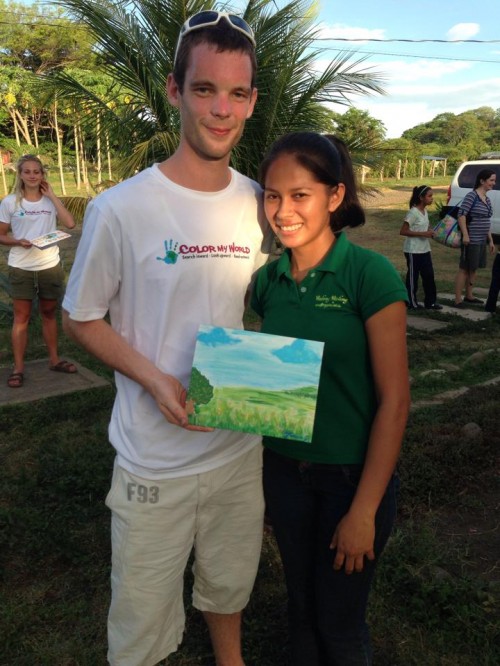 Chase Hughes, 18, a senior at Bishop Guertin High School specializes in advertising the trips and inviting the crowds to come. On location, Chase directs the teams and often motivates them to be their best. Chase does a lot of the hardcore labor that is necessary to make the projects run smoothly.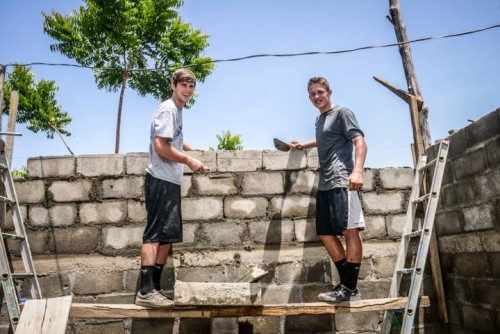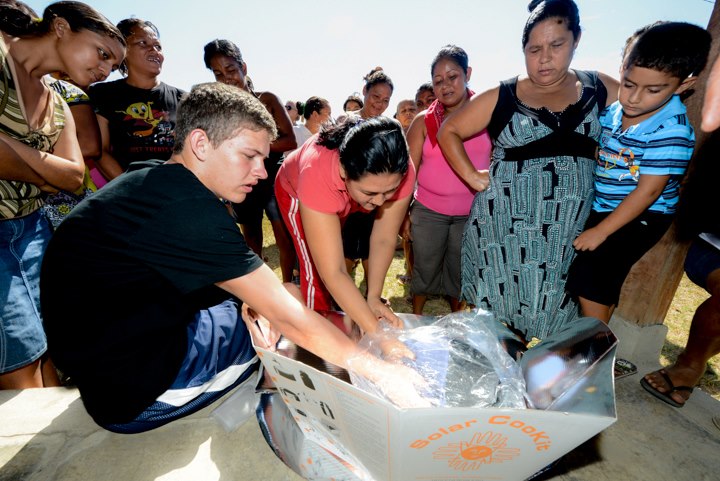 Required Forms & Links
CMW Agreements Adult Participants 2016 PDF

Adult 

Agreement Form
CMW Agreements Youth Participants 2016 PDF Youth Agreement Form
Apply for a passport or make sure your passport is current
Register with Smart Traveler Enrollment Program
Download Fundraising Guidelines
Health & Vaccination Info from the Center for Disease Control & Prevention

Download

Packing List – (Packing list will not be available until notified)
Buy required Travel Insurance
Who is this trip best suited for?
This trip is best for active, adventurous people 16+. We primarily work in a kindergarten setting and do very light maintenance such as painting etc. We do not do heavy construction on this trip.
We do not accept full families as we have limited space, but will take one parent. Because of the nature of working with children in a kindergarten setting and in orphanage we tend to accept one female parent per trip. Space is limited!
We do not accept children under 14 even with a parent on this trip because the adventure activities are not suitable for younger children.
When is the deadline to apply?
The Color My World application, ALL DOCUMENTS and deposit are due by at the time of acceptance.  Our programs fill up on a first-come, first-served basis.  We have limited spots. We accept people in the order that we receive your documents and deposit.
Color My World is working on a group flight from Orlando on Jet Blue. Orlando will more than likely be our meeting point. Once we hear back from Jet Blue, we will let you know.
Air is purchased separately and you are welcome to use frequent flyer miles to meet us there.
How long are Color My World programs?
Color My World international volunteer programs are 7 days for the Costa Rica excursion.
What if I'm not a student?
You do not have to be a student to be a Color My World volunteer. In fact, Color My World welcomes all volunteers regardless of their educational backgrounds. We encourage all volunteers to travel and share this experience with their families. Anyone can volunteer as long as they are over the age of 16 by the departure date, and are prepared to serve with an open mind! If you are under the age of 16, you must travel with a responsible adult party or be approved by Color My World.
Can My Parents and Siblings attend?
Absolutely! It is always more fun to come with family.
Can my friends volunteer with Color My World?
Definitely! Color My World welcomes all eager volunteers. Just make sure to provide Color My World office with your friends' names and email. You can invite your friends or email us names of people that you would like to recommend to volunteer with us at angela@tripsandships.com
All ages are welcome on our program. Every age group can fit into this program.
Color My World requires all volunteers to be 16 years old by their departure date. We welcome you to apply if you are 16 years old (with a parent or guardians signature) as long as you will be 16 by the date of departure for your volunteer program. Youth under the age of 16 are welcome when accompanied by an adult or approved by Color My World's director, Angela Hughes.
Do I need to know the host country language?
You do not need to know the language of your host country to volunteer with Color My World. Color My World Team Leaders will assist you with communication in your host country. Also, our local guides speak English. You will probably pick up some of the spanish language during your trip – children love to teach volunteers new words! Come prepared with some basic Spanish greetings. Color My World Team Leaders can teach you a few greetings as well so you can greet the locals.
Are our host countries safe?
Yes. Our programs are in rural villages and locals welcome volunteers! Moreover, you will be with Color My World Team Leaders during the program. It is important to be well informed when traveling and our Color My World Team Leaders are very well educated about both travel and safety in your host country.
Color My World provides all transportation while in the host country, including vans, boats, and air travel if applicable. Remember this is a third world country and the ride is often not luxurious.
How many other volunteers will be on my trip?
There will be approximately 15 volunteers on the Costa Rica international volunteer program. Color My World maintains a manageable group size to ensure you have a unique, personalized experience.
Can I drink the local water?
We do not recommend drinking the local water. The lodge in Costa Rica supplies unlimited fresh/clean water for all participants 24 hours a day, 7 days a week. We recommend you bring a water-bottle to refill throughout the trip.
Can I contact friends and family at home?
Of course! We have access to the Internet so volunteers can email friends. When we are in the La Fortuna there will be wi-fi at the pizza parlor we are eating at with free access. Remember this is the 3rd world…..the net will be slower than at home. International phone service is each participant's choice.
What is the weather like in Costa Rica?
May through July is often considered the "lighter" part of the rainy season. In San Ramon it can even experience what is known as a "little summer" during June. "The problem is the weather continues to be highly unpredictable. For instance you can  be  basking in glorious sunshine when the forecasters swear you will be experiencing the first torrential downpours of the season.
June should (with a little luck) give you bright mornings then normally clouds by mid afternoon and rains at night".
What are the accommodations like?
We stay in locally owned hotel in San Jose, Costa Rica.
Can I fundraise to help pay for my trip?
Yes! Color My World encourages all volunteers to fundraise to offset the program cost. Upon acceptance to the program and receipt of volunteer deposit, Color My World will provide fundraising information and materials for you to use to raise money to pay for the program.
How much extra money should I bring on the trip?
Color My World suggests that you bring $200 to $300 USD, depending on whether you want to purchase, drinks, ice cream, horse back riding hours, souvenirs or gifts. Your accommodations and food are included during the program, but Color My World encourages you to experience purchasing and tasting the delicious local cuisine while in the local market.
You will need extra money for food to and from Costa Rica while waiting in the airports.
(1) Please take consider that our destinations do not have ATMs or banks. Use the ATM in the airport or local bank before we depart for out destinations. Make sure you plan ahead to ensure you do not run out of money!
You need to alert your bank and credit card company that you will be traveling to Costa Rica so your accounts are not put on hold. This just takes a quick phone call to your bank!
Most places in Costa Rica do not take credit card.
Your $250 non-refundable deposit reserves your space in our program. Spaces fill up on a first-come, first-served basis so it is important to pay your deposit to secure your spot on a trip.
We only accept certified checks, money orders or personal checks. If you pay a personal check, the check must clear before you are approved.
You must pay your remaining program balance before March 1, 2015.
This trip is a cash only trip as the program in Costa Rica does not take credit nor do any other places in Costa Rica take credit cards.
Will you cancel the trip?
Color My World will cancel the trip if we do not receive 10 paid people for the trip by March 1, 2015.
Please do not book your air prior to group Finalization
We will send you an email letting you know when the trip is "a go" and you can begin to shop for flights.
Color My World is not responsible for air travel under any condition.
If CMW cancels the trip, will you refund the deposit?
Yes, we will refund the deposit.
How should I pack for my trip?
We will provide you with a packing list closer to your departure date.
Do I need to have insurance for my trip? And what type of insurance do I need?
Yes. We require medical, air and evacuation insurance for every participant on the program.
We will send you more information to purchase travel insurance based on your individual needs. Most personal medical insurances are not valid outside of the United States.
Once you land (using San Jose as an example) you must proceed to immigration. There you will present your documentation (passport). Depending on the number of planes landing at the same time, this process can be 10-20 minutes or over an hour. Avoid mid-day arrivals if possible.
You will next go to baggage claim where (hopefully!), your luggage is there waiting for you. In reality, this seldom happens. You will likely have to wait for another 10-15 minutes for everything to arrive.
You then take your luggage (carts are provided) and walk to customs… maybe 200 feet or so.
The red/stop green/go system will tell you if you are going to be inspected or questioned. Do NOT bring any drugs, firearms or illegal substances with you. Costa Rica takes a dim view of this, and if you go to jail there, your rights are minimal. The Costa Rica legal system is MUCH different than the US or other countries. You can and will go to jail, and you will very likely not be able to post bond Further, you can be held for many months with only a formal complaint while the prosecutor investigates and builds the case against you. You are NOT innocent until proven guilty under Costa Rica Law.
You will then proceed down another corridor where you will exit the airport.
Are there any visa requirements for Costa Rica?
No, there are no visa requirements for entering Costa Rica for U.S. citizens. If you are not a U.S. citizen, then please inquire with the consulate.
Leaving Costa Rica- exit requirements
When you leave Costa Rica by air, you will have to pay a departure tax. You pay this at the airports when you leave. In the San Jose airport, there is an area just to the right as you enter the departures area. There are a large number of desks where the tax is collected.
As of this writing, the tax is $34.00 and can be paid in colones or US dollars
Are there any vaccination requirements?
Currently there are no immunizations or vaccinations required for entry/travel. This information is subject to change, so please consult with your physician at least two months prior to your departure. Please consult with the Center for Disease Control.
What if I need to cancel?
Volunteers can withdraw their applications or agreements by notifying Color My World via email to angela@tripsandships.com
Please note that if volunteers want to withdraw their agreements that they are bound by the cancellation policy in the terms and conditions.
Costa Rican food is tasty, diverse and volunteers can expect to experience a myriad of flavours and meals during their experience.
If you have special eating needs, please let us know ahead of time so that we can make arrangements for you. However, we need to stress the point that you should not expect to eat as you normally do at home. We will do our best to see that you are well taken care of, but also as a volunteer, there is a need to be flexible.
Parents understandably are concerned about safety for their children at the project site. We never have our volunteers operate heavy equipment or machinery, work in war torn countries, stand high on ladders, handle bodily fluids or participate in other similar hazards. Additionally, each volunteer, regardless of age, may opt to not participate in an activity for whatever reason (jetlag, altitude sickness, any other reason), we understand there are many dynamics going into suitability for a project at any moment.
What if I'm a vegetarian, vegan, or have other dietary requirements?
That is no problem. We can work with most food requests! Just inform us on your application if you are a vegetarian or have any other dietary requirements. We will do our best to accommodate volunteers' individual needs.
Will I be sharing a room with other Color My World volunteers?
Yes, you will have roommates in same sex rooms so be prepared to share. Rooms are dormitory style and we will have a female and a male room.
Bring your own pillow if you wish. Light blankets and sheets are provided.
You can shower daily and we encourage it! The water is not heated and short showers are requested.
Bring a beach towel and a washcloth.
Occasionally a bug will sneak into the rooms of the places we are staying…this is normal in a rain forest. Please bring mosquito spray to use outdoors.
Yes, they have normal toilets! What a relief!
Don't! Things get dirty there and it is so hot that you will find that you are in a swimsuit and cover-up most of the time at the lodge and light clothing while volunteering. We will send you a packing list. Pack light and use the rest of your suitcase to bring school supplies, medical supplies, small toys for the kids or sports equipment.
Color My World provides a t-shirt that you will wear twice during the week. (Yes- we will wash them in between!)
Why do I have to pay to volunteer?
Being a volunteer overseas is not a thrifty endeavor, and oftentimes to cultivate real growth and development, more than just time and effort is needed.
All of our projects are directly funded by our volunteers and without this source of funding, Color My World could not move forward.
In addition, because our volunteer initiatives take place in remote regions of the world, food, lodging, and transportation are all necessary elements in sustaining a successful volunteer venture. Color My World also rewards our volunteers for their hard work by providing an unparalleled experience with all the greatest adventure opportunities the region has to offer.
Can I donate other things?
Hygiene kits, school kits, school supplies, sporting equipment are always popular items.
Be advised-The airlines charge $50.00 minimum for additional bag that you take.
I am musically talented or have a special gift or skill?
Bring your guitar, ukelele, lap harp you name it. Sharing music is a wonderful gift.
We try to incorporate into the experience your unique skills. If you have a mini-class you could teach let us know.
Flights to Costa Rica are not covered in the cost of the program.
You are free to book any flights that work with your schedule but we will have a meeting site in Miami for the majority of the participants who want to travel together.
We fly into the San Jose Airport (SJO)
If you are unable to meet the group in Orlando, we will help coordinate your transportation to the center.
Consider using frequent flyer miles if you have them. We want to make this as affordable as possible.
Most return flights do arrive back into the United States in time to connect to many flights.
Color My World is not responsible for the cost of hotel in Miami if you need to overnight. Color My World will provide a block of rooms to book at normal industry hotel rate for participants who are overnighting.
For example: Double-quad occupancy rooms start at approximately $155.00 per night with airport shuttle. We can group same sex participants together by age to form a quad to reduce the price. In the past, we have used the Miami Marriott Airport hotel in the past.
What time is it in Costa Rica?
What should I bring to donate to the villagers?
School supplies, sports equipment, hygiene supplies and solar cookers are top on our list.
Small toys for the kids are also great to share.
Are all participants required to sign a waiver and release form?
Absolutely! You will receive a packet to complete once you are accepted into the program.
Payments Online
Once accepted to the program a Paypal invoice will be sent to you.
PaylPal charges a 2.9% transaction fee, which will be added as a "tax"
Payments are considered donations and are non-refundable.
Please do not make a payment before you have received an acceptance letter for the program.
Your remaining balance is due prior to April 1, 2016 or your space will be forfeited.
Program deposits are non-refundable & non transferable
Payment by Check<
Make certified and personal checks or money orders made payable to Color My World.
Include your name and payment description on your check or money order memo line.
Note that it takes 5 business days for Color My World to receive your check or money order.
Mail your payment payable to Color My World to:
Color My World
18 Karolina Lane
Bedford, NH 03110