Color My World is excited to announce our new 2017 humanitarian expedition to Cusco, Peru!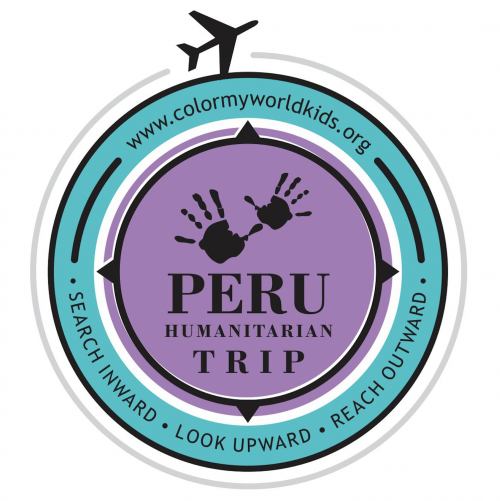 We will be working in San Gabriel at a small private kindergarten, not receiving any governmental support. We want to provide a healthy school climate, where underprivileged children can have qualitative education but also where they learn about values, group work as well as individual development.
Color My World will be working on a variety of improvement projects at the school and spending a lot of time with the Peruvian children, teaching them English, playing games, sharing art education and teaching them mini-classes.
The volunteer house where will stay is located at San Sebastian District, at 10 minutes in taxi from the main square of Cusco.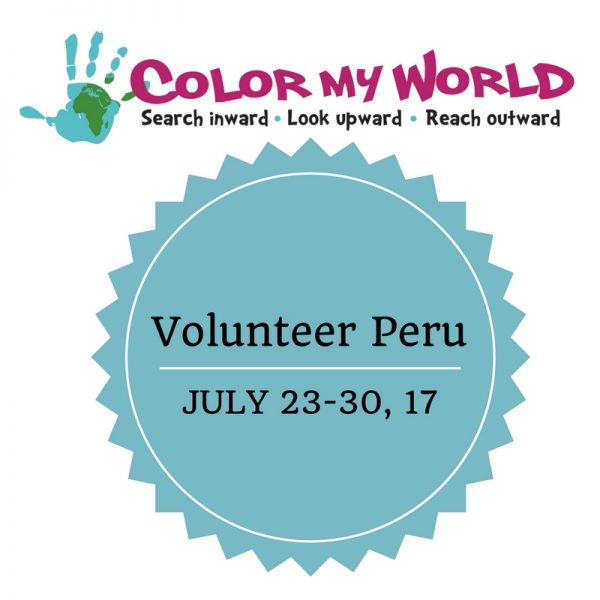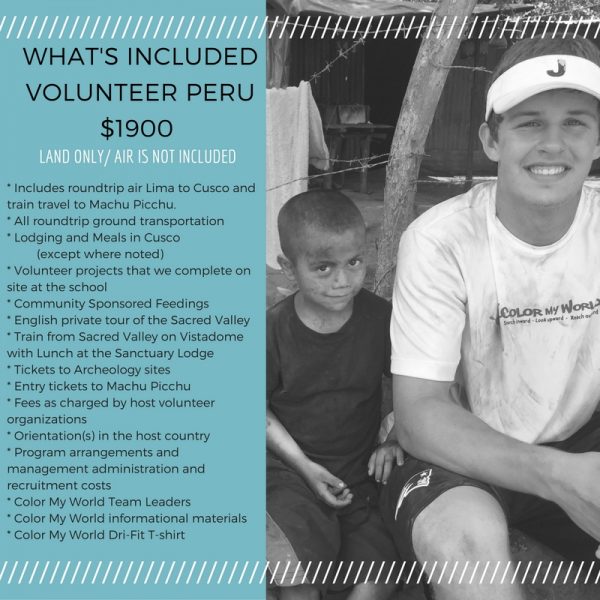 Please Note: Tour Prices to Machu Picchu and local sites are not tax deductible and a portion of this trip will be paid to our sponsor travel agency to cover sightseeing..
Space is provided on a first come, first serve–deposit–basis.
Once the deposits have been received we will move to a waiting list or add another week if demand requires.
CMW reserves the right to cancel the trip due to low enrollment.
Full deposit will be refunded in case of cancellation.
Please do not book your flights until we have sent out the email that the trip is progressing
Color My World will not be responsible for air bookings in any situation."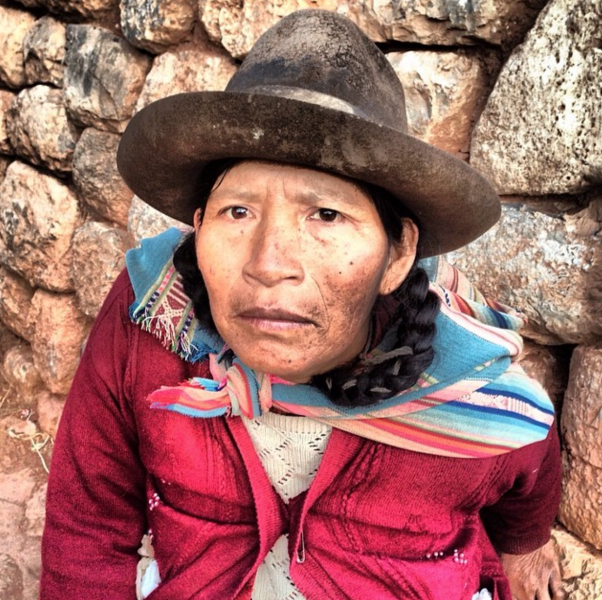 About the Program Director: A mother of four children, ages 11-20, Angela Hughes has been in the travel business both as a travel agency owner of Trips Inc. for over 30 years and as a former adjunct professor at both Brigham Young University in the Geography/Travel &Tourism Department and The New Hampshire Community College system teaching Travel &Tourism.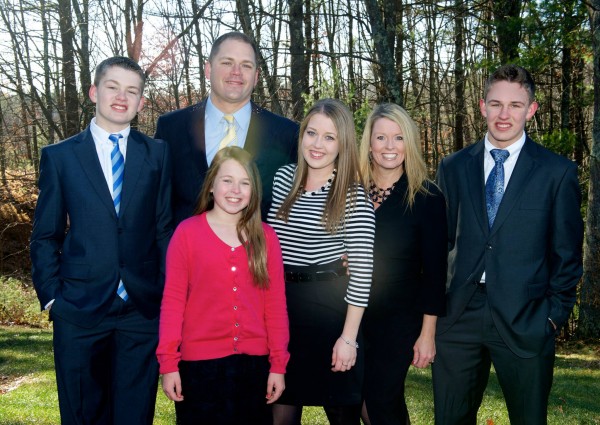 Hughes plans and escorts groups around the world and specializes in Europe, Asia and 3rd world Humanitarian Trips. She is a certified specialist for Peru.
A humanitarian, Angela Hughes is the director and co-founder of her family foundation, Color My World (501c3) and personally arranges and escorts each group that travels with the foundation. She is engaged with each project from start to finish."
Angela's expertise include a masters degree in geography and hobbies include the humanities, photography and the Renaissance. She has taught her children on location throughout the world bringing to life art, history and science through travel education.

Our Directors on the Ground

Mario Diaz Ugarte

Mario is a Peruvian teacher of grammar, literature, English and Spanish. He was born in a poor family of 5 siblings. Until he reached age 14, he lived in a room with all his family, without a bathroom. On some days there was no food.  Mario now likes to make jokes about the fact that sometimes he had to wear the clothes of his sisters.  Mario often worked on the streets collecting garbage for a little money or for some food.

His mother didn't get any secondary education, just the primary education. After 15 years of studying part-time, Mario's father, graduated from the University of Law and became the first professional in his family. It was at that moment that Mario's life started to change.  Because of his fathers degree, Mario's family could start developing economically and Mario was able to start a formal education.

Mario is great proof of how education can provide chances and a change in the vicious circle of poverty, Mario is passionate about education as a way of developing and decided to make it his life goal.

Founder and Coordinator in Peru: Rosa Gutierrez

Rosa, Mario's spouse, is in charge of the Kindergarten and of all the activities organized in an around the school. She is the spokesman towards the parents of the children, and has the final responsibility about the school's policy. She coordinates volunteers and is in charge of the production of  handcrafts by the single mothers of our area.
Itinerary
***Subject to Change
Day 1
Arrive from the United States
Meet the Color My World group in Lima, Peru
Overnight in Lima, Peru Hotel Provided
Angela Hughes will meet you at the airport to transfer to hotel.
Food not included today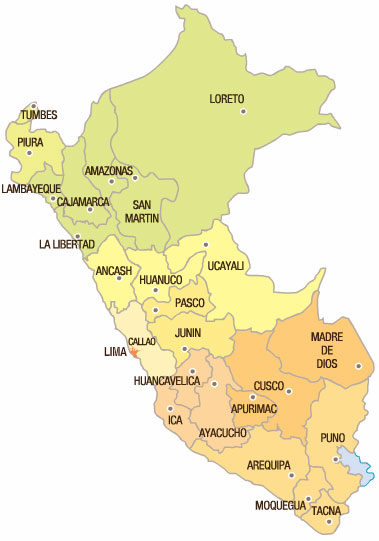 Day 2
Fly Lima to Cusco, Color My World will book this flight for you.
We will transfer straight to our local housing in the community of San Sebastian in Cusco, Peru.
Later, meet our team and visit the school we will be working at.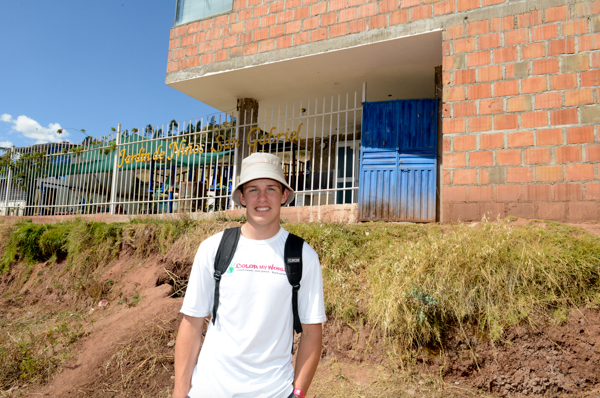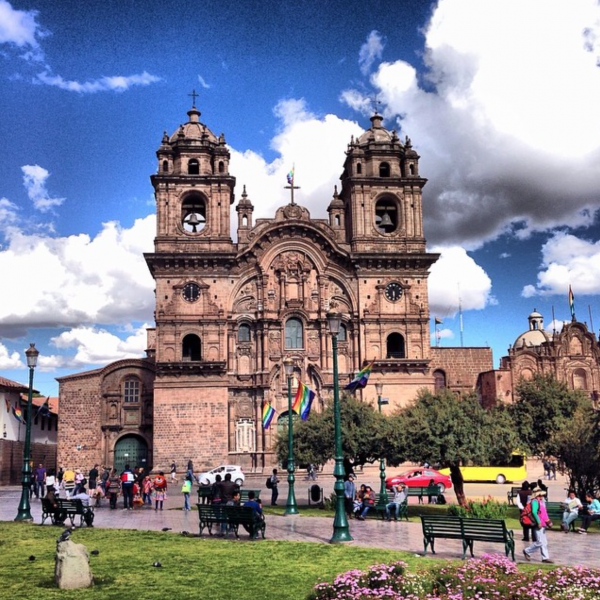 Where Do We Stay?
The volunteer house is located at San Sebastian District, at 10 minutes in taxi from the main square of Cusco and 20 minutes at public bus transportation.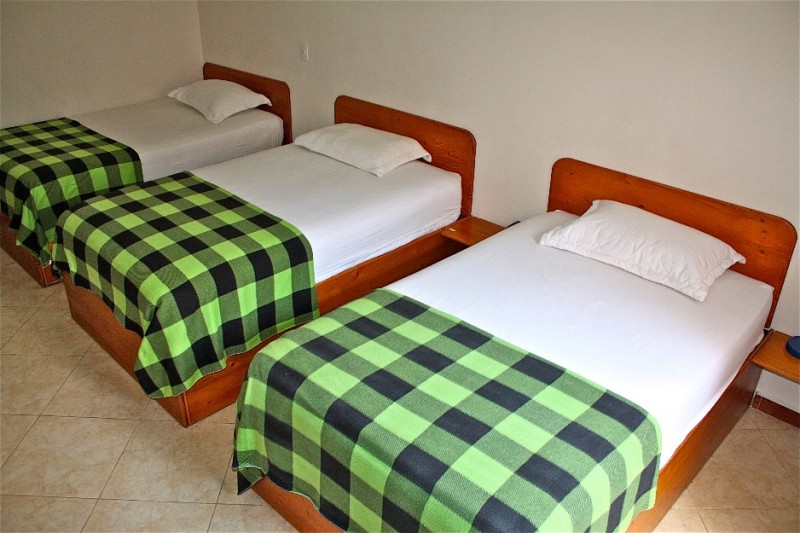 The food at our volunteer house is Peruvian traditional food, all cooked.
All our the dishes are with known products, like potatoes and meat. They will cater to vegetarians and allergies.
The showers are electrical and with solar panels, the water is hot.
Sleeping arrangements include rooms with 2, 3 and 4 beds.
We have 6 bathrooms and 6 showers.
The volunteer house is 15 minutes walking to the kindergarten "San Gabriel".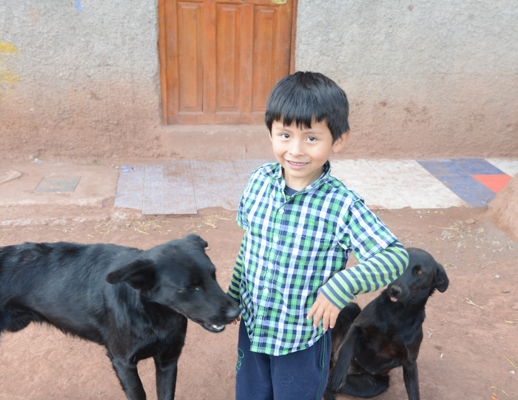 Daily Schedule 
In the mornings we will be working with the children at the school.  School is not in session in the summer but there will be a variety of children at the school in a day care like session.
School Visit in the Morning 9:00am-12:30pm
Presentations at the school- Here are some of the ideas we have done in the past. We use the talents of the volunteers and incorporate them into the daily work.
* Painting Class
* Wellness and Nutrition
* Basic Hygiene and dental care
Zumba/Aerobics Dance Class for Students
Bracelet Teaching
English Classes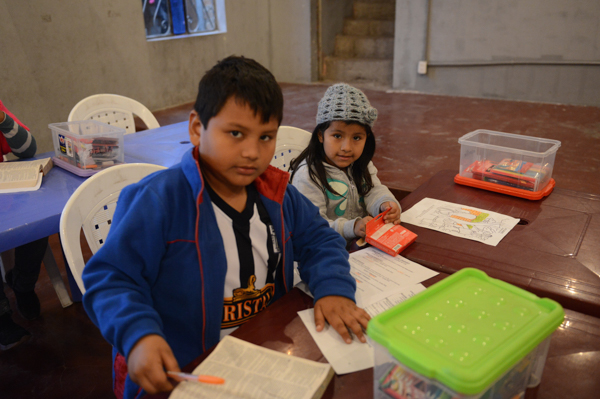 Everyday in the afternoon we will be working on the general construction of the school making improvements.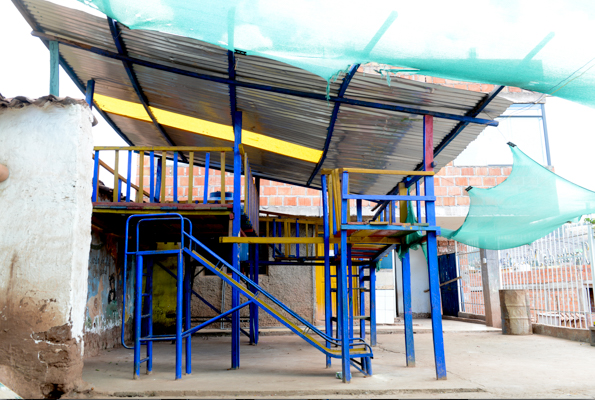 We will be doing light labor from painting, cleaning, organizing, moving supplies, aiding construction workers, digging and planting.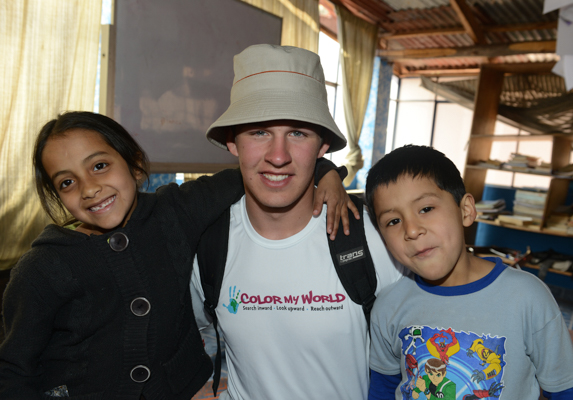 During the week we will have one "El Hermano Mayor" day, were we will take the children of the school to the park or zoo in Cusco.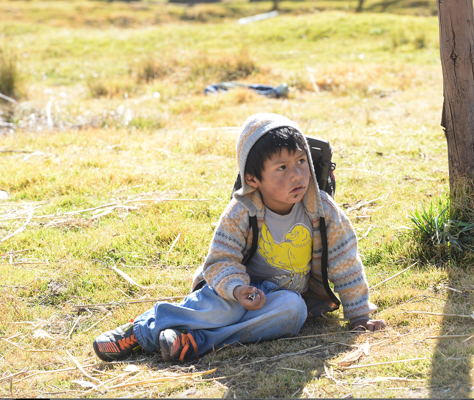 We will also be providing two community feeding projects to those less fortunate.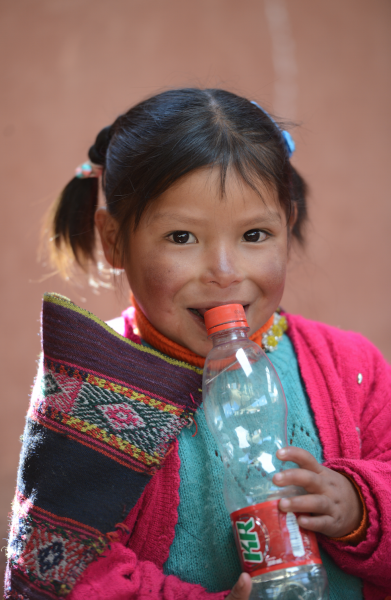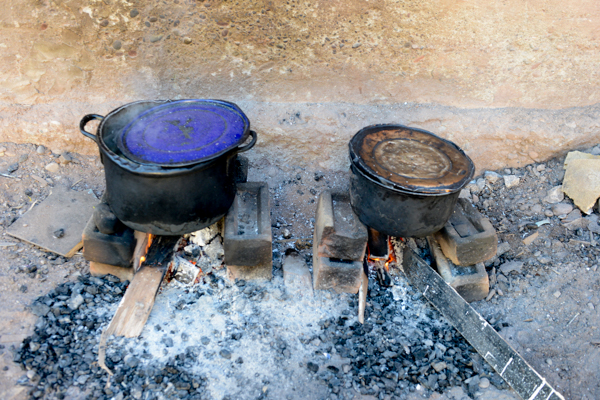 In the evenings, you will have a chance to work on your Spanish with local students who want to learn english or play a game of soccer or baseball with the locals.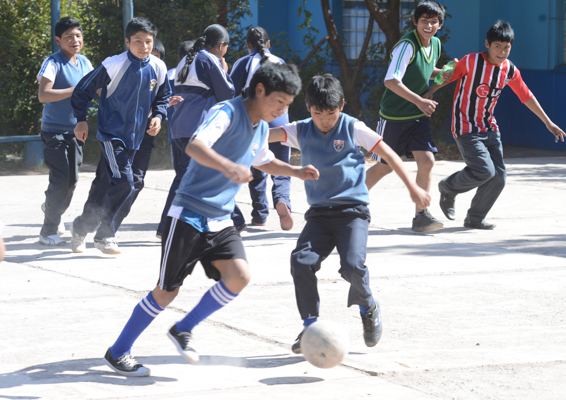 Day before you leave
We travel to the mysterious valley of the incas in Machu Picchu.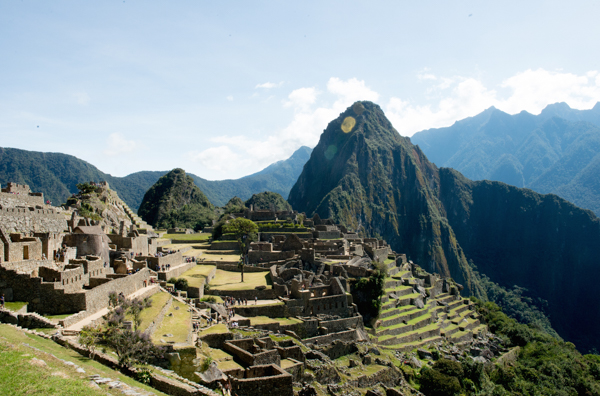 A buffet lunch will be provided at the infamous Sanctuary Lodge.
Dinner on your own
Overnight in the Sacred Valley
Throughout the week
We will continue our travels around the Sacred Valley, visiting the archeological sites of Ollantaytambo, Chinchero and Maras and Moray. We will return to overnight in Cusco.
Meals not included today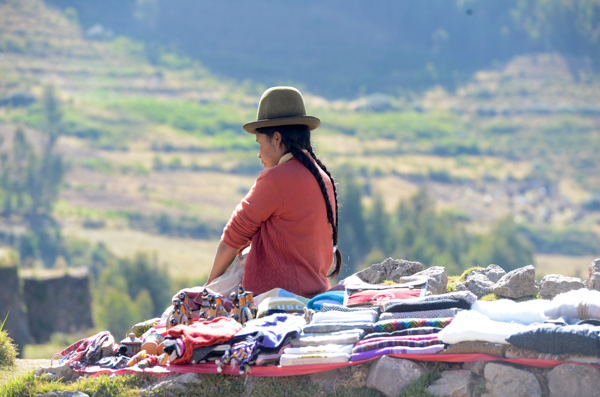 Final Day
Bright and early we will fly to Lima to begin our journey home.
Meals not included today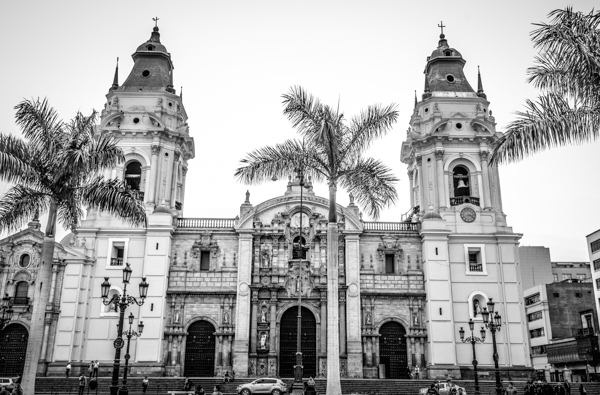 Some events are booked and paid through and independent travel agency, TRIPS Inc.
This portion of the trip is not tax deductible.
Required Forms & Links
Download CMW ADULT Participant Agreement Form

 adults-cmw-agreements-participants-2017  
Download CMW YOUTH  Participant Agreement Form youth-cmw-participants-2017-1
Apply for a passport or make sure your passport is current
Register with Smart Traveler Enrollment Program
Download Fundraising Guidelines
Health & Vaccination Info from the Center for Disease Control & Prevention

Download

Packing List – (Packing list will not be available until notified)
Buy required Travel Insurance- Click below for a quote
Quick Facts
Which airport do I fly into?
All overseas flight from North American destinations arrive at Lima's Jorge Chavez International Airport (Code:LIM)
Peru Climate
Regardless of the season and the place you wish to visit, it is advisable to bring warm clothing, comfortable pants, cotton shirts, hiking boots, tennis shoes, a good sun block and a hat.
June-August. Cuzco can be very hot during the day and quite cold in the early morning and late at night. If you get cold easily, you might want to carry a hat, gloves, and several layers in your day pack to use at night, that you can peel off during the day for complete summer mode
Cuzco is somewhat dusty and you will be very happy wearing a boot/sneaker mix such as Keens, rather than for example flip flops.
What about Altitude Sickness?
For most travelers, Cusco is the highest point on their trip or any trip for that matter and altitude sickness is a big problem for some tourists. Remember on the first day to take it slow .
Tourist Visas
Citizens from North America do not require visas to enter Peru. The maximum authorized length of stay is 90 days. To remain longer in the country, or to enter for other purposes (residence, study, research, work, etc.), you must request the corresponding visa at the Peruvian consulate of your country of residence before traveling.
Languages
The official languages are Spanish (80% of the population), Quechua (Andean and highland regions), and Aymara (in the Puno high plateau). In addition, there are around 50 native languages. It is possible to communicate in English with tourist services workers such as tourist guides, travel agency employees and 3 to 5-star hotels staff.
Currency and forms of payment
The official currency of Peru is the Nuevo Sol (S/.). The U.S. Dollar is accepted in some local businesses, restaurants and gas stations at the day's exchange rate. It is also possible to exchange foreign currency (US$ and Euros) at hotels, banks and authorized exchange houses. (For conversion information visit: Oanda.com.)
Working hours for most banks and exchange houses are from 9 A.M. to 6 P.M. Monday through Friday and Saturdays to 12:00 P.M. The country's main cities have ATMs that accept different kinds of debit and credit cards. The most widely accepted credit cards are: American Express, VISA, Diners Club and MasterCard. Travelers' checks have limitations, so we recommend consulting the establishment to see if they accept them or not before making purchases or ordering.
Electricity
220 volts. Most 4- and 5-star hotels do have outlets equipped for 110 volts.
Is it safe to travel in Peru?
Reality shows that it is very safe.
You may have read or heard on TV, websites or newspapers about terrorism, crime and economic and political instability. But the truth is that terrorism has been defeated a long time ago; Peruvians live in peace and work very hard every day to build and democratic and safe society. We can assure visitors that all they need to do is follow the normal precautions taken in order to visit other destinations.

When visiting the cities:
Take the logical precautions to avoid pickpockets and purse-snatchers.
Carry a copy of your identification documents. Keep the originals and the rest of valuable personal effects in the safety deposit box of your hotel.
Wear valuable items discretely; don't carry large sums of cash and watch your bags and luggage.
Refrain from exchanging currency on the street.
Can I fundraise to help pay for my trip?
Yes!  Color My World encourages all volunteers to fundraise to offset the program cost.  Upon acceptance to the program and receipt of volunteer deposit, Color My World will provide fundraising information and materials for you to use to raise money to pay for the program.
Please do not book your air prior to group Finalization
We will send you an email letting you know when the trip is "a go" and you can begin to shop for flights.
Color My World is not responsible for air travel under any condition.
If CMW cancels the trip, will you refund the deposit?
Yes, we will refund the deposit.
How should I pack for my trip?
We will provide you with a packing list closer to your departure date.
Do I need to have insurance for my trip? And what type of insurance do I need?
Yes. We require medical, air and evacuation insurance for every participant on the program.
We will send you more information to purchase travel insurance based on your individual needs. Most personal medical insurances are not valid outside of the United States.
Are there any vaccination requirements?
Currently there are no immunizations or vaccinations required for entry/travel. This information is subject to change, so please consult with your physician at least two months prior to your departure. Please consult with the Center for Disease Control.  www.cdc.gov
What if I need to cancel?
Volunteers can withdraw their applications or agreements by notifying Color My World via email to angela@tripsandships.com
Please note that if volunteers want to withdraw their agreements that they are bound by the cancellation policy in the terms and conditions.
What about the Food
Costa Rican food is tasty, diverse and volunteers can expect to experience a myriad of flavours and meals during their experience.
If you have special eating needs, please let us know ahead of time so that we can make arrangements for you. However, we need to stress the point that you should not expect to eat as you normally do at home. We will do our best to see that you are well taken care of, but also as a volunteer, there is a need to be flexible.
Project Safety
Parents understandably are concerned about safety for their children at the project site.  We never have our volunteers operate heavy equipment or machinery, work in war torn countries, stand high on ladders, handle bodily fluids or participate in other similar hazards. Additionally, each volunteer, regardless of age, may opt to not participate in an activity for whatever reason (jetlag, altitude sickness, any other reason), we understand there are many dynamics going into suitability for a project at any moment.
What if I'm a vegetarian, vegan, or have other dietary requirements?
That is no problem.  We can work with most food requests!  Just inform us on your application if you are a vegetarian or have any other dietary requirements.  We will do our best to accommodate volunteers' individual needs.
Will I be sharing a room with other Color My World volunteers?
Yes, you will have roommates in same sex rooms so be prepared to share.  Rooms are dormitory style and we will have a female and a male room.
Bring your own pillow if you wish. Light blankets and sheets are provided.
What about showers?
You can shower daily and we encourage it! The water is not heated and short showers are requested.
Bring a beach towel and a washcloth.
What about bugs?
Occasionally a bug will sneak into the rooms of the places we are staying…this is normal in a rain forest.  Please bring mosquito spray to use outdoors.
What about the toilets?
Yes, they have normal toilets!  What a relief!
What if there is an emergency?
CMW team leaders are prepared for emergencies and assistance is always nearby.    There are also hospitals nearby if needed.
What kind of adapters do I need?
You do need any adapters for Peru. They do have electricity in the rooms.
What time Zone is Peru?
Eastern Standard
I like to overpack!
Don't! Things get dirty there and it is so hot that you will find that you are in a swimsuit and cover-up most of the time at the lodge and light clothing while volunteering. We will send you a packing list. Pack light and use the rest of your suitcase to bring school supplies, medical supplies, small toys for the kids or sports equipment.
Color My World provides a t-shirt that you will wear twice during the week. (Yes- we will wash them in between!)
Why do I have to pay to volunteer?
Being a volunteer overseas is not a thrifty endeavor, and oftentimes to cultivate real growth and development, more than just time and effort is needed.
All of our projects are directly funded by our volunteers and without this source of funding, Color My World could not move forward.
In addition, because our volunteer initiatives take place in remote regions of the world, food, lodging, and transportation are all necessary elements in sustaining a successful volunteer venture.  Color My World also rewards our volunteers for their hard work by providing an unparalleled experience with all the greatest adventure opportunities the region has to offer.
What should I bring to donate to the villagers?
School supplies, sports equipment, hygiene supplies and solar cookers are top on our list.
Small toys for the kids are also great to share.
Can I donate other things?
Hygiene kits, school kits, school supplies, sporting equipment are always popular items.
Be advised-The airlines charge $50.00 minimum for additional bag that you take.
I am musically talented or have a special gift or skill?
Bring your guitar, ukelele, lap harp you name it. Sharing music is a wonderful gift.
We try to incorporate into the experience your unique skills. If you have a mini-class you could teach let us know.
What can I donate?
Color My World needs financial donations to help sponsor the San Gabriel kindergarten.
We need the following items to help the school operate-
120 Books for Children: $1,777
120 uniforms: 2, 000 Dollars)
120 pairs of shoes: $1, 111
Notebooks for 120 Children: $444
Sketchbook for 120 Children: $29
Crayons, Markers, Plasticine , Paper, colors : $348
Toilet paper, shampoo, cleaning products, soap: $362
Please consider fundraising for the above items. It is much cheaper to buy it in Peru than to haul or ship the items.
Peruvian Facts to Consider
Peru Population: 29,907,003 Cusco population; 908 560
Cusco city population: 509 345
Children in age for going to kindergarten, primary school and secondary school in Cusco : 409 897 Children in age for going to kindergarten, primary school and secondary school in Cusco city : 215 897
Fertility: 2014 – 2.04 children per family
Life expectancy at birth:
71.03 years (Lima)
Male: 69.14 years
Female: 73 years (2010 est.)
40.9 years in Cusco
Infant mortality 0-5 years: 27.74 deaths/1,000 live births (Lima)
Rural Cusco: 60 per 1000.
Malnutrition:
• In all Peru there are an average of 1.66 million malnourished children under 5 years old.
• In Cusco, the Economy Ministry reported that 28% of children suffer from chronic malnutrition, 39%
suffer malnutrition (children under 5 years old) in some cases the chronic malnutrition is
comparable with some areas of Africa..
Education: "Public education standards are amongst the lowest in Latin America." Economist Intelligence Unit Country Report 11/12.
• Although education is legally free and compulsory for all children between the ages of 6 and 14 years old, more than a quarter of Peru's children never attend school. This figure increases to more than 27% in the Cusco department.
• In Cusco for each 100 children, just 73 study in the kindergarten and primary school, from this 73 children, just 51 go to the secondary school. From this 51 children, just 38 finish the school. From this 38, just 22 continue studying in the university, institute or language schools. From this 22, just 16 finish all their studies. From each 100 children, just 16 will be a professional in any profession.
• The state spends less than $80 per schoolchild per year. In Chile they spend 780 dollars. Bolivia 250 dollars and Brazil 900 dollars.
• Until 2012, studying in the kindergarten was obligated just for 5 years old. Now, children have to study 3, 4 and 5 years in the kindergarten, if they don't study they can not go to the school. They have this law now, but they don't build more kindergartens.
In all Cusco there are 280 public kindergartens, primary schools and secondary schools, These public institutions give education to 280 456 students.
So in all Cusco 129 441 children have to study in private schools or just they don't study.
• In Cusco city there are 112 public kindergartens, primary schools and secondary schools, These public institutions give education to 142 543 students. So in all Cusco city 73 354 children have to study in private schools or just they don't study.
• For covering all the students in the department of Cusco the government should build 85 schools. And, in the Cusco city we need 52 schools.
Wealth and poverty:
• In 2012, in Cusco, 57% of the population were living below the national extreme poverty line, 67% of which are children and adolescents.
• In Cusco, 26% of the population live on less than US$1 a day.
• Children often work selling postcards or shining shoes to help support the family.
• The richest tenth of the population receive 34.3% of national income, while the poorest tenth of the population receive only 1.9%.
Facts
How poor people work to survive:
– Selling things in markets and streets, normally vegetables, grass, fruits, ice-cream, candies, cigarettes, jelly, etc.: they get per day between 9 and 12 soles.
– Collecting plastic bags and bottles in streets: they get per day between 6 and 10 soles. – Constructions: they get per day between 20 and 35 soles; the problem is that no every
day they can work in this way because there are many people doing this job.
– Washing cars and clothes: they get per day between 10 and 15 soles.
– Cleaning houses: they get per day between 10 and 14 soles.
– Collecting plastic bags and bottles in the garbage center of Cusco: they get per day
between 20 and 40 soles, the problem is they have to spend hours in the garbage and they get sick easily.
"All these jobs are not stable, they get the money that they can for the day, if they don't work they don't have money for that day, they don't have insurance or any benefits. Normally they work between 8 to 12 hours per day. What is more sad is looking the faces of these parents because day by day they have to get the food for the day, if they don't get it they have to eat what they have, so is a battle every day for them, that desperation is
in their eyes."- Mario