Our flagship program, Nicaragua will change your life!
If you want to volunteer and change the lives of others in a beautiful setting, this program is for you!
This experience is everything you could ask for in a raw, beautiful setting where conveniences such as wifi, modern facilities, stores and even clean water are at a bare minimum.
Designed for the volunteer who really wants to engage in the lowest levels of poverty and work hands on with the community in a rural environment.  Nicaragua will change you for the better!  We promise!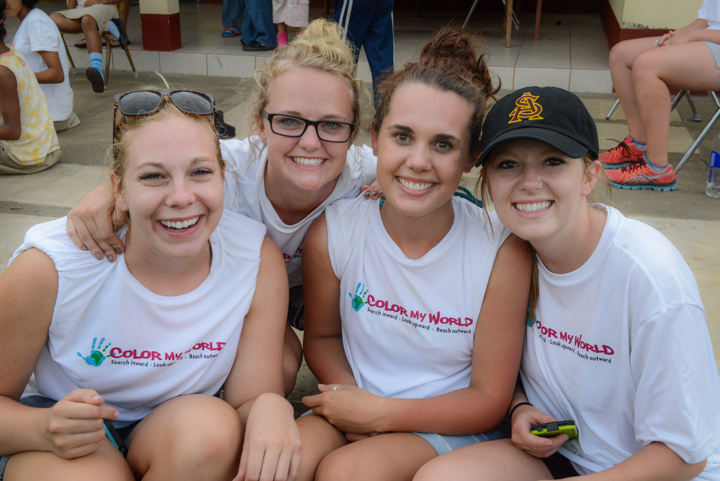 After returning home from Nicaragua, I have reflected a lot on what has changed within me. Whilst at first I expected to be shocked by the poverty and living conditions of some areas, I instead have come home with a sense of gratitude for the opportunity to have been around such amazing people. One example is a young lady I met who had never painted in her life, but when given a paintbrush and canvas, she painted a masterpiece. Over the two weeks, I learned more from the people of Nicaragua than I felt I was able to give. What an experience. -Dan Taylor, England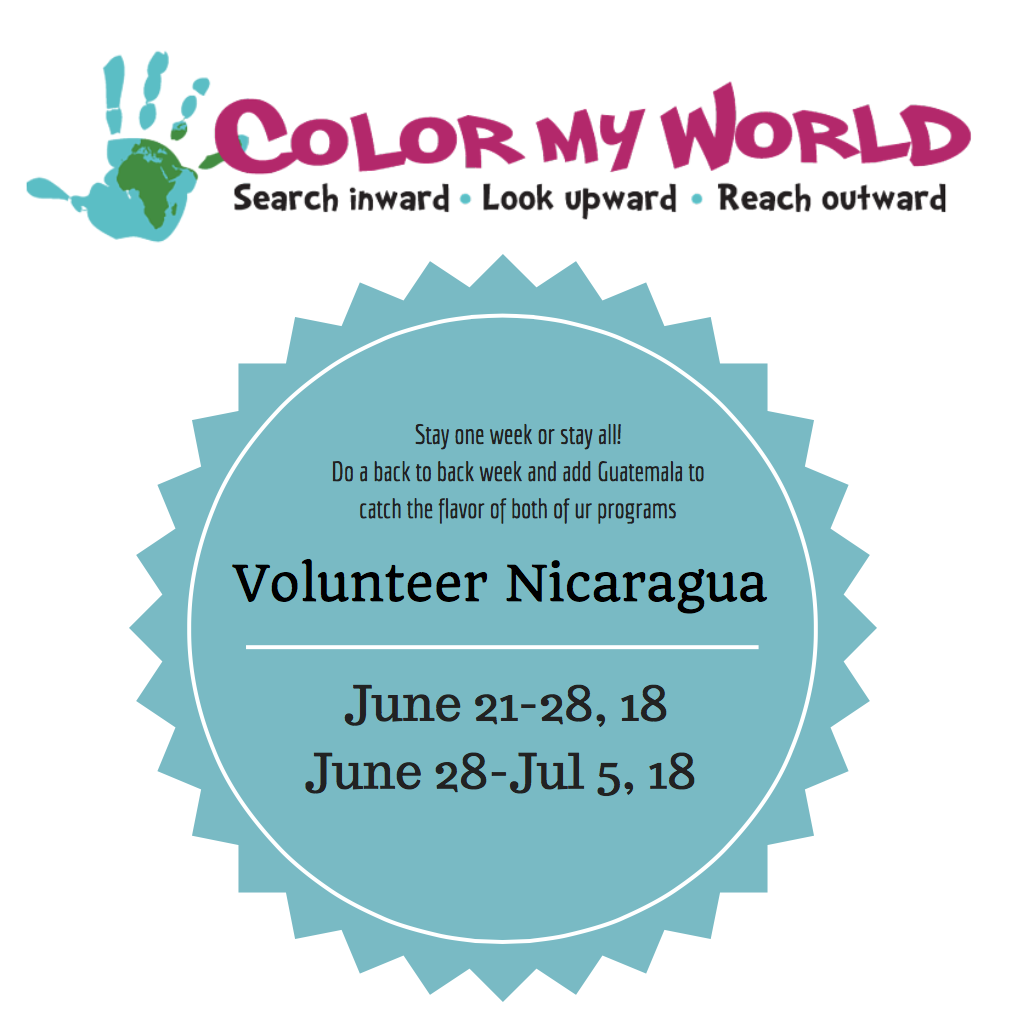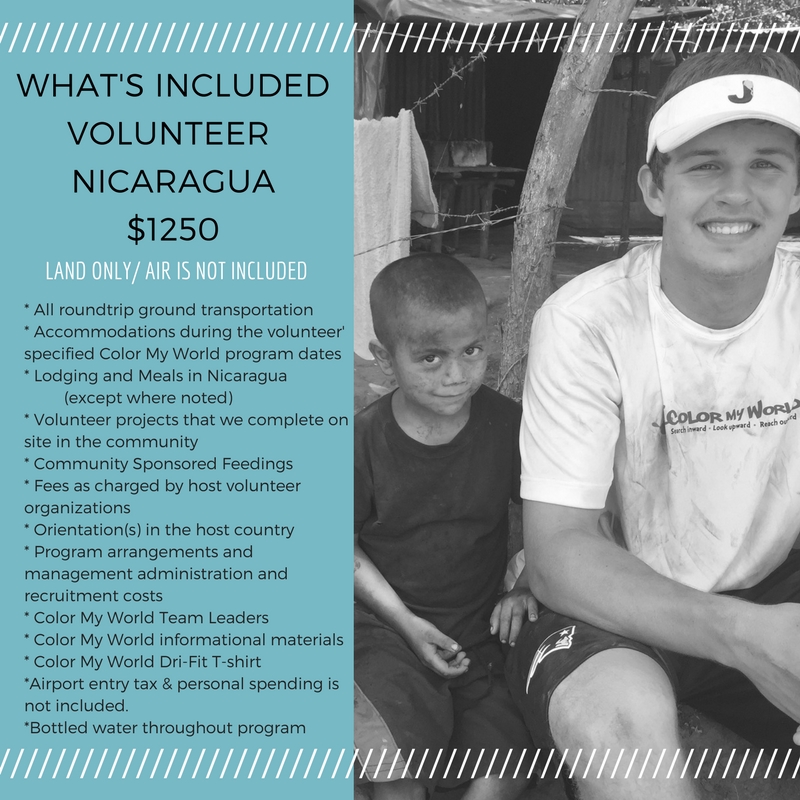 Please do not book your flights until we have sent out the email that the trip is progressing.
Color My World will not be responsible for air bookings in any situation.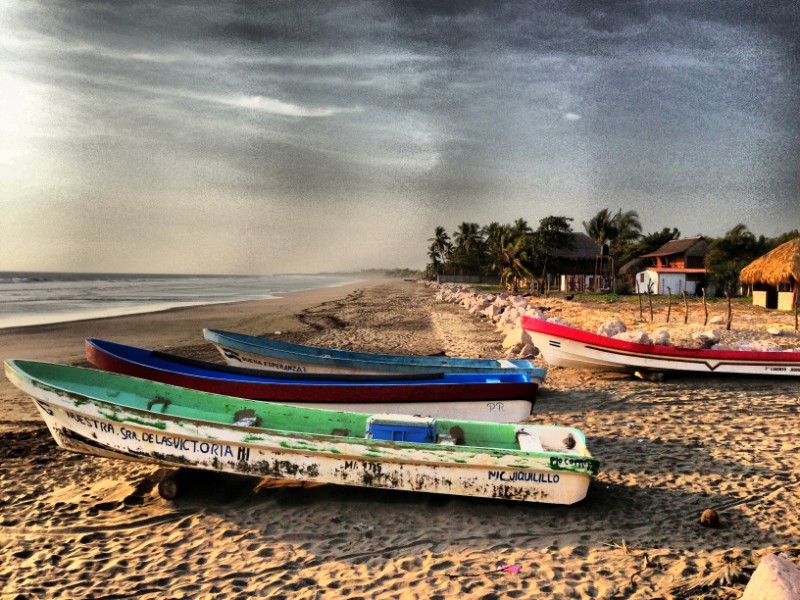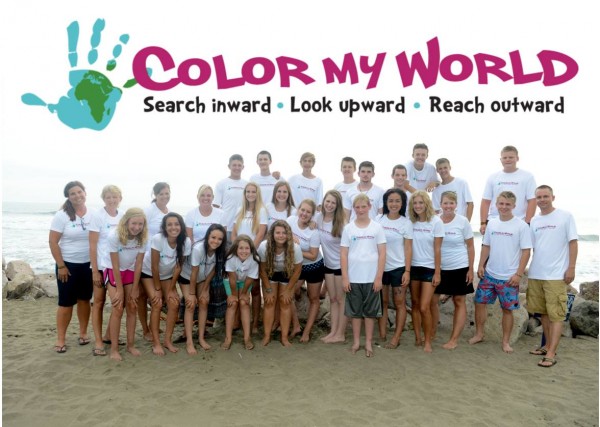 Nicaragua 2018  Tentative Itinerary
* subject to change
This is a sample of what your week might look like!
Day 1  Group meets in Miami
Arrive in Nicaragua
Trip Commencement: Upon arrival in Managua (MGA) you will be greeted by your Color My World team leaders and escorted to our accommodations, for the next 8 days, in the remote fishing village of Jiquilillo.
After settling into the accommodation, our amazing local chef will prepare the first of many meals familiar to Central America.  Afterwards, we will take the night to relax, enjoy the sunset, and acclimate to the new and exciting surroundings.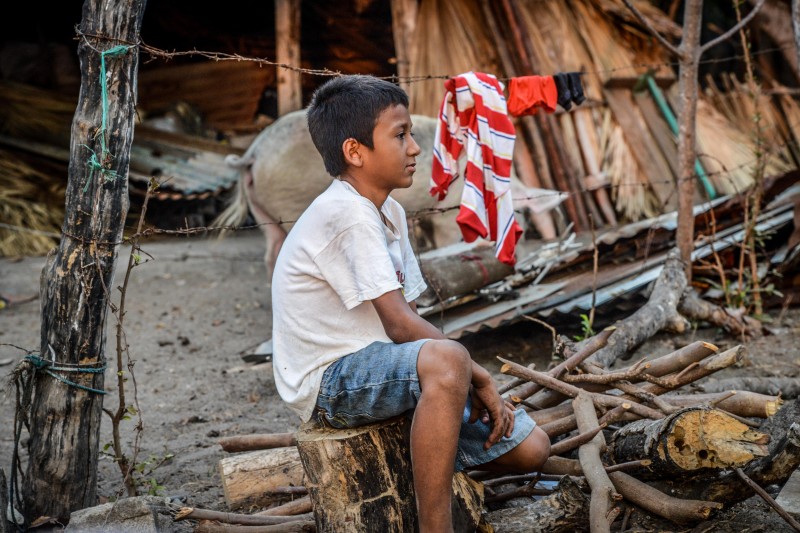 Note: During the weekdays daily-
We'll volunteer through the morning and return to the surf camp for a Nicaraguan lunch.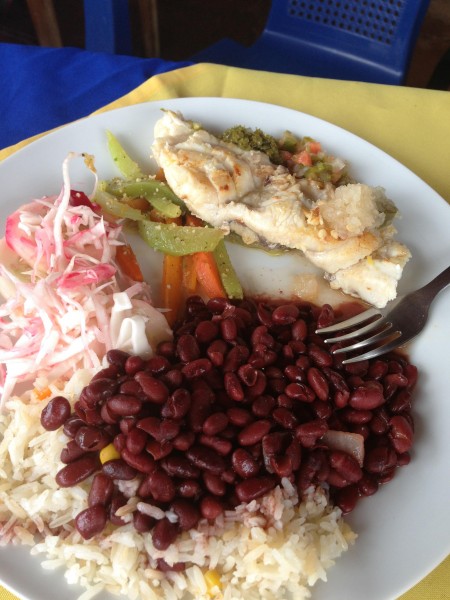 Everyday you can enjoy free time for a few hours after lunch: surfing (surf lessons are available!), kayaking, playing soccer & baseball with the locals, relaxing in a hammock, sunbathing, or participating in other activities that interest you! Maybe even taking a daily Spanish lesson.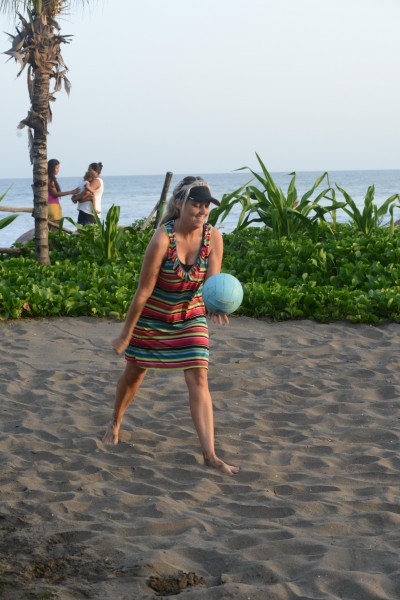 Inexpensive beach massages are also available for a fee.
Day 2- Tuesday
After a brief orientation in the morning, you will become familiar with the area and the volunteer initiatives that Color My World is doing.  We will introduce you to the community, visit the local elementary school, and stop by Padre Ramos estuary for a quick swim.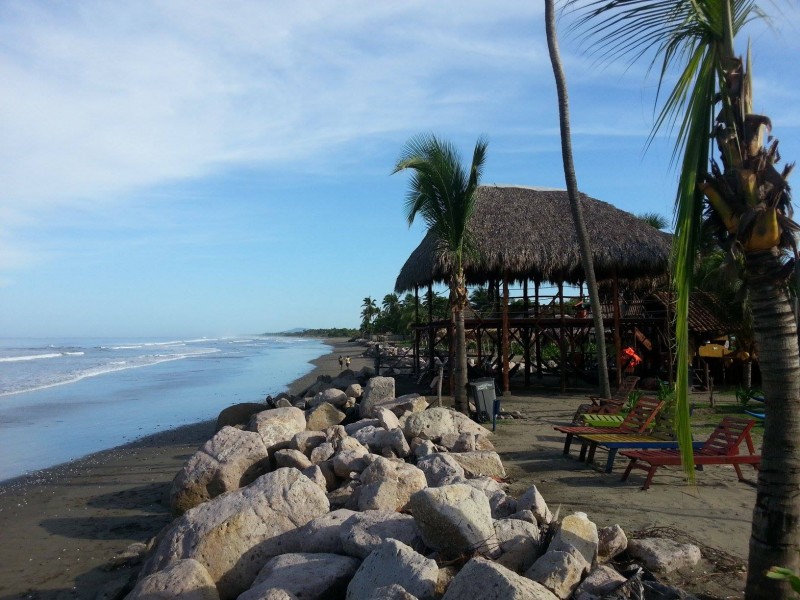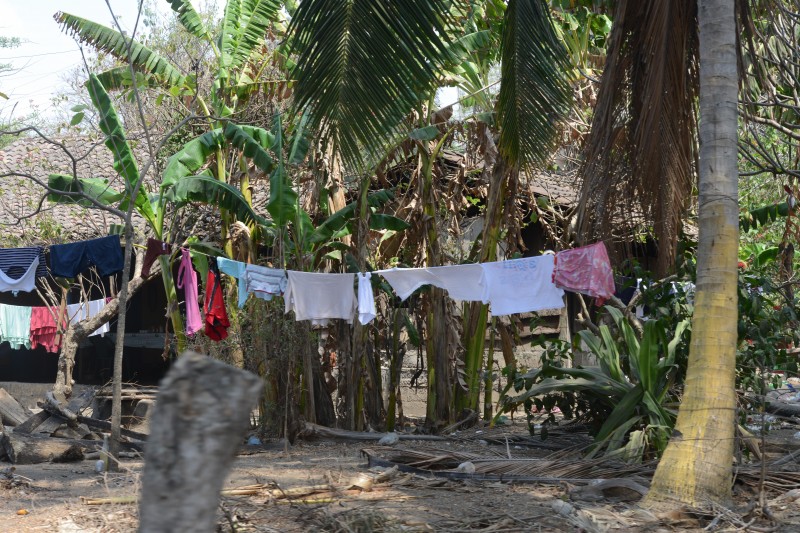 For the medical doctors and nurses participating, we will set up our rural clinic and begin seeing patients at the community medical center.
In the afternoon,  we will be volunteering at the Casa Hogar Orphanage which is home to approximately 23 children.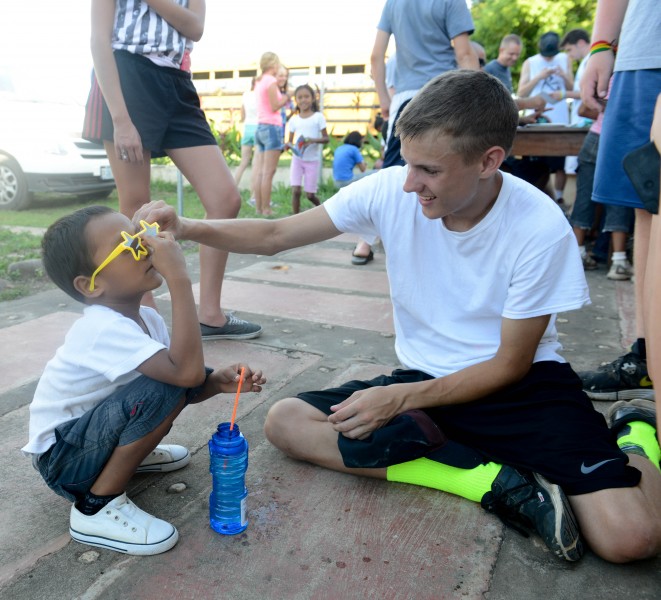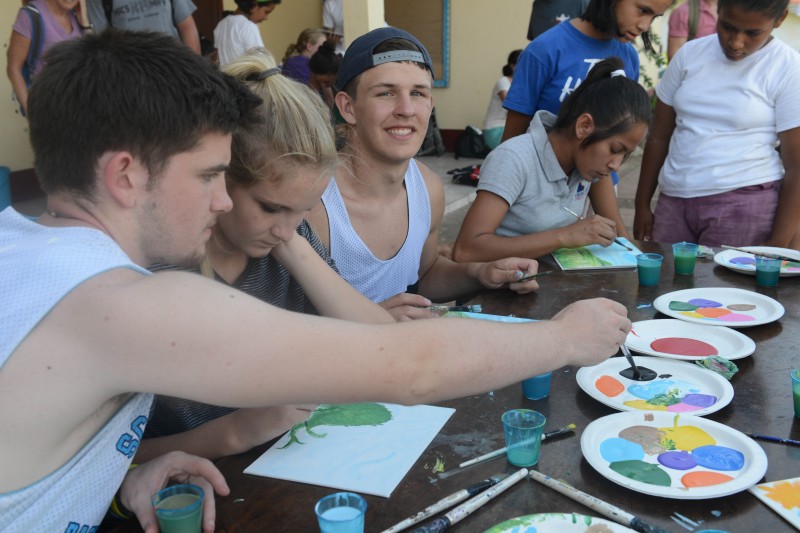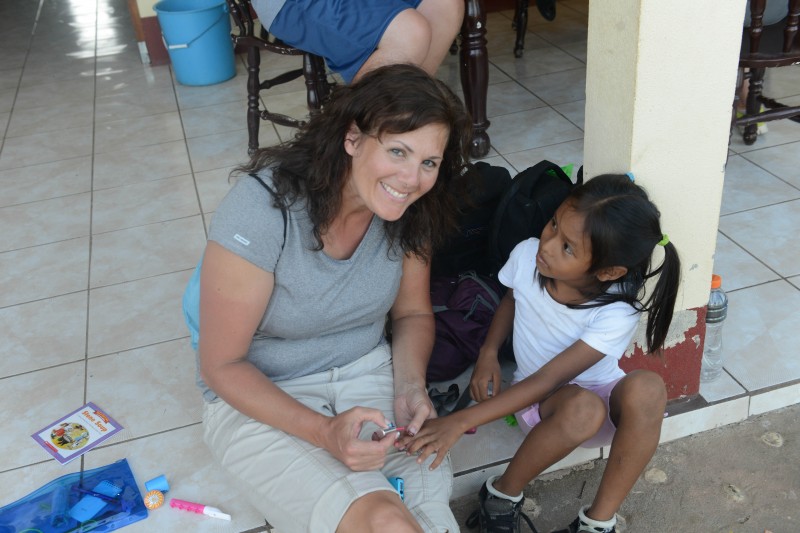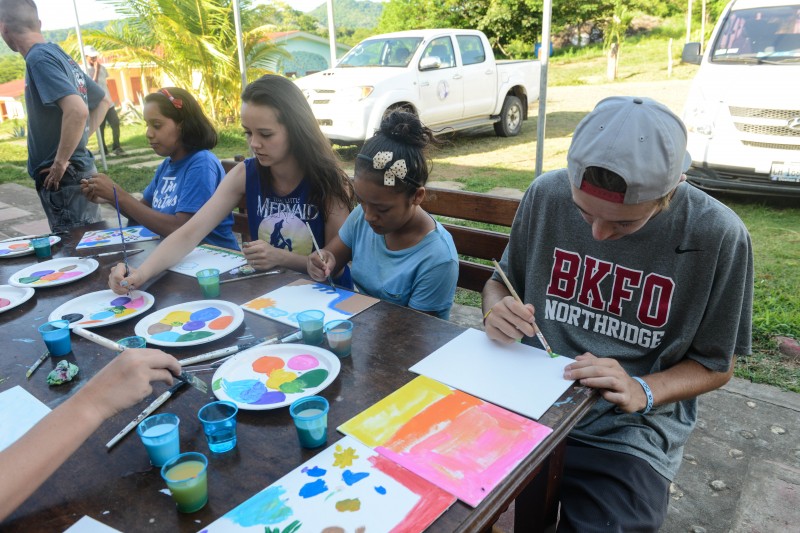 Day 3- Wednesday
Start each day with a hearty breakfast before departing for the Los Zorros School where we will be feeding the children a lunch we will have prepared before-hand,  and which is sponsored by Color My World.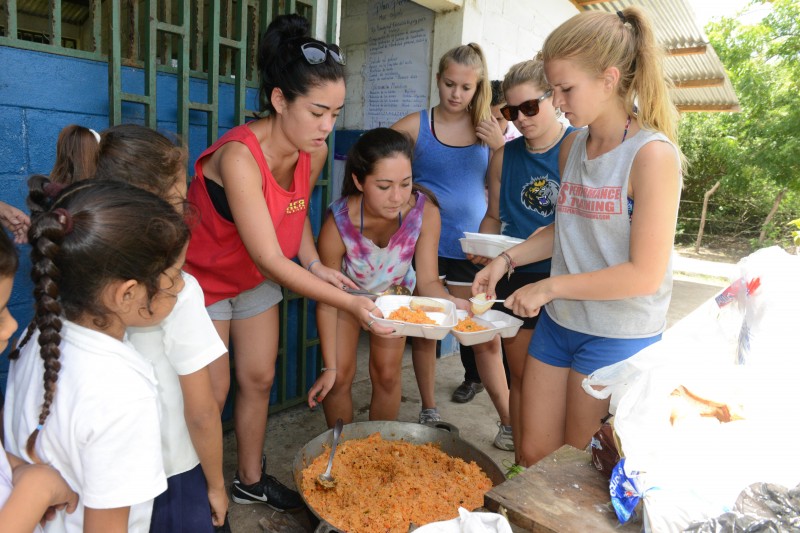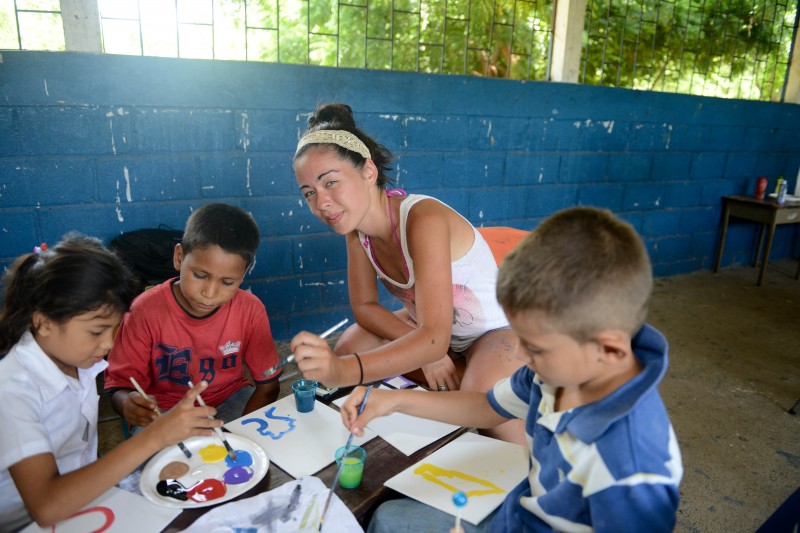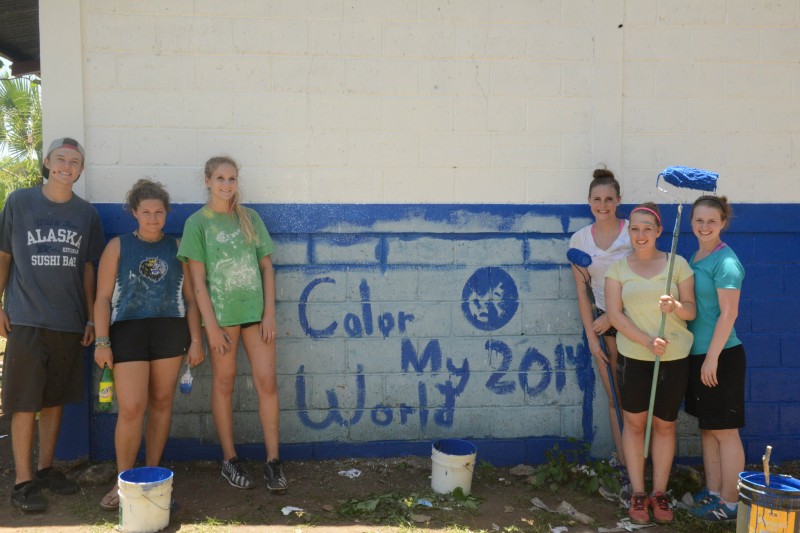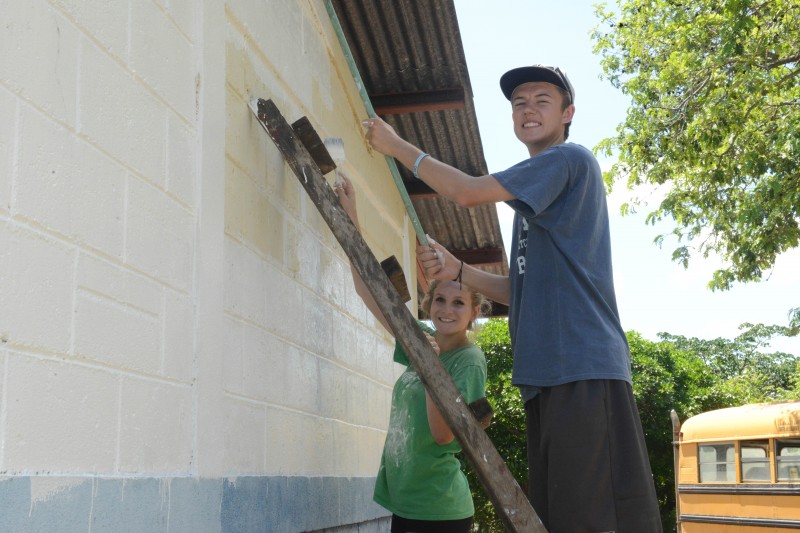 Playing games  and singing songs with the children is an important part of this initiative.  If you have a special talent, this is a perfect place to share. They are always a captive, engaging audience!
In 2013, we built a kitchen for the school.  In 2014, we built latrines and a playground at the school.
In 2015 and 2016 we built homes and a full basketball court.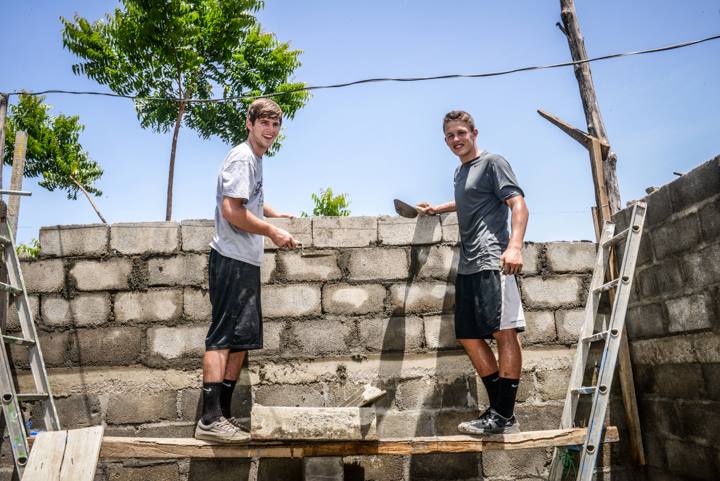 Day 4- Thursday
Today, we continue our volunteer projects.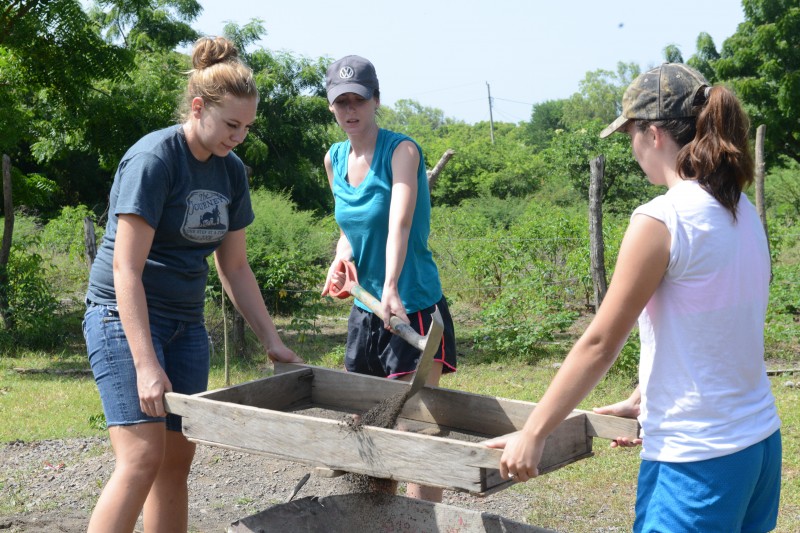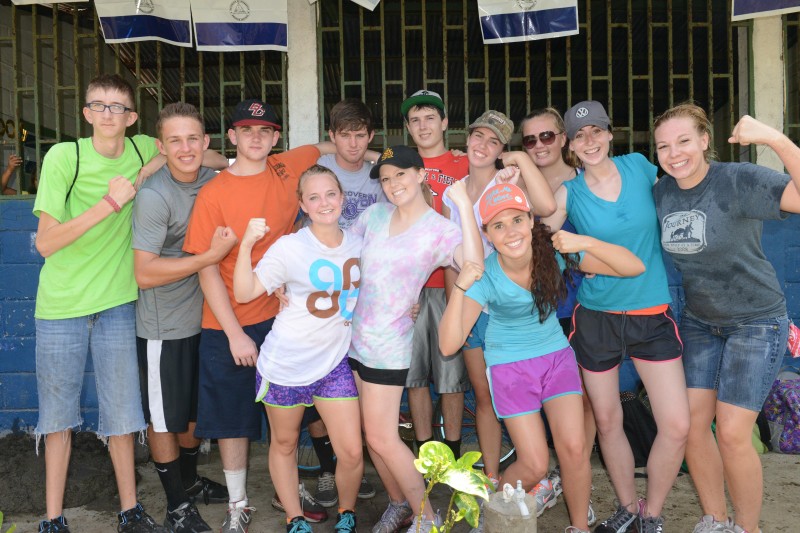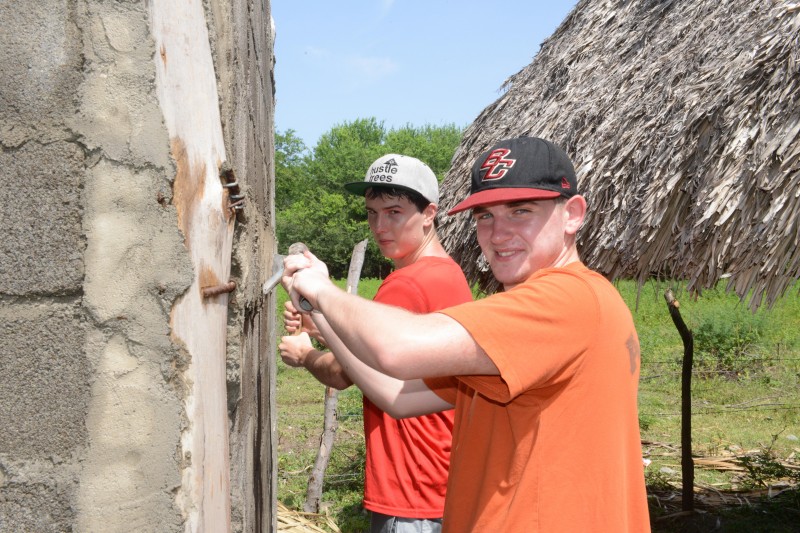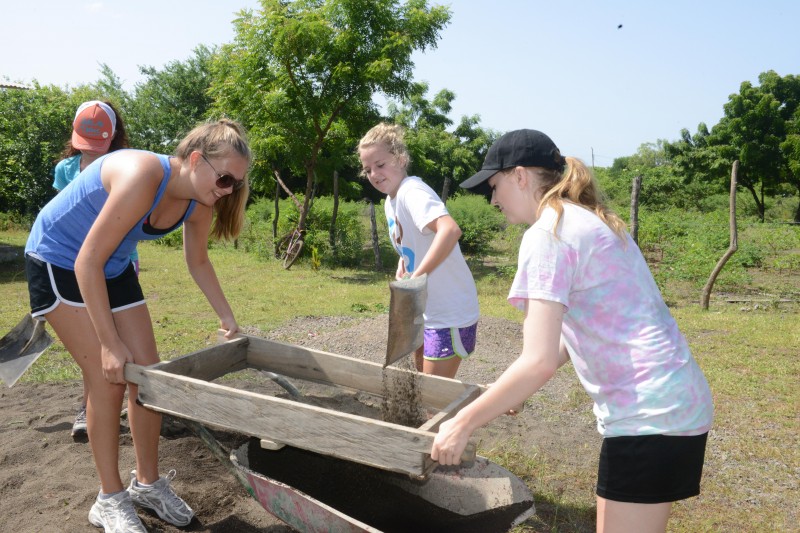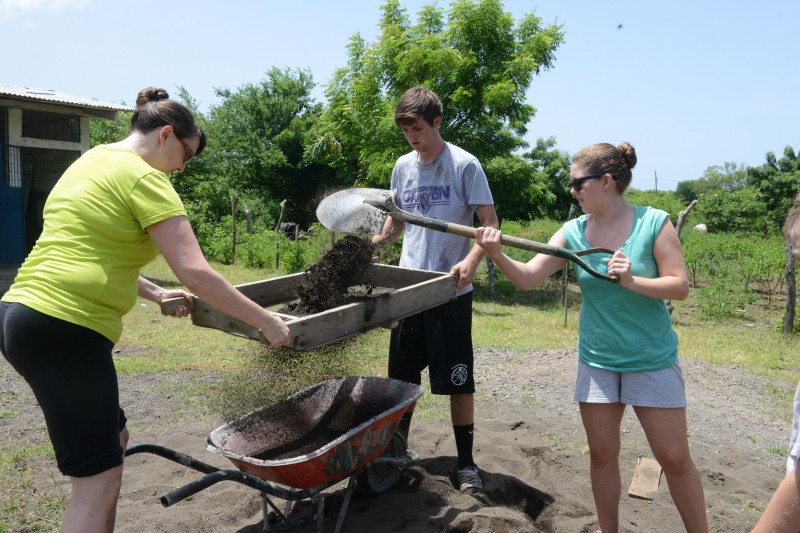 Afternoon- Grab a trash bag and engage in the Beach Cleanup activity.  Trash is a major problem in third world countries and it is an eyesore to the beautiful estuary.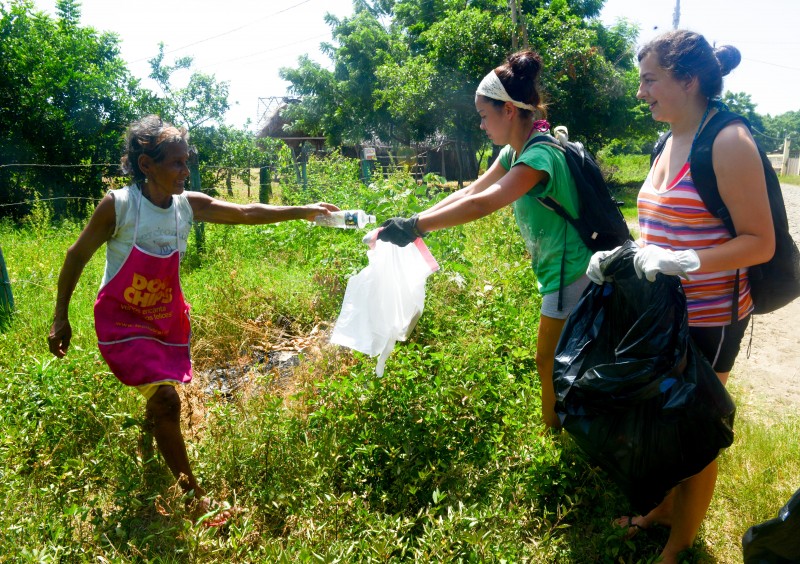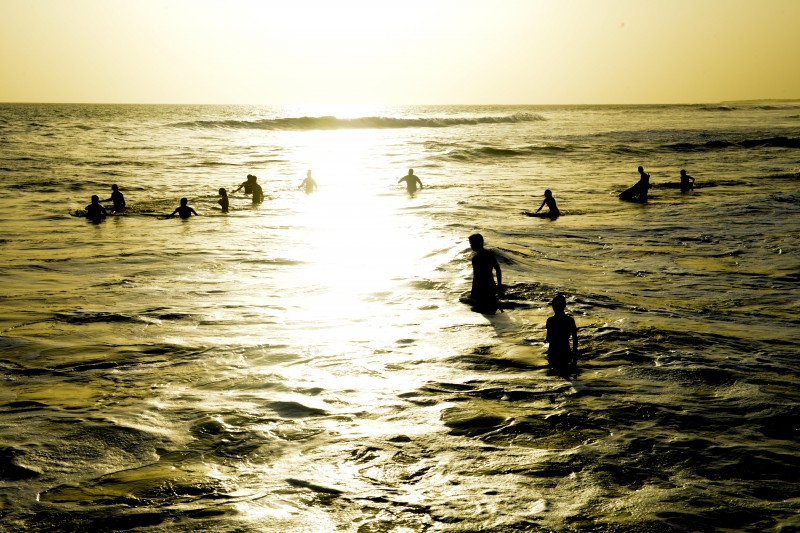 For the medical doctors and nurses participating, we will set up our rural clinic near Padre Ramos.
Turtle Conservation- If the turtles are nesting we will be participating in rescuing the baby turtles that nestle on the beach.
This is everyone's favorite night of the week.
Late Afternoon- Estuary Boat Tour.  (Included)
About Padre Ramos Estuary:
Padre Ramos is a little-visited part of Nicaragua that will reward you with an expanse of serene coastline and an overflowing supply of hospitality, wilderness, community, and culture. The estuary is a decidedly mellower place to swim than the ocean and is home to all the wildlife--especially birds—you could hope to see.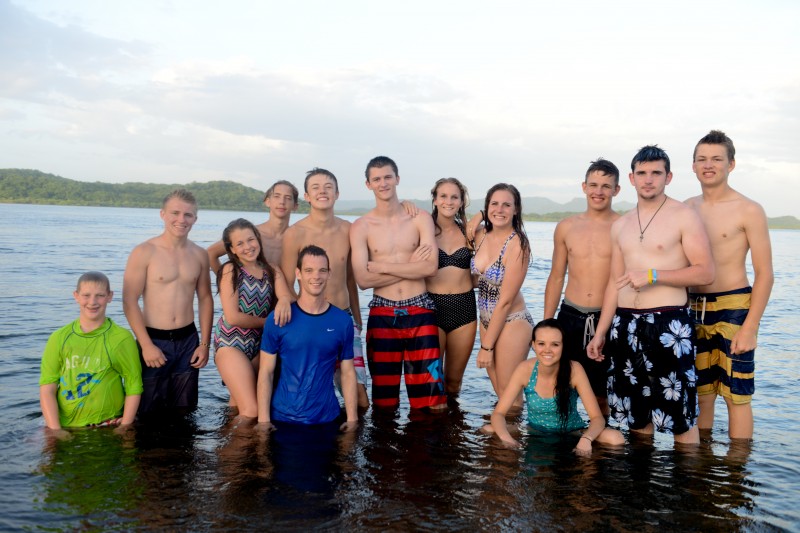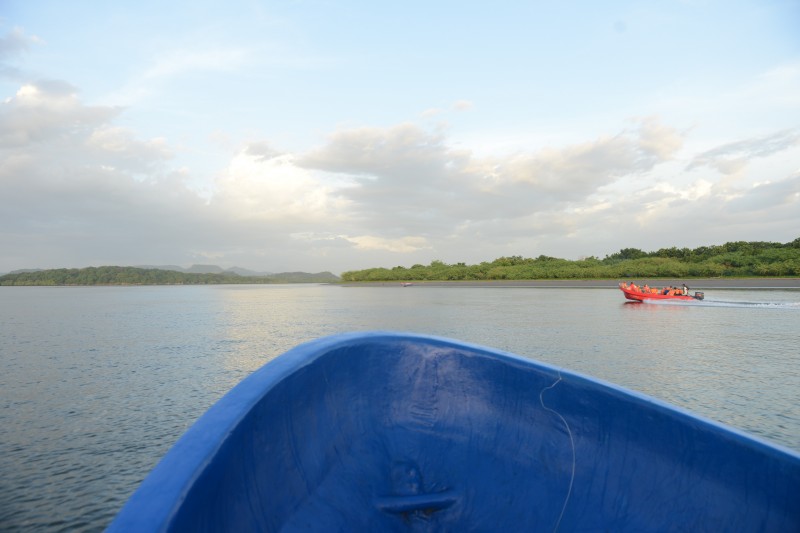 Day 5- Friday
We will be heading into the Chinandega Garbage dump where we will be feeding and working with the children in the Chinandega dump. This is an emotional day, as you interact with families who live on the fringe of the dump. They live in shanty-like homes after being displaced by Hurricane Mitch in 1988.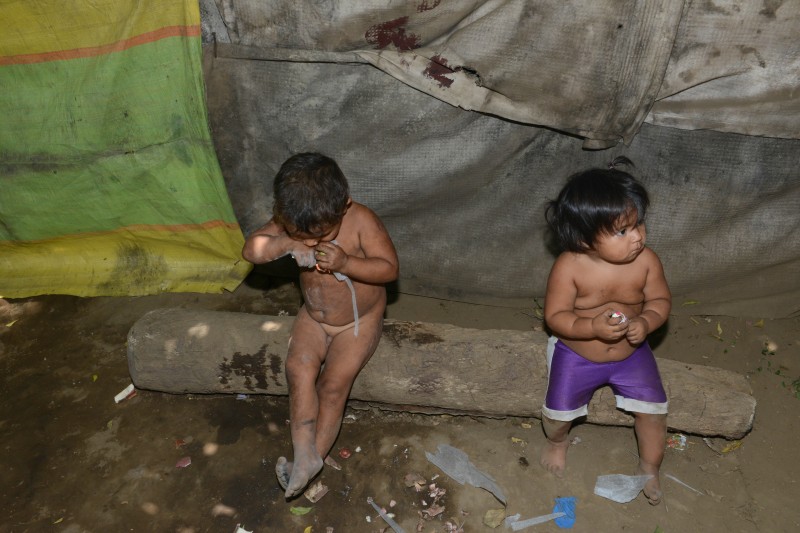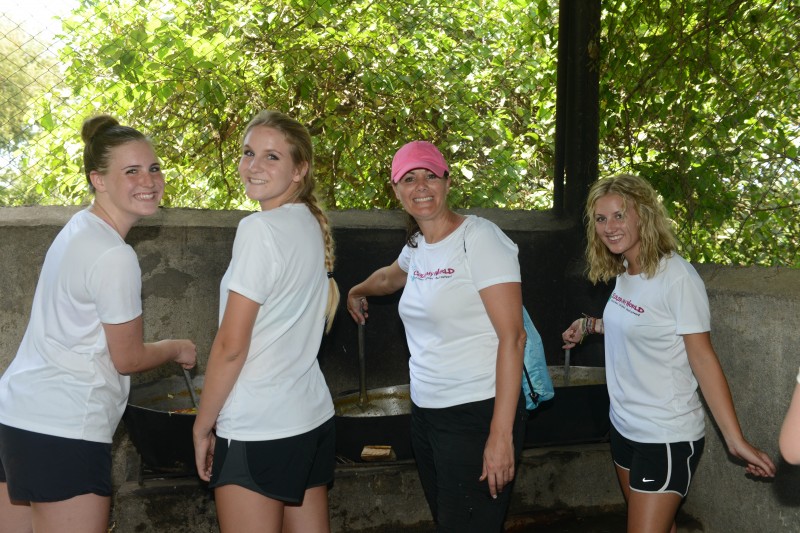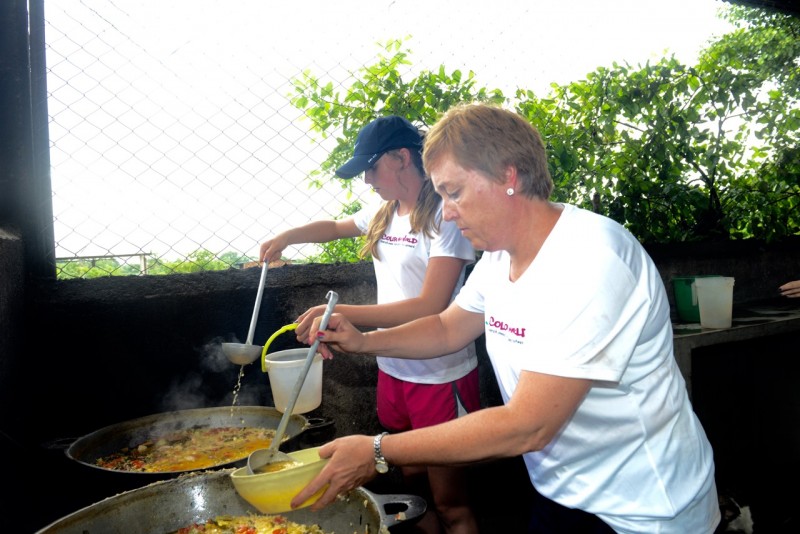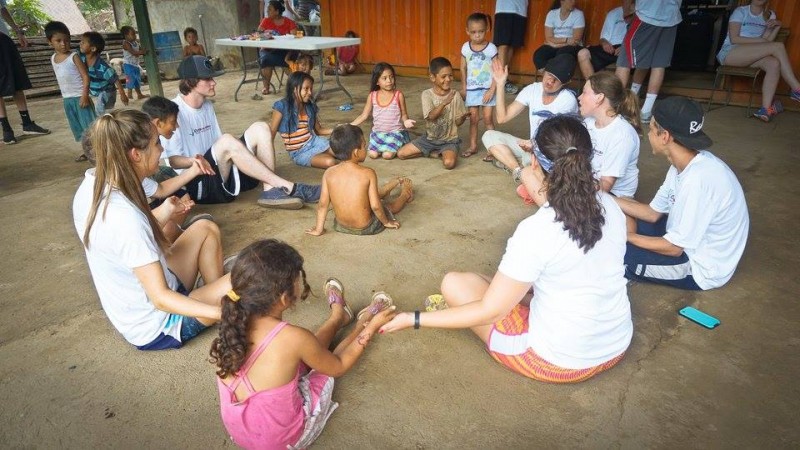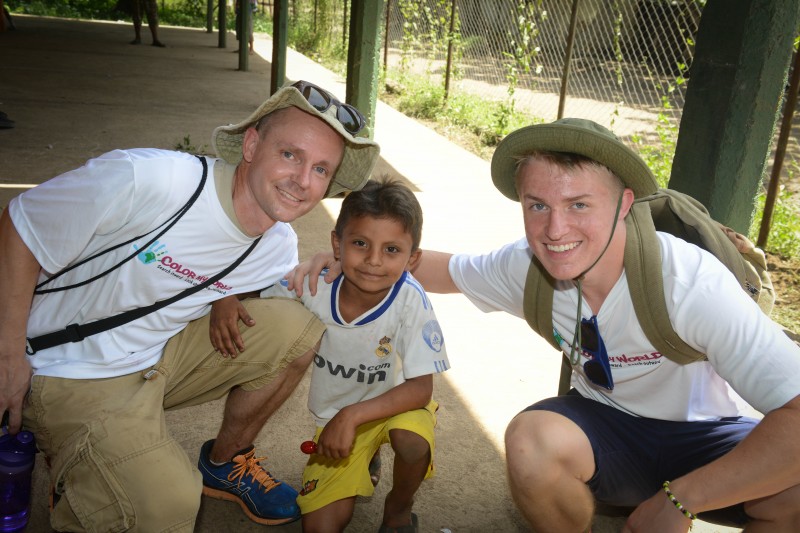 I miss Nicaragua and all of these sweet kids I wish I took home with me!" -Brooklyn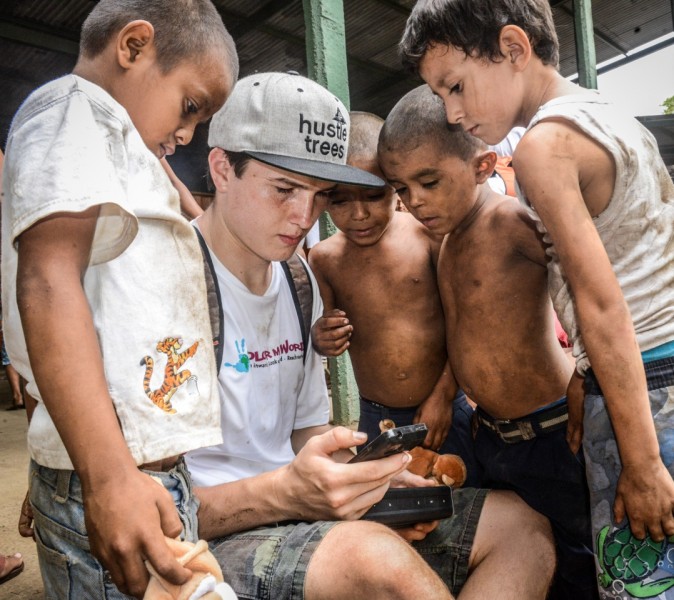 Afternoon- We will visit the local market place in Chinandega where you will have a chance to shop, have pizza, and explore the markets of this colorful Central American city.  Wi-fi is available at the restaurant.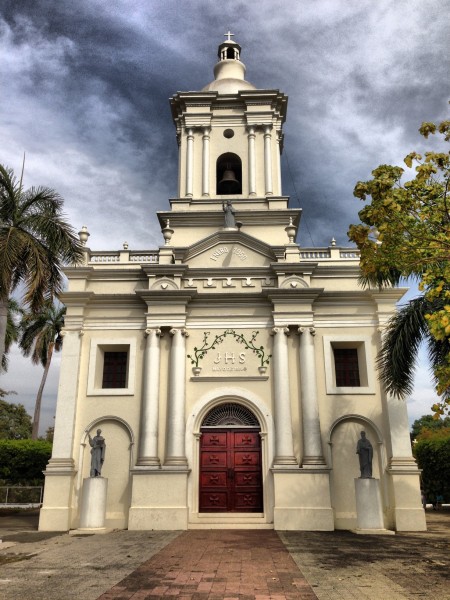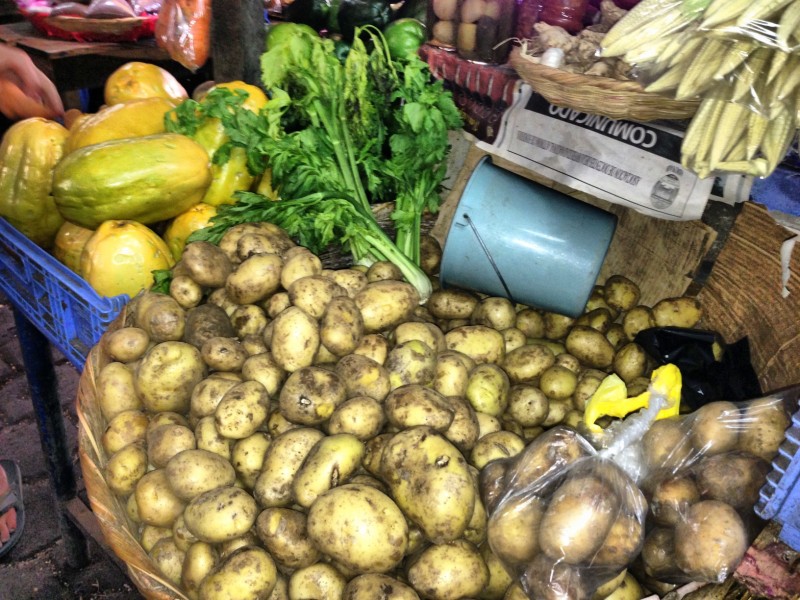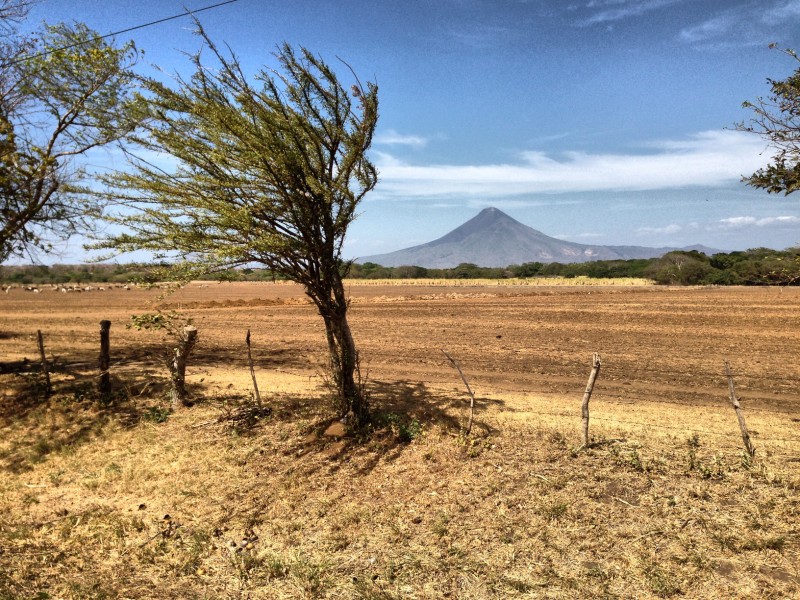 Day 6- Saturday
This morning we will continue the work CMW started in February, 2013: educating locals on solar cooking.  We are hoping to provide each community member that attends the presentation a portable solar cooker to take home. To provide a solar cooker for a family please remember to check that box on your registration form.  Each solar cooker cost $25.00 and changes lives.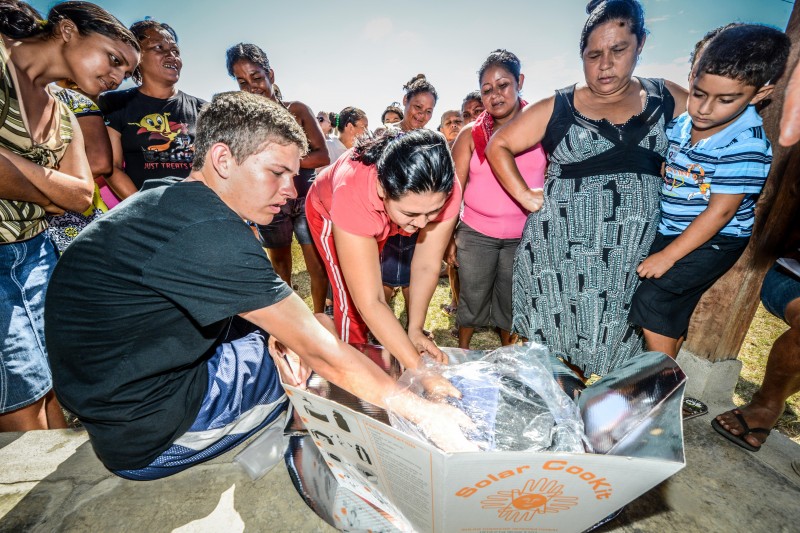 In the afternoon,
We will weed and take care of the local Community Garden Work that Color My World prepped in February, 2013.  We will be building raised garden beds made from recycled 2 liter pop bottles or prepping the regular garden.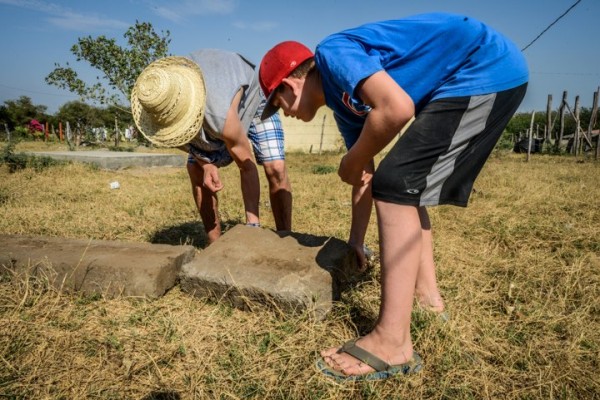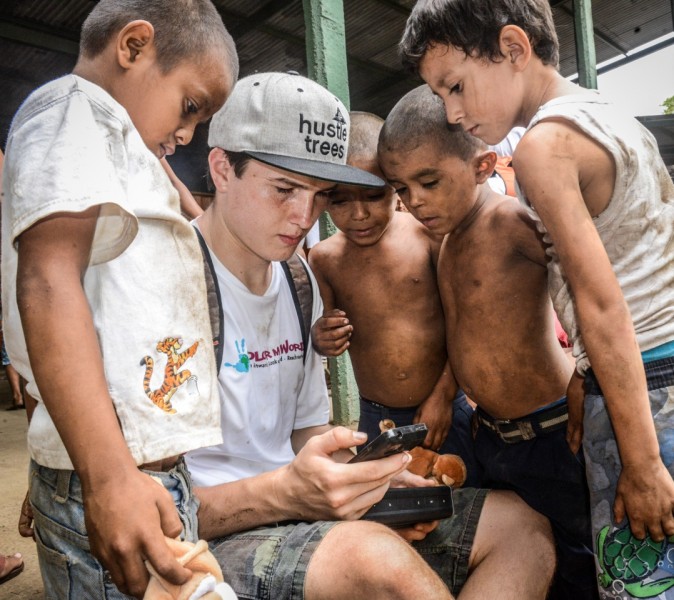 Day 7- Sunday
Day off
Sunday- Vans will head out to the optional church service in Chinandega.  Service will be offered for those who care to participate.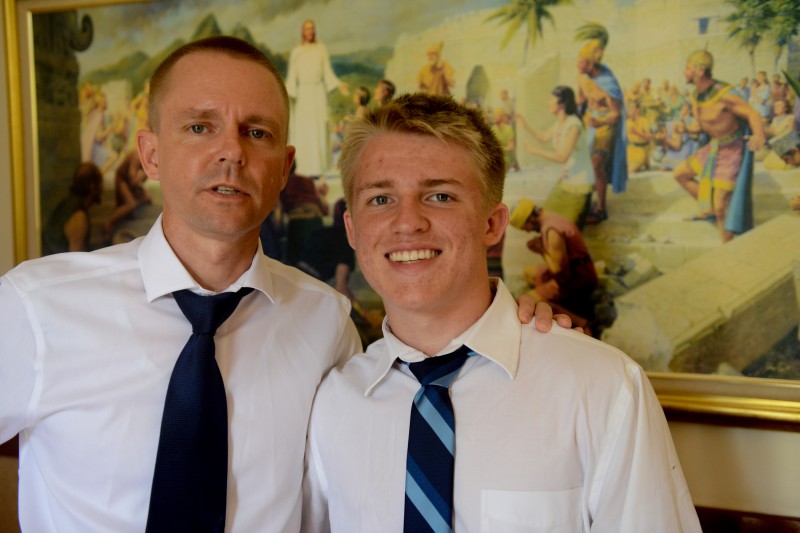 We will stop for lunch at a local restaurant.
The afternoon will be free to relax and enjoy the raw beauty of the beach and coastline of Nicaragua.
Day 8- Monday
Trip End: Say your goodbyes to the Color My World group, head to the airport, and depart for home.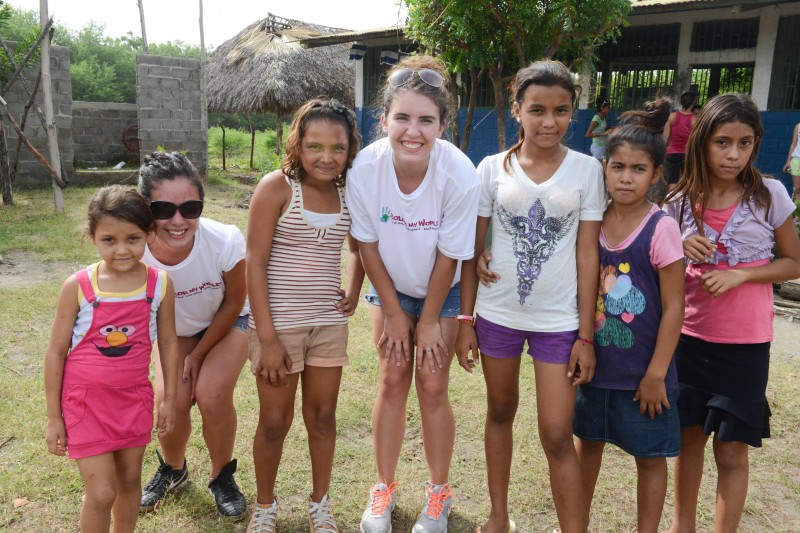 For connecting flights that require a hotel stay in Miami, you can shuttle to the airport hotel.  Hotel is not included in the price, but access will be available through Color My World.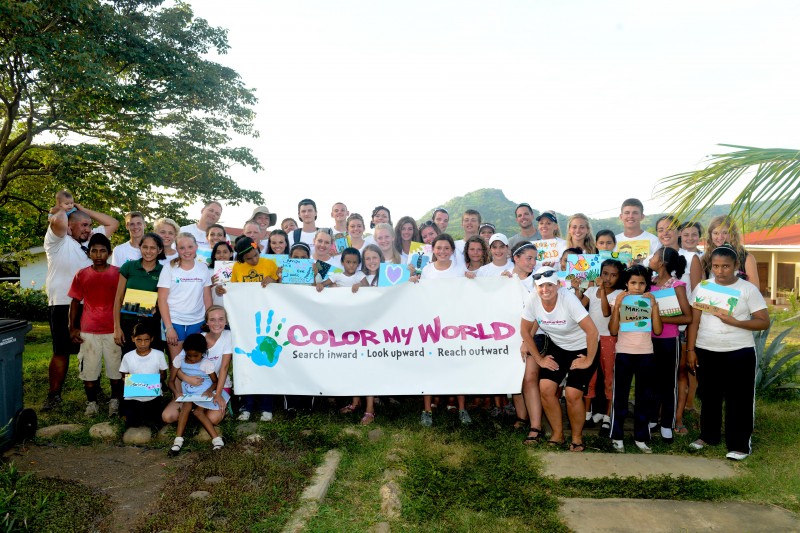 A nice video made by our friend, Jodi on the garbage dump in Chinandega, Nicaragua where we sponsor a community lunch. We met him on our February 2013 volunteer trip.

And again, another video made by our friends Jess and Warren who lived in the Chinandega garbage dump in Nicaragua. We met them on our February 2013 volunteer trip.

About the Volunteer Program Director: A mother of four children, ages 11-20, Angela Hughes has been in the travel business both as a travel agency owner of Trips Inc. for over 30 years and as a former adjunct professor at both Brigham Young University in the Geography/Travel &Tourism Department and The New Hampshire Community College system teaching Travel &Tourism.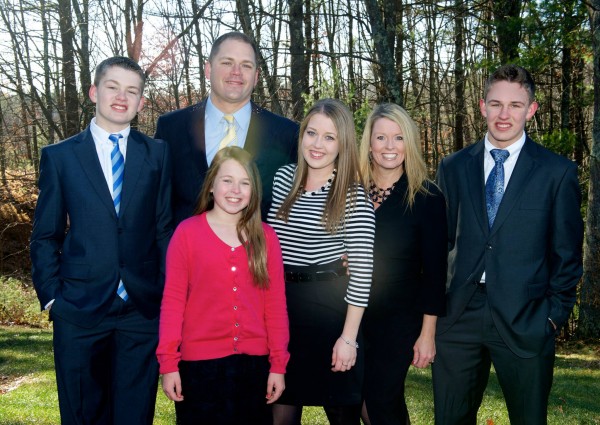 Hughes plans and escorts groups around the world and specializes in Europe, Asia and 3rd world Humanitarian Trips.
A humanitarian, Angela Hughes is the director and co-founder of her family foundation, Color My World (501c3) and personally arranges and escorts each group that travels with the foundation. She is engaged with each project from start to finish."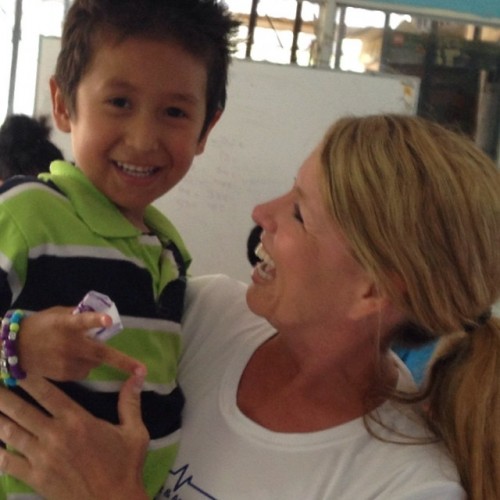 Angela's expertise include a masters degree in geography and hobbies include the humanities, photography and the Renaissance. She has taught her children on location throughout the world bringing to life art, history and science through travel education.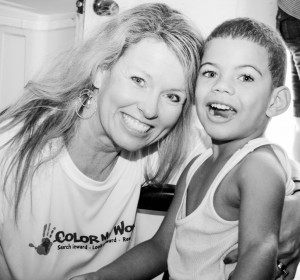 She escorts many of the tours with her husband, Brian Hughes, who is often responsible for the behind the scenes work of public affairs, marketing, construction project organization and safety.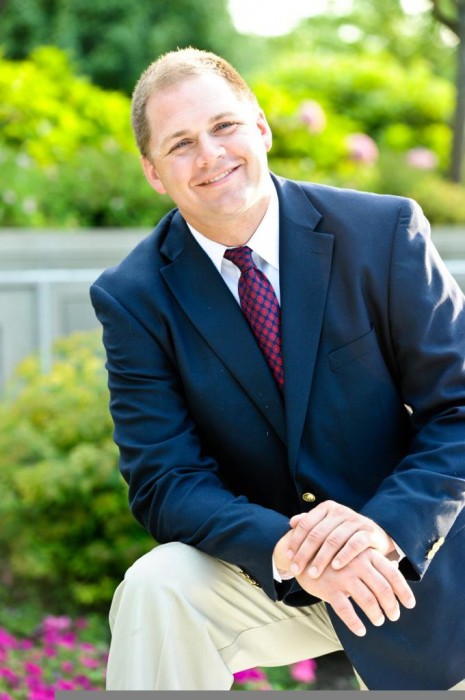 Dan Taylor will serve as the volunteer c0-program director for two sessions in 2018.  This will be Dan's 6th trip to guide our groups clear from London, England.  Dan received his masters degree in Wales.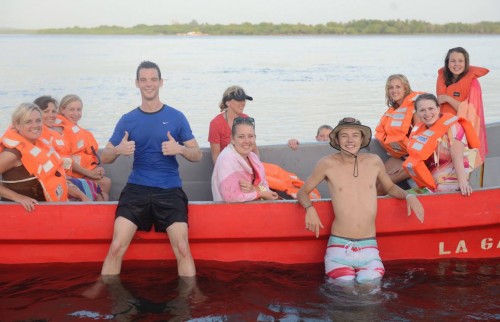 I have two passions in life, meeting new people, and exploring the world. So far I have spent two and a half years of my life in America, and have explored a fair bit of Europe. I believe that true happiness is found in life not through the wealth you accumulate, but by the experiences that you have with people. I believe that life should never be taken too seriously, but instead be filled with laughter. All in all, I am Dan, I love people, I love seeing new places, I unashamedly love sarcasm, I am a geek when it comes to Psychology, and I am British."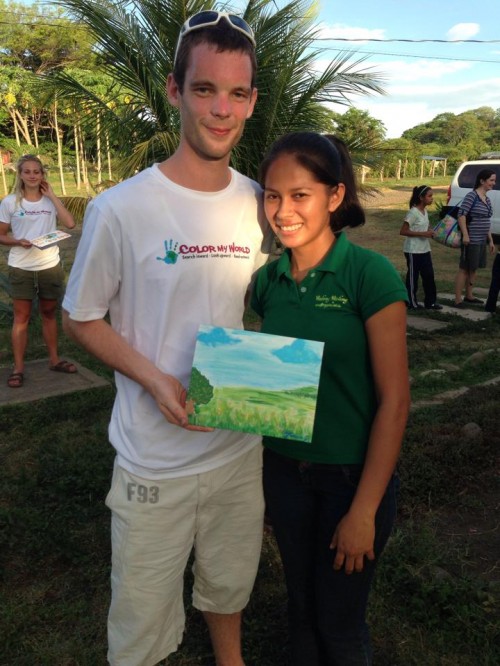 Hillary Hughes will serve as volunteer co-program director for all of our 2018 sessions.  Hillary is a co-founder of Color My World and is an international development student at Brigham Young University.
She can often seen behind the scenes creating our social media, creating our programs and coordinating our programs in many countries.
Required Forms & Links
Download CMW Adult Agreement Form Adults CMW Agreements Participants 2018 word
Download CMW Youth Agreement Form Youth CMW Participants 2018 word
Apply for a passport or make sure your passport is current
Register with Smart Traveler Enrollment Program
Download Fundraising Guidelines
Health & Vaccination Info from the Center for Disease Control & Prevention
Download Packing List - (Packing list will not be available until notified)
Buy required Travel Insurance from the link below
Application Process
How do I apply for the Color My World humanitarian travel program?
Email Color My World at admin@colormyworldkids.org to receive an application for Volunteer Nicaragua 2016. It is better to apply sooner than later because spaces fill up on a first-come, first-served basis. 2013, 2014 & 2015 sold out in several weeks, we expect this year to go even faster with our added popularity.
When is full payment due?
Can I attend if I'm not a student?
You do not have to be a student to be a Color My World volunteer. In fact, Color My World welcomes all volunteers no matter their educational backgrounds. We encourage all volunteers to travel and share this experience with their families. Anyone can volunteer as long as they are over the age of 16 by the departure date and are prepared to serve with an open mind! If you are under the age of 16, you must travel with a responsible adult party or be approved by Color My World.
Can my friends volunteer with Color My World?
Definitely! Color My World welcomes all eager volunteers. Just make sure to provide the Color My World office with your friends' names and emails. You can invite your friends or email us names of people that you would like to recommend to volunteer with us at admin@colormyworldkids.org
All ages are welcome on our program. Every age group can fit into this program.
Color My World requires all volunteers to be 16 years old by their departure date. We welcome everyone over the age of 16 years to apply (with a parent or guardians signature). Youth under the age of 16 are welcome when accompanied by an adult or approved by Color My World's director, Angela Hughes.
Are all participants required to sign a waiver and release form?
Absolutely! You will receive a packet to complete once you are accepted into the program.
Why do I have to pay to volunteer?
Being a volunteer overseas is not a thrifty endeavor, and oftentimes to cultivate real growth and development, more than just time and effort are needed. A proportion of the money paid will also be donated towards sustainable projects carried out in the areas that you will be volunteering in.
We are vested in bringing Solar Cookers to the village and training locals in using them.
If you would like to donate a solar cooker, or multiple solar cookers ($25.00 each) and water purifiers ($10.00) please indicate on the cost sheet when you pay. These are tax deductible. CMW will carry each cooker down and you will present them to the villagers during our educational training in the village. We buy these at cost and no profit is made from this donation. You can read more about the solar cookers at this link.
http://colormyworldkids.org/?p=906
Can I donate other items?
Solar Cookers are our top priority right now, but Yes! you can donate additional items. Please contact CMW to discuss the things that you are interested in.
Hygiene kits, school kits, school supplies, and sporting equipment are always popular items.
Be advised-The airlines charge $50.00 minimum for additional bag that you take.
Important Notes
If Color My World cancels the trip, will the deposit be refunded?
Yes, we will refund the deposit.
What if I need to cancel?
Volunteers can withdraw their applications or agreements by notifying Color My World via email to angela@colormyworldkids.org
When Should I book plane Tickets?
Flights to Nicaragua are not covered in the cost of the program. The 1st meeting spot will be at the Miami Airport on American Airlines. The time and flight will be announced. In 2015, we had a second group meeting point in Houston on United Airlines that flew together.
Of course, you are free to book any flights that work with your schedule but we will have a meeting site in Miami for the majority of the participants who want to travel together.
We fly into the Managua Airport in Nicaragua (MGA).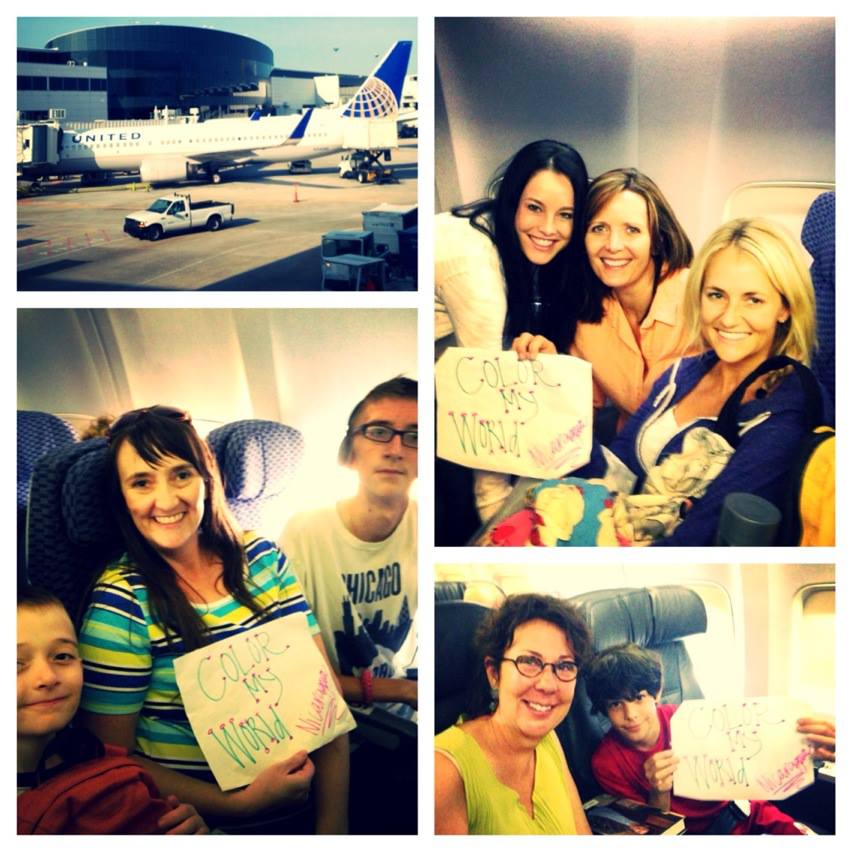 If you are unable to meet the group in Miami, we will help set up the round-trip transportation to the Beach Lodge.
Consider using frequent flyer miles if you have them. We want to make this as affordable as possible.
Why can't we fly out early in the morning on the return?
Our village is 3 hours away from the airport and participants need to check in at least 2 hours prior to their flight. We don't recommend participants traveling throughout the nights or transferring in the country during the night. Return flights must be booked after 12 pm on day of departure.
Please wait to book your flight!
Please do not book your air until the trip is finalized. We will send you an email letting you know when the trip is "a go" and you can begin to shop for air. Color My World is not responsible for air travel–under any condition.
What if I need to layover in Miami? Are there hotel accommodations?
Most return flights do not arrive back into the United States in time to connect to many flights.
Color My World is not responsible for the cost of a hotel in Miami. Color My World will provide a block of rooms to book at normal industry hotel rate for participants who are overnighting. For example: Double-quad occupancy rooms start at approximately $155.00 per night with airport shuttle. We can group same sex participants together by age to form a quad to reduce the price. In the past, we have used the Miami Marriott Airport hotel in the past.
Is this type of trip all work and no play?
Absolutely not! There is plenty of time to enjoy the beach, ocean and the laid back feeling of Central America. This is a great combination of WORK HARD & PLAY HARD.
Yes. You can learn more about a passport here
Passports must be valid for 6 months after departure.
Are there any visa requirements for Nicaragua?
No, there are no visa requirements for entering Nicaragua for U.S. citizens. If you are not a U.S. citizen, then please inquire with the consulate.
Are there any vaccination requirements?
Currently there are no immunizations or vaccinations required for entry/travel. This information is subject to change, so please consult with your physician at least two months prior to your departure. Please consult with the Center for Disease Control.
Do I need to have insurance for my trip? And what type of insurance do I need?
Yes. We require medical, air and evacuation insurance for every participant in the program.
We will send you more information to purchase travel insurance based on your individual needs. Most personal medical insurances are not valid outside of the United States.
Are there any vaccination requirements?
Currently there are no immunizations or vaccinations required for entry/travel. This information is subject to change, so please consult with your physician at least two months prior to your departure. Please consult with the Center for Disease Control.
Do I need to know the local language?
You do not need to know the language to volunteer with Color My World. The Color My World Team Leaders will assist you to communicate with the locals. Also, our local guides speak English. You will probably pick up some of the Spanish language during your trip – children love to teach volunteers new words! Come prepared with some basic Spanish greetings. The Color My World Team Leaders can also teach you a few greetings so you can greet the locals.
Can I fundraise to help pay for my trip?
Yes! Color My World encourages all volunteers to fundraise to offset the program cost. Upon acceptance to the program and receipt of volunteer deposit, Color My World will provide fundraising information and materials for you to use to raise money to pay for the program.
How much extra money should I bring on the trip?
Color My World suggests that you bring $200 to $300 USD, depending on whether you want to purchase drinks, ice cream, extra horse back riding hours, souvenirs, or gifts. Your accommodation and food are included during the program, but Color My World encourages you to experience purchasing and tasting the delicious local cuisine in the local market.
You will need extra money for food to and from Nicaragua at the airports.
Nicaraguan Visa fee is $10.00 cash paid at the airport upon arrival. Each participant will pay this directly to Nicaraguan customs at the airport.
How should I pack for my trip?
We will provide you with a packing list closer to your departure date.
What if I tend to over-pack?
Don't! Laundry can be done for $3.00 for 12 items. Things get dirty there and it is so hot that you will find that you are in a swimsuit and cover-up most of the time at the lodge and light clothing while volunteering. We will send you a packing list. Pack light and use the rest of your suitcase to bring school supplies, medical supplies, small toys for the kids or sports equipment.
Color My World provides a t-shirt that you will wear twice during the week. (Yes- we will wash them in between!)
What kind of adapters do I need?
You do not need any adapters for Nicaragua. They do have electricity in the rooms and the outlets are US.
What if I'm a vegetarian, vegan, or have other dietary requirements?
That is no problem. We can work with most food requests! Just inform us on your application if you are a vegetarian or have any other dietary requirements. We will do our best to accommodate volunteers' individual needs.
Itinerary
How long are Color My World programs?
Color My World international volunteer programs are 7 days for the Nicaragua excursion.
Can I contact friends and family at home while abroad?
Of course! We have access to the Internet so volunteers can email friends and family on one computer provided in the area. When we are in the city of Chinandega there will be wi-fi at the pizza parlor we are eating at with free access. Remember this is the 3rd world…..the net will be slower than at home. International phone service is each individual participant's choice.
How many other volunteers will be on my trip?
There will be approximately 15-25 volunteers on each international volunteer program. Color My World maintains a manageable group size to ensure you have a unique, personalized experience.
Will I be sharing a room with other Color My World volunteers?
Yes, you will have roommates in same sex rooms so be prepared to share. Rooms for couples and families are organized upon request. If you and a friend are on the same program, we will do our best to put you in the same room, please indicate that you are traveling together. Shared same-sex bathrooms are the norm throughout the lodge we will be staying at.
Each bed includes a mosquito net to sleep under. Bring your own pillow if you wish. Light blankets and sheets are provided.
You can shower daily (we encourage it!) The water is not heated and short showers are requested.
Bring a beach towel and a washcloth.
In any beach location there are sand bugs and insects. Make sure to rinse off after being in the sand and ocean, especially at night to avoid discomfort.
What if there is an emergency?
CMW team leaders are prepared for emergencies, and assistance is always nearby. In addition, we work with the local fire department and members of the local fire department are on site. There are also hospitals nearby if needed.
What if I am musically talented or have a special gift or skill?
Bring your guitar, ukulele, lap harp–you name it. Sharing music is a wonderful gift.
We try to incorporate into the experience your unique skills. If you have a mini-class you could teach let us know.
Will we see turtles on our trip?
The turtles only come out at certain periods later in the summer. Our August 2013 group was lucky to work on a conservation program when the turtles came a shore. Spring dates do not have this benefit. This is a "hit and miss" seasonal opportunity based on the turtle and weather behavior.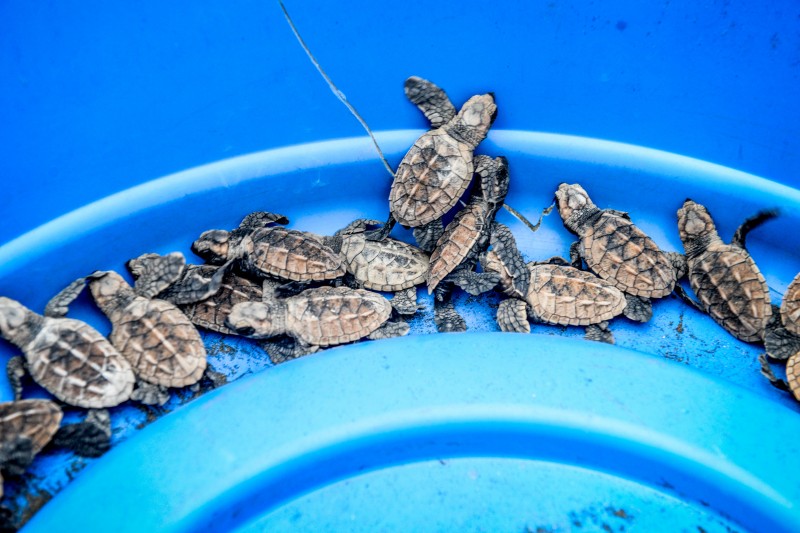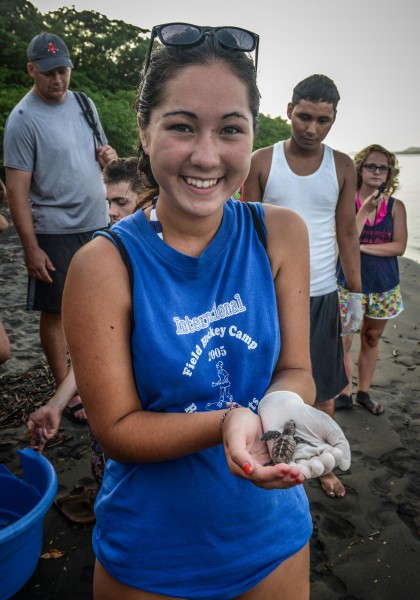 Local Information
Yes. Our programs are in rural villages, and locals welcome volunteers! Moreover, you will be with Color My World Team Leaders during the program. It is important to be well informed when traveling and our Color My World Team Leaders are very well informed about both traveling and safety in the country.
Color My World provides all transportation while in the country, including vans, boats, and air travel if applicable. Remember this is a third-world country and the ride is often not luxurious.
Can I drink the local water?
We do not recommend drinking the local water. The lodge in Nicaragua supplies unlimited fresh/clean water for all participants 24 hours a day, 7 days a week. We recommend you bring a water-bottle to refill throughout the trip.
What is the weather like in Nicaragua?
The temperature varies between 72 degrees Fahrenheit at night and 90 degrees Fahrenheit during the day. Nicaragua has a tropical climate that includes both dry and rainy seasons. The dry season is from January to June and, as it sounds, the climate is extremely dry. The rainy season is from June to September. In the rainy season, volunteers can expect tropical downpours for short periods of time (Usually 1 hour per day) but overall weather patterns are pleasant.
In 2013, we only had 1 day of rain that caused a power outage.
In 2014, we didn't have any rain.
In 2015, we had 2 days of light rain on our trip.
What is national currency in Nicaragua?
The national currency in Nicaragua is the córdoba. However, U.S. dollars are widely accepted. Volunteers may either exchange money in the U.S. Volunteers should bring small U.S. bills with them as large bills are difficult to break in rural areas.
Yes, they have normal toilets but you cannot put toilet paper in the toilets. To conserve water they only flush after #2 and after multiple #1's. Water is a premium!
What time-zone is it in Nicaragua?