Volunteer in Guatemala this summer with Color My World,
Guatemala blends the untouched cultural beauty of Central America, the historic cities and sites, and the opportunity to learn and work with the people of the country all together to create a memorable, life changing experience.
While there, you will be staying in the orphanage that we will be working with, spending the day doing activities like working in the health clinic, helping on the farm, and teaching in the schools. In the downtime you will have the opportunity to play games with the children, practice your Spanish, and admire the beauty of the Guatemala highlands.
Guatemala is for the volunteer who wants to connect first hand with the people that they will be working with, and wants to spend their time completely immersed in the culture and community of the country!
Please do not book your flights until we have sent out the email that the trip is progressing.
Color My World will not be responsible for air bookings in any situation.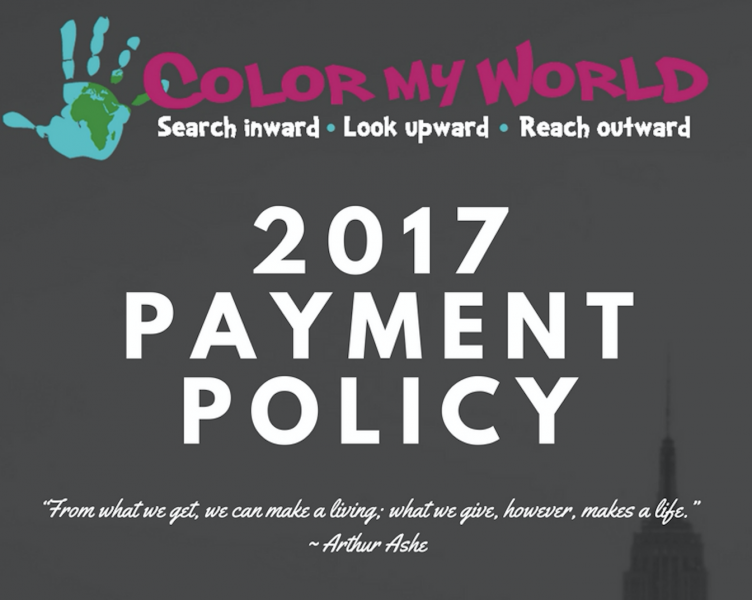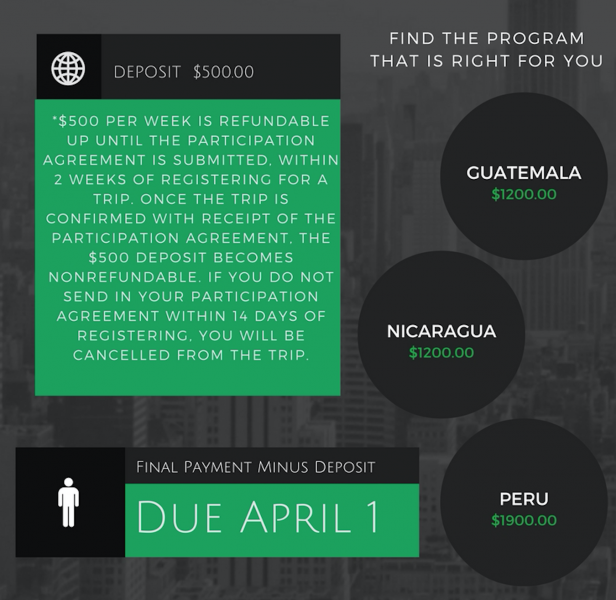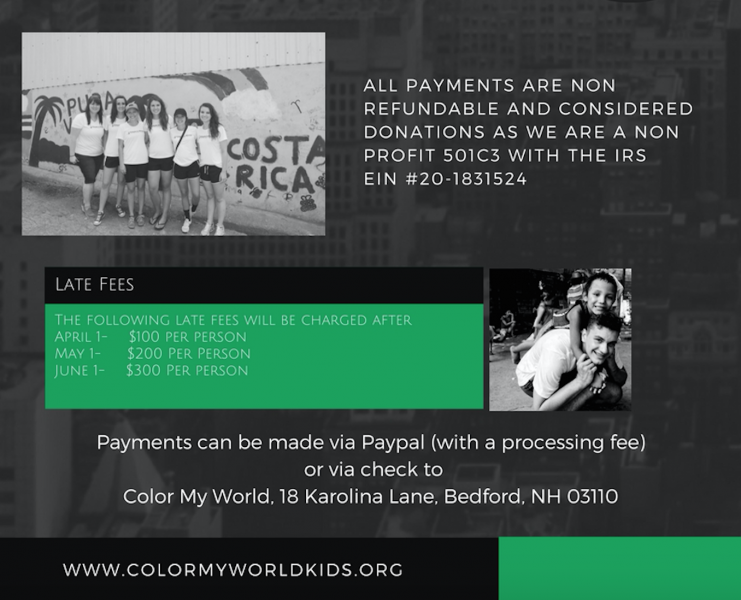 Guatemala 2017  Tentative Itinerary
* subject to change
This is a sample of what your week might look like-
Arrive in Guatemala and transfer to the highlands where you will work with orphans and at-risk children in and around the Lake Atitlan, Guatemala area.
We will spend time feeding moms and children who will gather for a weekly meal.
Various educational, recreational, and health projects are ongoing to support these children. Volunteers work to help keep children off the street and to help provide them with a happy and productive childhood.
Getting an education can be a challenge for any child in Guatemala, especially the Mayan Indians in the Highlands. One out of only eight girls get through the sixth grade. But it has become a necessity for these poor communities, as many parents cannot read or write or or even speak Spanish…they have to rely on their children.  You will have the opportunities to work in local schools helping with the children.
Part of the week you may volunteer at the community medical clinic.
Depending on individual skills and interests, volunteers act as mentors, help children with their homework, organize sports and arts and crafts, and teach English. However, your care and support are the most important thing for these children.
You will also get a chance to get down and dirty as you help with the community gardens.
Spend the afternoon on the amazing Lake Aititlan!
We will take a boat ride on the famous Lake Atitlán. This Lake is the deepest lake in Central America and has been call "the most beautiful lake in the world" according to some explores. You will be able experience the natural beauty of the Volcano and mountains that surround this lake.
After the boat ride on Lake Atitlán we will take time to explore the town and do some shopping where you can buy many tradition Guatemalan souvenirs.
Volunteers  will be staying in dorm rooms on property at the orphanage where we will be working.
At night we will have activities like game night, dance lessons, movie nights, and learning how to make homemade tortillas.
On our way pack to Guatemala City we will make a stop in the colorful city of Antigua.
Formally known as the capital of Guatemala until it was destroyed by earthquakes in 1773.
This stop will also be another place to buy your gifts and souvenirs.
We will spend time walking around this cultured and colorful city.

Day 7 depart Guatemala or stay for our 1 day extension to TIKAL!
Stay an extra night and enjoy the beauty of the Mayan Civilization.
Take an early morning flight to to Flores to visit the Tikal National Park with an English Guide.
This all day adventure will dazzle you with history and culture never seen before.
Get lost in the jungles of Guatemala while learning about ancient ceremonies and cities.
Hotel, roundtrip air, admission and guide is included in the extension price.
Come to Guatemala and discover how you can make a difference.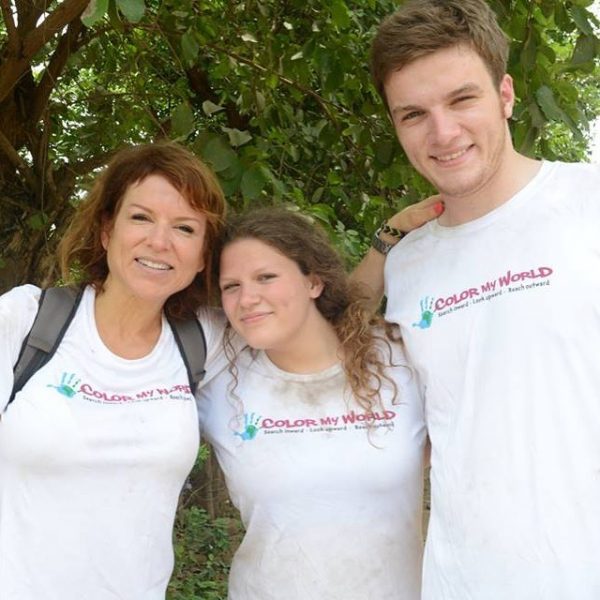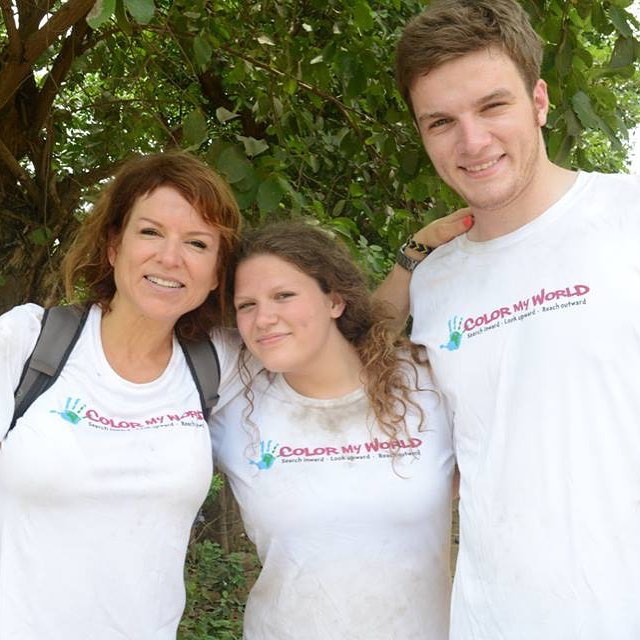 Still Under Construction Check Back for more information
About the Volunteer Program Director: A mother of four children, ages 12-222, Angela Hughes has been in the travel business both as a travel agency owner of Trips Inc. for over 30 years and as a former adjunct professor at both Brigham Young University in the Geography/Travel &Tourism Department and The New Hampshire Community College system teaching Travel &Tourism.
Hughes plans and escorts groups around the world and specializes in Europe, Asia and 3rd world Humanitarian Trips.

A humanitarian, Angela Hughes is the director and co-founder of her family foundation, Color My World (501c3) and personally arranges and escorts each group that travels with the foundation. She is engaged with each project from start to finish."
Angela's expertise include a masters degree in geography and hobbies include the humanities, photography and the Renaissance. She has taught her children on location throughout the world bringing to life art, history and science through travel education.
Dan Taylor will serve as the volunteer c0-program director for all sessions in 2017.  This will be Dan's 5th trip to guide our groups clear from London, England.  Dan received his masters degree in Wales.
I have two passions in life, meeting new people, and exploring the world. So far I have spent two and a half years of my life in America, and have explored a fair bit of Europe. I believe that true happiness is found in life not through the wealth you accumulate, but by the experiences that you have with people. I believe that life should never be taken too seriously, but instead be filled with laughter. All in all, I am Dan, I love people, I love seeing new places, I unashamedly love sarcasm, I am a geek when it comes to Psychology, and I am British."
Hillary Hughes will serve as volunteer co-program director for all of our 2017 sessions.  Hillary is a co-founder of Color My World and is an international development student at Brigham Young University.
She can often seen behind the scenes creating our social media, creating our programs and coordinating our programs in many countries.
Required Forms & Links
1. Download CMW ADULT Participants PDF Adult Agreement Form adults-cmw-agreements-participants-2017
2. Download CMW YOUTH Participants PDF Youth Agreement Form youth-cmw-participants-2017-1
3. Apply for a passport or make sure your passport is current
4. Register with Smart Traveler Enrollment Program
5. Download Fundraising Guidelines
6. Health & Vaccination Info from the Center for Disease Control & Prevention
7. Download Packing List – (Packing list will not be available until notified)
8. Buy required Travel Insurance from the link below
Still Under Construction Check Back for more information
Guatemala is called "the land of eternal spring." In the Highlands where we are located the temperature is usually ranges from the fifties at night to the mid-seventies during the day. A light jacket or sweater is the most warmth you'll need. The rainy season starts in May and lasts through October. Come prepared for an afternoon shower each day. If you leave the Highlands, the temperature will increase by twenty degrees.
Should we be concerned about safety issues?
As with any third-world country, you should take certain basic precautions. Leave any expensive jewelry at home. Don't travel at night unless you know the roads. Be discreet when handling money and don't give out money to strangers. In general, if you follow basic common-sense rules, you will enjoy your trip without incident.
How far are we from the airport?
Our projects are located about two and a half hours from the Guatemala City Airport. We have an excellent shuttle service that transfers our teams.
What points of interest are nearby?
The town of Panajachel is about fifteen minutes away. There are many fine restaurants to suit a variety of tastes and the main street is lined with native craft booths. From Panajachel you can travel by boat to anywhere on beautiful Lake Atitlan.