BEDFORD – For local residents who've wondered what the buzz is around reiki therapy, an upcoming class being offered by business partners
Rae LaFlamme McQuade, of Manchester, and her business partner, Christina Miner, of Hooksett, may be of interest.
"Reiki and massage are two separate things," said McQuade a reiki expert, who has been practicing massage therapy and reiki for 17 years in the local area and is an instructor at Hesser college.
McQuade and Miner, business women and reiki master teachers, rent space at Bedford Center Chiropractic for massage and reiki therapy and are starting a once a month free clinic where people can set up an appointment and come try out reiki for free in a small group setting. In lieu of payment, attendees can make a donation to a local grassroots charity that is being sponsored that day, if they wish.
Jan. 8 is the first clinic of the New Year, with all proceeds going to a local Bedford charitable foundation – Color My World. Color My World provides humanitarian outreach to local and international crisis around the globe. Recently, more than 2,000 aid kits were sent to Haiti and Chile for earthquake relief.
Reiki is a technique used to transfer spiritual energy to heal a person's aura or situation. Treatments are said to reduce stress and help people relax.
"The word 'reiki' translates to universal life force energy," McQuade said. "Where massage is the process of rubbing or kneading different parts of the body for therapeutic reasons or purposes, with reiki you are fully clothed, lying on a massage table and using a very gentle stationary hand position."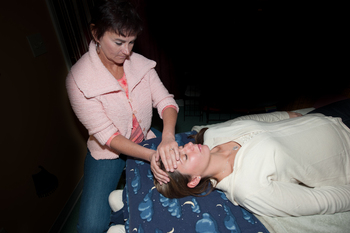 McQuade said with reiki, people experience the energy through the practitioner hands.
This method is used to treat conditions such as muscle pain, tension, stress, injury healing, pain management and many other medical ailments. In the Western world, there are four different areas or chakras of the body used for treatment, primarily the head, body, legs/feet and back, McQuade said.
"Reiki is not massage, but it can be combined with massage for reiki healing," she said.
The owners and clients swear by the results.
"I had a women who originally sought reiki treatment out for back pain. In addition, she had been separated from her husband for 10 years, feeling stuck and like she couldn't move on," McQuade said.
After working three, 1-hour reiki sessions over a period of two months on the woman, her client told her she'd found the energy and strength to move on with her life.
"By the way, I filed for divorce, the reiki treatments helped me move out of the place where I have been stuck,"McQuade said the woman told her.
Angela DePaul, 31, of Manchester, started doing reiki to relax after a full term pregnancy loss. Now, DePaul is pregnant again and has fears of history repeating itself.
"Reiki calms me down and I sleep so much better," she said. "I feel like I am definitely more relaxed. Reiki has helped me balance and center my life."
The clinic sessions are arranged by appointment, and each session will be 30-minutes in length, consisting of at least 20 minutes of hands-on reiki in a semi-private group setting with two to three volunteer reiki practitioners treating each client. Attendees will also receive information about reiki and its benefits and have time to give feedback and to get answers to any questions they may have.
The clinic hosts also invite anyone who has been attuned in reiki who wants to volunteer at the clinic to give them a call.
McQuade also encourages grass root charities get in touch with her or Miner if they'd like to be beneficiaries of one of their monthly free clinics.
Contact them at 785-8186 for more information.