Although they didn't feel the tremors from an earthquake in Indonesia, a Bedford family has still been affected by the disaster.
Angela Hughes and her children, Hillary, 11, Chase, 8, and Noah, 5, are assembling hygiene kits for families torn by the May 27 earthquake.
Angela Hughes said the family founded "Color My World: Kids Who Care" six years ago in response to a dearth of educational materials in South Africa.
"The inspiration behind all this is a chance to give back, because kids these days have a lot of things but not many opportunities to give back," she said. "We heard about how school kids in Africa were splitting pencils in two because there weren't enough, and we decided to help."
By June 30, the Hughes family hopes to collect as many hygiene kits as possible for the Indonesian families. Each kit will have two unbreakable combs, four toothbrushes, one tube of toothpaste, two bars of soap and two hand towels. The kits will also have quilts for each family.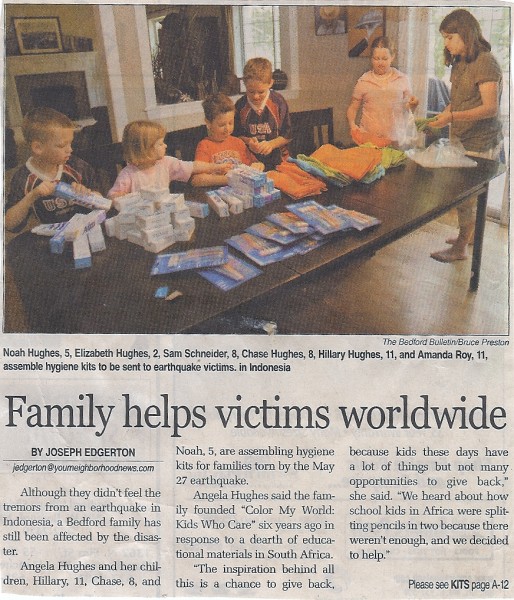 Hughes said the 6.3 magnitude earthquake killed nearly 5,800, injured 20,000 and rendered 650,000 others homeless.
The family has begun accepting donations from schools, local businesses, and families.
"This is a chance for families to help families, and elementary kids help elementary students," she said. "Everyone knows why you need educational supplies, but providing hygiene kits for each family of four is a family idea that we had."
Hillary Hughes is no stranger to the world of volunteering. The Peter Woodbury student recently received the Prudential Spirit of Community Award, which includes a personal award of $5,000, an engraved gold medallion, a crystal trophy for her Girl Scout council, and a $5,000 grant from The Prudential Foundation for a nonprofit charitable organization of her choice. She was in the top 10 out of 20,000 applicants in the nation.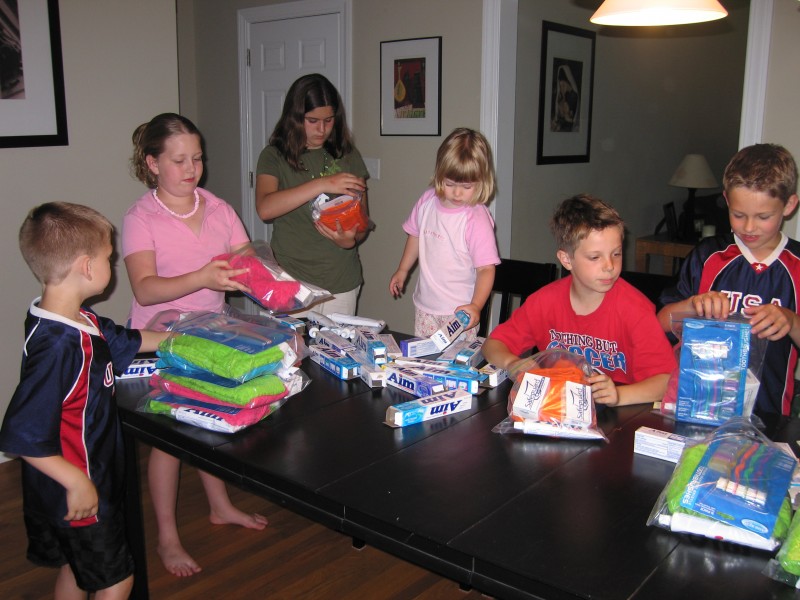 "I was really happy and surprised to get the award," Hillary said. "Getting people to help with what we're doing right now is the hardest part, because it can be hard to get donations. But, kids can make a difference."
Hillary began working with Color My World at age 5.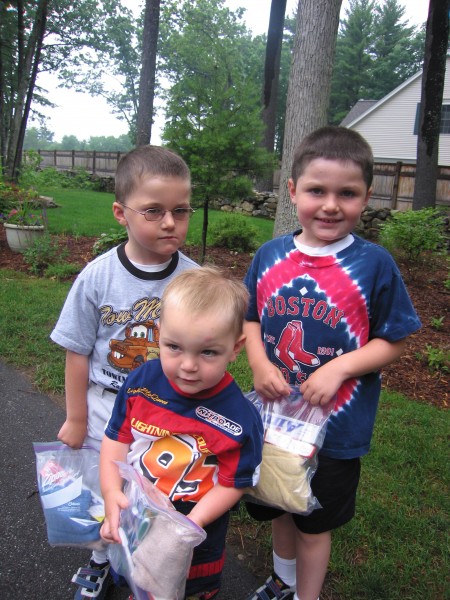 Hygiene Kits from Local Bedford Children
"The motivation for my project began at the age of 6 when I realized many children couldn't afford art and school supplies. Seeing others with nothing makes you want to give everything you can to them," she said. "My mom told me that some kids couldn't afford to go to school, and we decided to help them. We made school kits for the kids in Africa, and later we made hygiene kits for victims of the tsunami and Hurricane Katrina."
Hillary said she would like to collect 200 hygiene kits by the shipping date of June 30.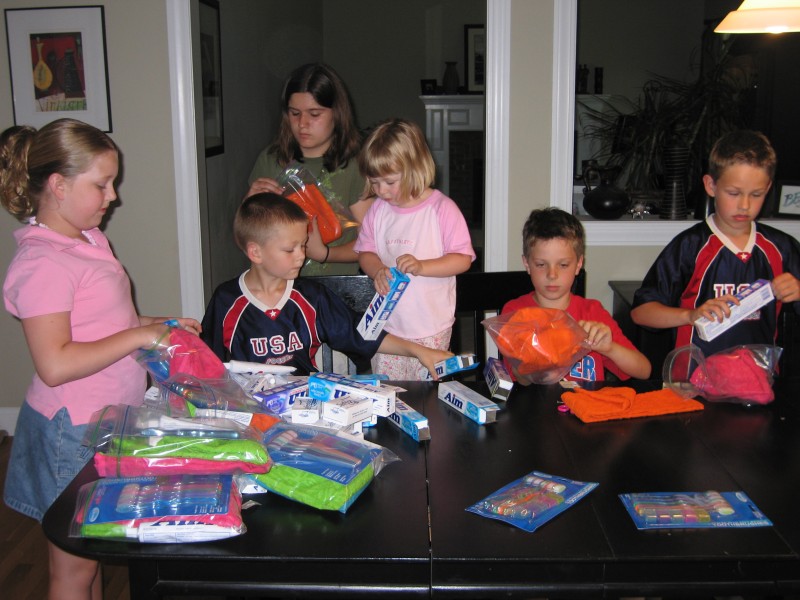 Once collected, the kits will be shipped to a distribution center organized by the Church of Jesus Christ of Latter Day Saints.
"They determine the greatest area of need, and we follow their patterns," said Angela. "We have shipped supplies to Asia, Africa and South America and, next year, we want to do our own shipping so we can help out people in China."
Chase Hughes, who also began charity work at age 5, said it's important to help others.
"People are happy, and they want to thank us for doing this to help other people," Chase said. "We're trying to get kids from school and other people to help us out. It's important for these people to survive, have a home to live in and be able to clean themselves."
By Joseph Edgerton, Bedford Bulletin