Color My World received an award from Disney Adventures for our collection of hygiene kits. Color My World and Hillary Hughes was featured in the May 2004 issue of Disney Adventures highlighting our projects and hygiene kits.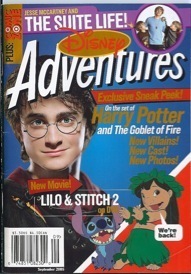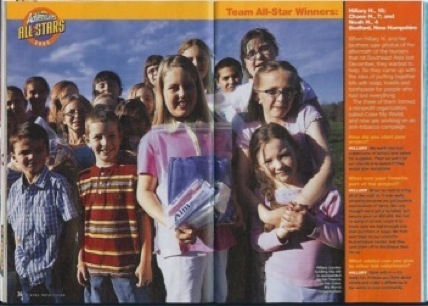 Disney hosted a huge party for our organization at the Bedford Library and we invited the community to join
Here are some highlight photos of the party.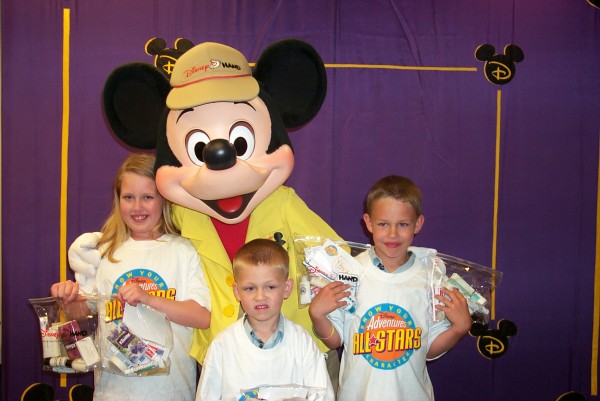 "Disney Adventures All-Stars" was a feature of the magazine that rewards the act of volunteering in the community. It was held once a year and all participants are awarded a prize, but after judging, one winner is selected to participate in a volunteer project with the hosts of that particular year.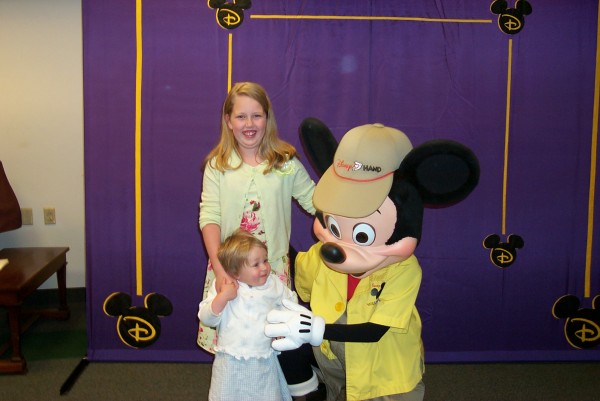 The Call to Action
BURBANK, Calif., April 17, 2003 – Disney is once again calling all kids to volunteer in their communities and vie for the chance to become Disney Adventures All-Stars. This national effort to encourage youth volunteerism was introduced for the first time last year and is supported by Disney Adventures magazine, Disney Channel, Radio Disney, Disney Online and DisneyHand, the worldwide outreach program for The Walt Disney Company.
This year, Disney Adventures All-Stars will win $1,000 to donate to the charity of their choice and a trip to California to meet the cast of the Disney Channel's "That's So Raven." The winners and their projects will be featured in the May 2004 issue of Disney Adventures.
"The Disney Adventures All-Stars program is a perfect way to motivate kids and show them the hands-on rewards of helping others," said Suzanne Harper, editor-in-chief of Disney Adventures. "Our magazine is designed to entertain and inspire our readers as they grow up. We hope that this program will encourage them to help others and become more involved with their communities.
The Disney Adventures All-Stars Program is open to anyone age 6 to 14 who volunteers by either joining an existing organization or inventing his or her own project. Participants can enter in one of two categories: Kid All-Star, for individual volunteers, and Team All-Star, for groups of two to six people who complete a project together.
Disney Adventures provides a plan of action for the participants, including suggestions for how to get started, possible projects to complete or organizations to work with, and a step-by-step six-month calendar. The Points of Light Foundation and Volunteer Center National Network facilitates the judging process and monitors the validity of the finalists' projects. Winners will be chosen from both categories based on an essay describing the problem they tried to solve, what activity they became involved with and their definition of volunteerism."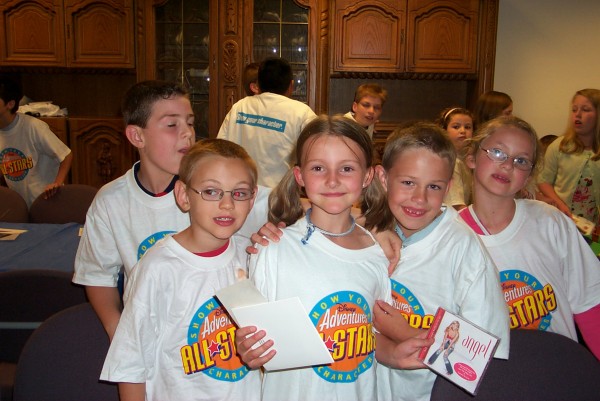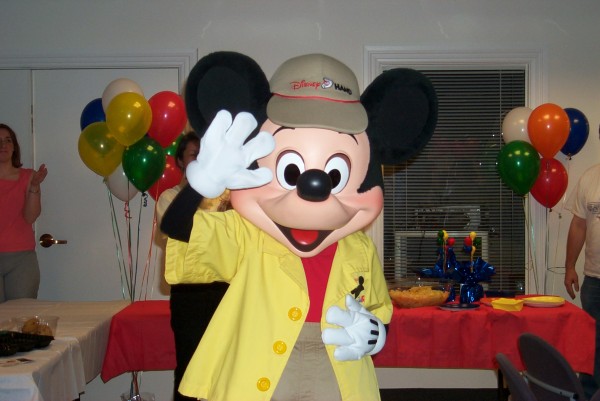 Disney Adventures was a children's entertainment and educational magazine published ten times per year by The Walt Disney Company. It should not be confused with the (also defunct) Disney Magazine. Disney Adventures also contained the latest news concerning the Disney Channel.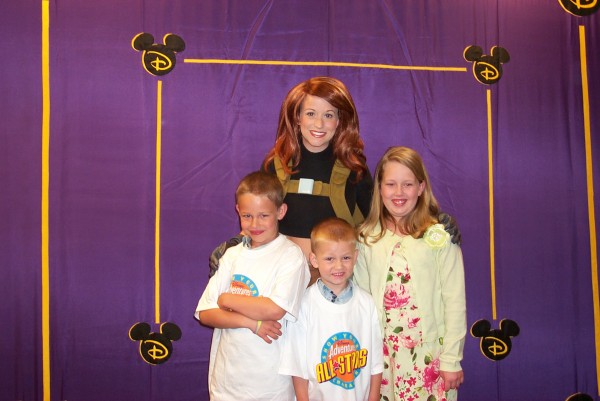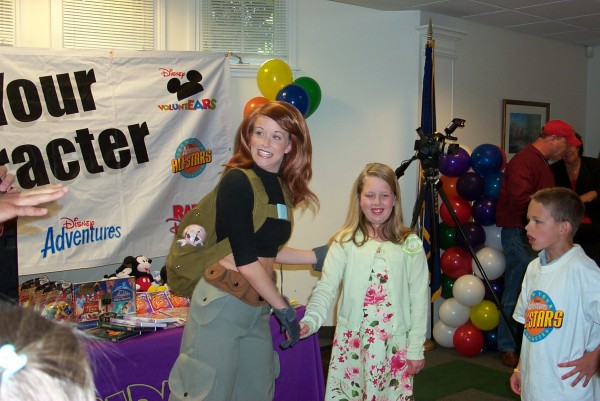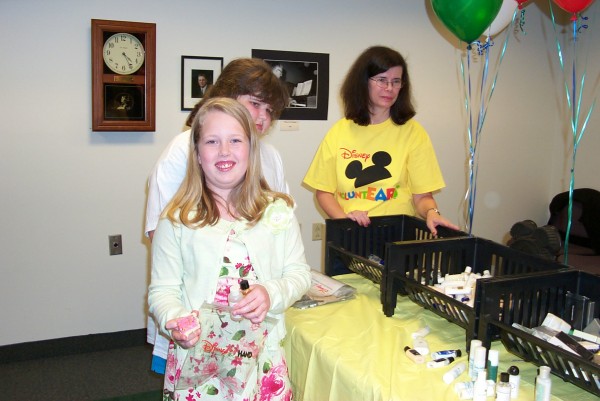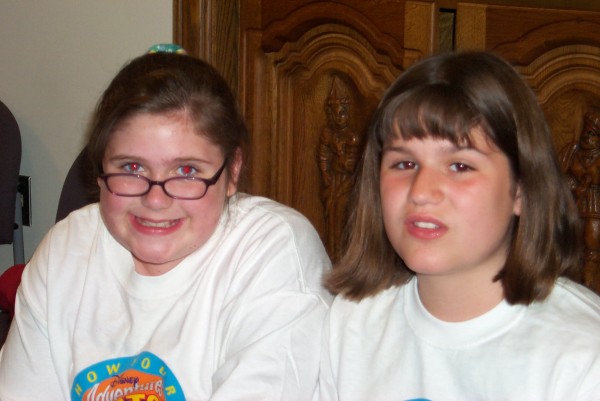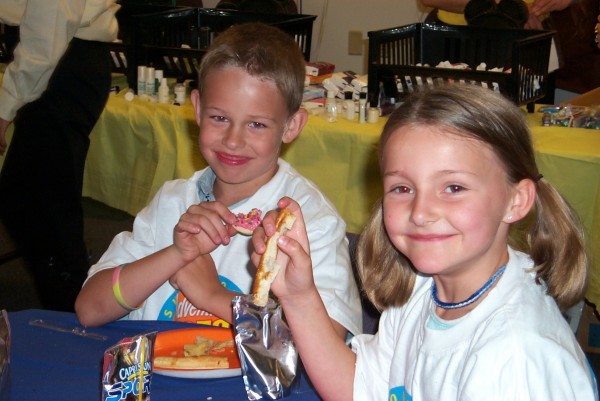 DisneyHand, the worldwide outreach program for The Walt Disney Company, is dedicated to making the dreams of families and children a reality through focused public service initiatives, community outreach and volunteerism in areas such as learning, compassion, the arts and the environment. DisneyHand also administers the Disney VoluntEARS program, which develops opportunities for employees to contribute their personal time, expertise and effort to make a positive impact on the community. Since its inception in 1992, Disney VoluntEARS have served more than 200 cities, 47 states and 24 countries.
On August 21, 2007, The Walt Disney Company announced that Disney Adventures would be discontinued, with the last issue cover dated November 2007, which was the magazine's 17th "birthday"