Bedford folks volunteer with Color My World to help villagers in Dominican Republic
By LORETTA JACKSON
Staff Writer
Families living in rustic Puerto Plata, a town in the Dominican Republic, shared smiles when 17 volunteers from New Hampshire, Maine and New Mexico arrived, sweaty and thirsty, in the 90-degree, tropical weather.
The group of 17 volunteers was there to complete building projects and render other assistance to the villagers on the Caribbean island.
February break was put to good use by locals from Bedford and elsewhere who traveled to the island. The trip, held Feb. 22 through March 1, was deemed an eye-opener by some students in the group. They decided to spend their vacation in an impoverished town where a good deed is greatly appreciated.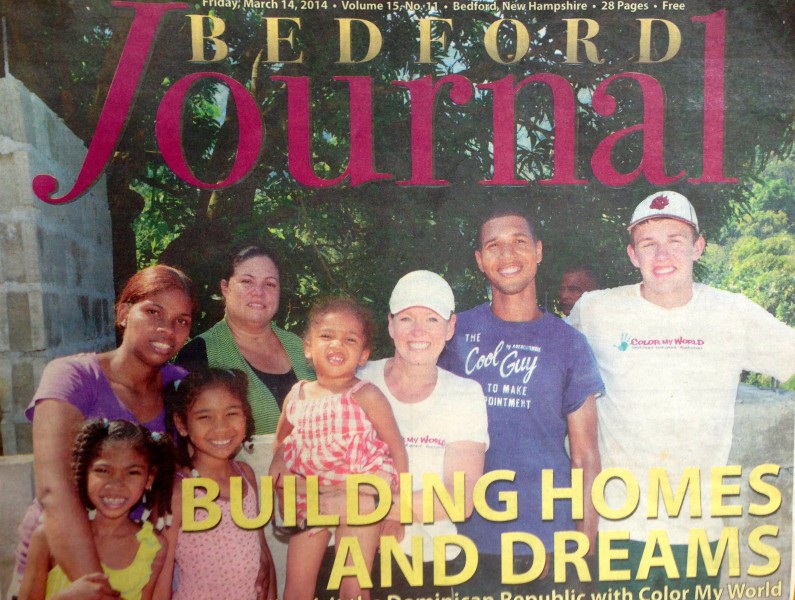 The Bedford-based Color My World had team members in the Dominican Republic and included more than a dozen participants from three states – New Hampshire, New Mexico and Maine.
Bedford's contingent included Angela Hughes and her husband, Brian, along with their children, Chase Hughes, Noah Hughes and Elizabeth Hughes. Bedford's Brenda Devroe, an emergency room nurse at Catholic Medical Center in Manchester, joined them, along with Dillon Wright, a high school senior at the Derryfield School in Manchester.
The Hughes family founded Color My World. Angela Hughes, and her daughter, Elizabeth Hughes, 10, made the trip before the others arrived. They completed a scouting mission and determined the level of help needed in the village and in nearby towns.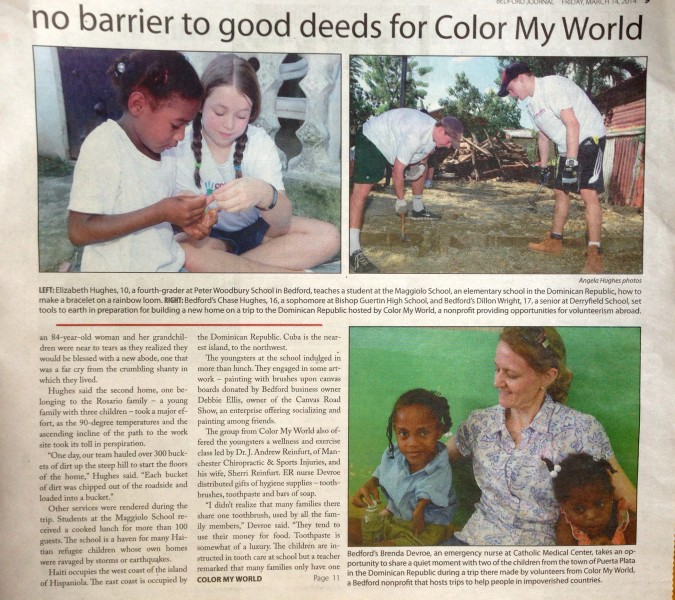 The group from Color My World, an organization that annually offers volunteer trips with a hands-on twist, met Amarilis Urena, a director for the Puerto Plata venture, when they arrived. Urena welcomed the group and extended her family's hospitality.
Hughes said the U.S. volunteers also teamed up with a local grassroots organization, Dominican Starfish. The group, led by Louisa ZoBell, has previously collaborated with Color My World in raising funds for the construction of a local library.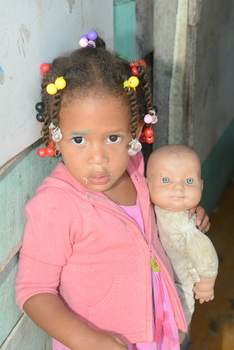 "On our initial visit, we selected two families that would receive new homes," Hughes said. "Then, we brought the team down to help tear down and rebuild the new homes."
She said Color My World raised $10,000 to build the two homes. The volunteers ripped down old sheets of corrugated tin and clumps of powdering stones. Hughes said an 84-year-old woman and her grandchildren were near to tears as they realized they would be blessed with a new abode, one that was a far cry from the crumbling shanty in which they lived.
Hughes said the second home, one belonging to the Rosario family – a young family with three children – took a major effort, as the 90-degree temperatures and the ascending incline of the path to the work site took its toll in perspiration.
"One day, our team hauled over 300 buckets of dirt up the steep hill to start the floors of the home," Hughes said. "Each bucket of dirt was chipped out of the roadside and loaded into a bucket."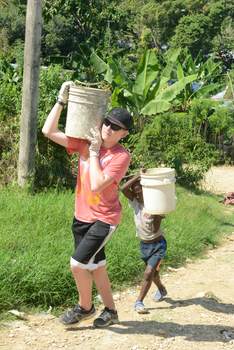 Noah Hughes, of Bedford, assisted by a child from the village, hauls a bucket of dirt up a slope to reach the home of the Rosario family, one of the recipients of a new home provided by Color My World. Each home, a cinder-block construction, cost roughly $5,000 to $7,000 to build. Funds for the project were raised prior to the trip.
Other services were rendered during the trip. Students at the Maggiolo School received a cooked lunch for more than 100 guests. The school is a haven for many Haitian refugee children whose own homes were ravaged by storms or earthquakes. Haiti occupies the west coast of the island of Hispaniola. The east coast is occupied by the Dominican Republic. Cuba is the nearest island, to the northwest.
The youngsters at the school indulged in more than lunch. They engaged in some artwork – painting with brushes upon canvas boards donated by Bedford business owner Debbie Ellis, owner of the Canvas Road Show, an enterprise offering socializing and painting among friends.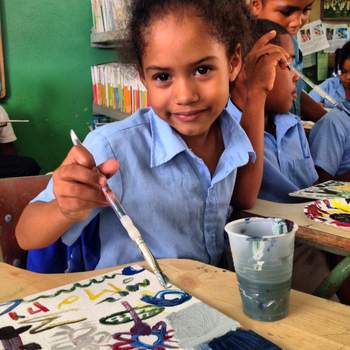 The group from Color My World also offered the youngsters a wellness and exercise class led by Dr. J. Andrew Reinfurt, of Manchester Chiropractic & Sports Injuries, and his wife, Sherri Reinfurt. Brenda Devroe, a Bedford emergency nurse at Catholic Medical Center in Manchester, distributed gifts of hygiene supplies – toothbrushes, toothpaste and bars of soap.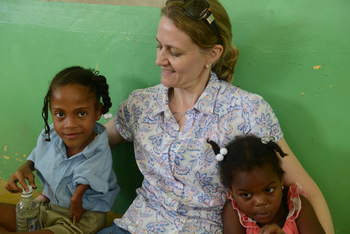 "I didn't realize that many families there share one toothbrush, used by all the family members," Devroe said. "They tend to use their money for food. Toothpaste is somewhat of a luxury. The children are instructed in tooth care at school but a teacher remarked that many families only have one toothbrush at home."
The time progressed quickly for the volunteers. They visited an abandoned chocolate production factory, where around 100 families, squatters without access to better accommodations, live in makeshift quarters. Hughes said the visit was well received.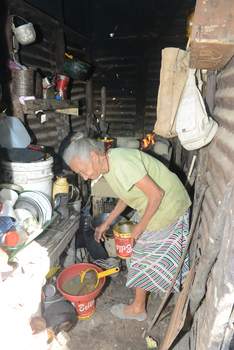 "We delivered food to more than 70 families," Hughes said. "Our bags were filled with flour, sugar and basic cooking necessities. We also took a lot of time playing sports and games."
The group of volunteers took time out to hike alongside some of the 27 waterfalls in Puerto Plata. Hughes, who with her husband, Brian, spent some of their early years as missionaries in Japan. They found satisfaction in helping people there on behalf of The Church of Jesus Christ of Latter-day Saints. The couple later formed Color My World as a way of extending their commitment to help others.
The Color My World organization is a nonprofit focused on relieving human suffering by providing emergency response relief items and humanitarian services to those in need. It was established in 2000 by the Hughes family as a way of helping young people, college students and families become involved in service-related activities.
The son of Angela and Brian, Chase Hughes, 16, who attends Bishop Guertin High School, said that it was apparent to him that people living in poverty find ways to be happy. He also said he enjoyed the physicality of loading so many buckets of dirt.
"We had to bring dirt up a hill that was super steep," Chase said. "It was hot and physically exhausting but we helped that family accomplish more in four hours than they could have done in four months."
His sister, Elizabeth Hughes, 10, a fourth-grader at Peter Woodbury School, does not often encounter a reason to tear down a house.
"One of my favorite parts of the trip was actually tearing down the house and playing with the kids who were watching," Elizabeth said. "We played soccer and taught the kids how to make bracelets on a rainbow loom."
Noah Hughes, 13, a student who is home-schooled, said he most enjoyed visiting the school.
"Kids would just climb up our backs," Noah said. "We would carry them around, all morning."
The combination of work and play also was appreciated by Dillon Wright, of Bedford. The 16-year-old senior at the Derryfield School at one time played baseball with one of the Hughes boys. He's been a family friend ever since. He said the trip to the Dominican Republic presented him with a chance to give back to a community in need.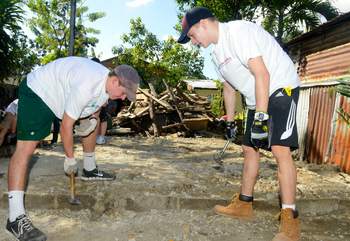 "Throughout the streets, there were all these little shanties," Wright said. "People will move out and whenever others see a house is getting torn down, the entire neighborhood will gather and pull out things to use in their own house. It was very sad."
Wright intends to go on other trips sponsored by Color My World, before he heads to college to study mechanical engineering. He already has been a project manager for his school's robotics challenge program.
"I would highly recommend going on a trip to anyone willing to get their hands dirty," Wright said. "It's a way to help make someone's life better."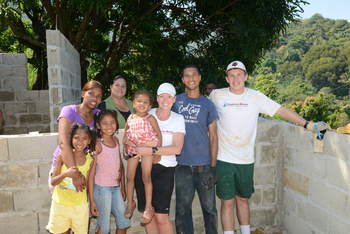 Color My World is expanding its scope with increasingly frequent schedules of trips. An upcoming Nicaragua trip is scheduled for two sessions, July 7-14 and July 14-21. A Costa Rican trip is on tap from Aug. 3-10. Next year, a Dominican Republic trip is on the schedule from Feb. 14-21 and from Feb. 21-28.
Angela Hughes, director and co-founder of Color My World, said that some of the people who go on the trips have never been exposed to the level of poverty they see at the destination.
"It's amazing to watch the transition the volunteers go through during the first week," she said. "Service is addictive and you can't help but feel complete joy doing this type of service work."
Her husband, Brian Hughes, the other co-founder, said that traveling to help people provides a chance to put life's priorities in their proper order.
"Spending our time together with our family, serving together, is a great way to spend a holiday," he said. "It's a great opportunity to help those less fortunate."
For more information on Color My World, visit www.colormyworldkids.org.
– See more at: http://www.cabinet.com/bedfordjournal/bedfordnews/1031323-308/bedford-folks-volunteer-with-color-my-world.html#sthash.hfPoP5o3.dpuf